Hossa's controversial goal lifts Blackhawks over Flames
Marian Hossa's controversial goal with 2:23 left in the third period was the winner as the Chicago Blackhawks won 3-2 over the Calgary Flames on Friday night.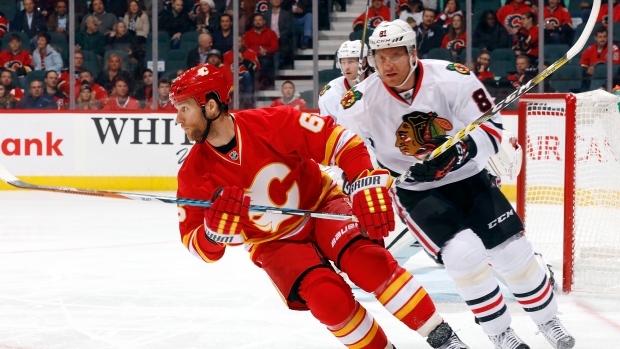 CALGARY — Marian Hossa's been in the NHL long enough to knows how to make a goal out of seemingly nothing.
Hossa's team-leading 10th goal of the season with 2:23 left in the third period was the winner as the Chicago Blackhawks won 3-2 over the Calgary Flames on Friday night.
Chad Johnson threw up his glove to stop a hard shot from Artemi Panarin but the puck went off the top of his glove and high in the air. It ended up landing behind him where Hossa got his stick on it for his 80th game-winning goal.
"I don't think the goalie knew exactly where the puck was and the defender tried to put his stick out. I tried to hook on his stick so he doesn't touch the puck and the puck just bounced pretty much close to the goal line and I just tried to put it underneath me in the net," said Hossa.
As the puck trickled over the line, Hossa was in the crease and in the process of falling on the Flames goaltender.
Calgary coach Glen Gulutzan said he would have challenged for goaltender interference but he did not have a timeout left, having used it earlier in the period.
Hossa, who has five goals in his last six games, is tied for fourth in goals behind Patrik Laine (12), Sidney Crosby (11) and Michael Grabner (11).
"I just try to put the puck at the net right now," Hossa said. "When you feel like the puck's going in for you, you just try to be around the net or shoot pucks to the net and try to make plays."
It's nothing Joel Quenneville hasn't seen before.
"He's scored some goals from right around that net here to get us a point or two and tonight's a good illustration of how important he's been for us," said the Blackhawks head coach.
Ryan Hartman and Brent Seabrook also scored for Chicago (12-4-2), which has points in 13 of its last 14 (10-1-2) games. The Blackhawks' seven-game road trip continues Saturday night in Vancouver.
Sam Bennett and Sean Monahan scored for Calgary (7-10-1). The Flames begin a six-game Eastern road trip Sunday night in Detroit.
"These ones are tough games. I thought we played well. We needed a little bit more out of our special teams, but overall, we played a good game, it's just unfortunate what happened," Gulutzan said.
Special teams once again let down the Flames. Their 30th ranked power play failed to score on five chances against the 30th ranked Chicago penalty kill - while the 28th ranked penalty kill gave up a goal on its only chance.
Seabrook's power play goal at 14:34 of the second tied it 2-2.
"It's the same old story with special teams. We've got to be better. If we get one on the power play, it might be a different outcome," said Bennett. "It's tough to swallow right now, especially when we played a good game like we did tonight."
Calgary took a 2-1 lead on goals four minutes apart early in the second from its new-look top line. First it was Bennett, then Monahan. With Johnny Gaudreau sidelined six weeks with a broken finger, Bennett has been inserted into his spot on that top unit that also features Troy Brouwer.
"It felt awesome playing with them tonight. We were getting a lot of good looks. Those are definitely some positives we can take from that game," Bennett added.
Crawford had 28 saves to improve to 9-4-2. In his third straight start, Johnson had 21 stops. His record falls to 4-3-1.
Notes: Hossa ties Patrik Elias for fifth among active players and 26th all-time... Flames LW Kris Versteeg (groin) took part in morning skate and is nearing a return. He's missed seven games... Calgary has gone 10 games without a goal from a defenceman... Chicago LW Tyler Motte (lower body) missed his fifth game, but he could play Saturday.