Insider Trading: Rangers' Nash, Grabner possible deadline targets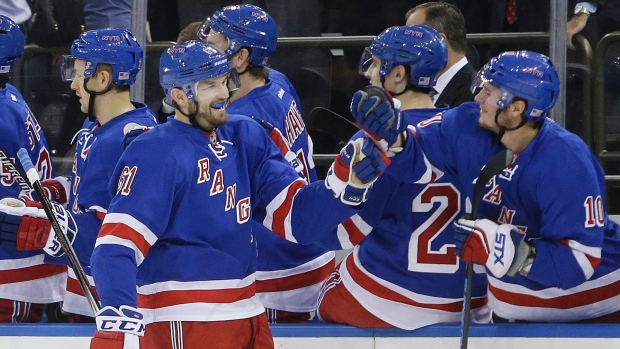 TSN Hockey Insiders Darren Dreger, Pierre LeBrun and Bob McKenzie joined host James Duthie to discuss Bob's Midseason Coaches' Poll, many teams' strategies for the Feb. 26 trade deadline including the New York Rangers Rick Nash and Michael Grabner being potential trade targets and more.

Bob's Midseason Coaches' Poll
TSN Hockey Insider Bob McKenzie released part of his annual midseason coaches' poll regarding the goaltender interference challenge and the offside challenge and the results so far have been mostly strongly in favour of making changes to the coaches' challenge.
Bob McKenzie: "23 of the 31 coaches responding so far with more to come, I would suggest for the most part it's widespread dissatisfaction with the way the coaches' challenge is going. I asked them about goalie interference challenge, 11 said keep it, two said get rid of it entirely and 10 said modify it.
[Coaches] really hate the offside challenge. Only two want to keep it as it currently is, seven of them want to can it entirely and 14 want to modify it. Now, in terms of the modification, what it really boils down to is the coaches would like Hockey Operations to take over full decision-making on this video reviews on coaches' challenges and take it out of the referees' and linesmen's hands. They want NHL Hockey Ops to do it, but I don't see that happening because this was all done in conjunction with the referees and linesmen and I'd be very surprised if the NHL goes down that road."

Rangers with multiple sought-after targets as deadline nears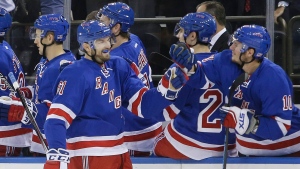 Darren Dreger: "We're going to start with Rick Nash and Michael Grabner of the New York Rangers who are two players that are expected to be highly sought-after. The New York Rangers are leaning towards being open for business from a trade front perspective because of their recent slide, but it's going to take a lot to acquire Rick Nash and he's yet to be asked for his 12-team trade list.
Another player to keep an eye on is Ryan McDonagh. There's a lot of trade speculation around the Rangers' defenceman and it's more likely if he gets dealt, it's in the summer on the draft floor, but again, [Rangers general manager] Jeff Gorton is willing to listen."

Avalanche contemplating deadline strategy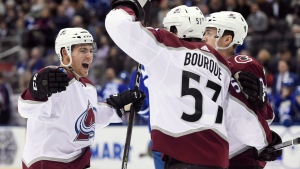 Pierre LeBrun: "Well, when the season began, most of us thought Colorado would be a seller entering the trade deadline, but that's probably not going to be the case as the second-most surprising team of the year after Vegas. The Avalanche are on a 10-game win streak and yes, they could be buyers before the deadline. Now, where the internal debate resides for Joe Sakic and the Avalanche brass is they've got some amazing team chemistry in that room, do we bring in a guy that can take a guy away from his minutes and that's what they're debating internally. But at the end of the day they've identified a need for a winger and will decide about a week out [from the deadline] whether to splurge and add a player in Colorado, last year's 30th-placed team.

Canadiens to set deadline course after break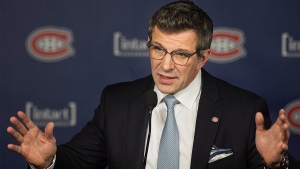 LeBrun: "The team [the Avalanche] play on Tuesday night in Montreal? They're not going to be adding anybody this year, that's for sure. Next week [general manager] Marc Bergevin and the rest of his front office staff are going to finalize their trade deadline strategy.
Tomas Plekanec is the only notable [unrestricted free agent], so it's not about selling, but certainly they're open-minded as Montreal continues to talk to a lot of teams about fixing this roster going into next year."

Versteeg nearing a return to the Flames?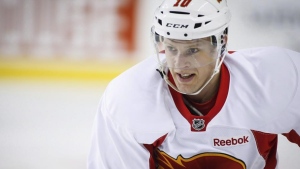 Dreger: "[Getting Versteeg back from long-term injured reserve] could feel like a trade. Best case scenario is early-to-mid-March. He was in New York this week to see the surgeon that did the hip surgery on Kris Versteeg a while back and the good news is, [Versteeg's] got the green light to resume skating in 10 days to two weeks, but again, based on a full rehab and assuming that everything goes well, worst case scenario he could be back in the Flames' lineup for mid-March."

Predators seeking top-six forward?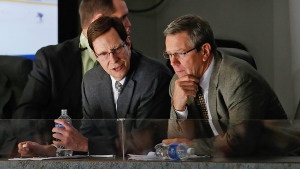 LeBrun: "Nashville's never scared and we know that about David Poile and I think they're going to try and add a top-six winger at the trade deadline. For now, they just want to get to the All-Star break and take a deep breath – half their forwards have been injured between the start of the season and now – but certainly they want to add a top-six winger; that's the priority. Now, whether or not they get in on [the Montreal Canadiens] Max Paciorietty or [the Ottawa Senators] Mike Hoffman or [Buffalo Sabres] Evander Kane, they haven't made that decision yet. They want to get to the other side of the Tampa All-Star break."

Red Wings defenceman Ouellet on the market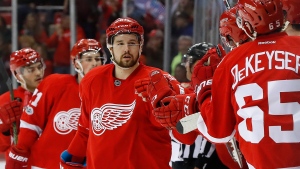 McKenzie: "And the Detroit Red Wings have let teams around the National Hockey League know Xavier Ouellet is available. He's playing a little less than 14 minutes over 33 games over the course of the season. He's a former second-round pick."

Seattle expansion application coming this week?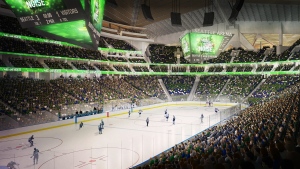 Dreger: "There's no guarantee that formal application of expansion will be submitted by [David] Bonderman and Jerry Bruckheimer this week before the board of governors' meeting as part of the All-Star festivities. It's possible, but it wouldn't get rubber-stamped this weekend anyway. There's a lot of due diligence ahead and a $10 million expansion cheque that has to be written."