Insider Trading: Trade talks heating up around Pens, Kings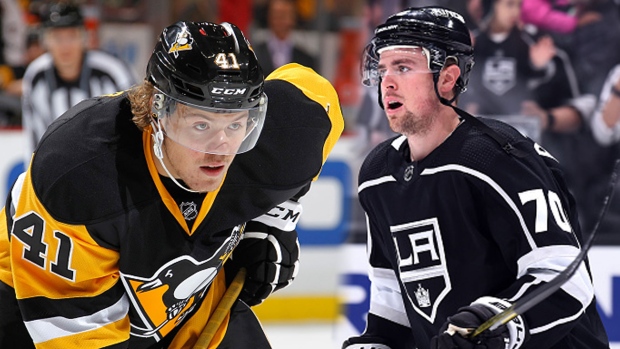 TSN Hockey Insiders Darren Dreger, Pierre LeBrun and Bob McKenzie joined host Gino Reda to discuss trade speculation involving Daniel Sprong of the Pittsburgh Penguins, Tanner Pearson of the Los Angeles Kings, what the Carolina Hurricanes may be in the market for and more.
---
Rutherford looking for team chemistry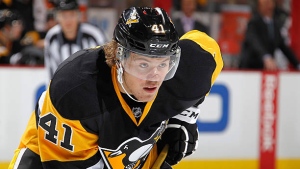 Dreger: Penguins GM Jim Rutherford is definitely anxious, there's no doubt about that. He still believes and knows that the Penguins are a very deep team and should be a contending team in the second half of the season, but the chemistry is off right now in that lineup. Rutherford may start small and move a player like Daniel Sprong, who's a limited piece for the Penguins, he's not a fit in Pittsburgh because he need to be a top nine player and he's certainly not that with the Penguins. There will be interest in Sprong. Maybe that's where it starts and elevates from there.
Pearson trade speculation builds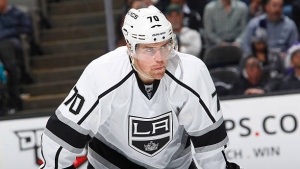 McKenzie: The Los Angeles Kings are hoping that a coaching change will have a net positive effect on their team, but Tanner Pearson's name is very much out there in terms of trade speculation and has been for a while. He's got zero goals in 14 games thus far and seems to have lost his confidence, but he's a name thats floating around there in the trade sphere.
Hurricanes in market for scoring forward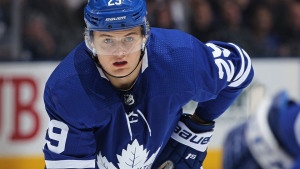 LeBrun: The Carolina Hurricanes have had trouble scoring of late and it's not really surprising to management. I think they identified that as an issue coming into the year that they would need to try and go out and get a top six forward before the trade deadline. Well now there's a little more pressure on that as the Hurricanes have really struggled. They've kept an eye on William Nylander and continue to do so, but they're also looking elsewhere. They'd like to go pick up a top six forward.
Puljujarvi's future in Edmonton in question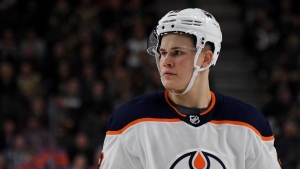 Dreger: There's more tension between Jesse Puljujarvi and the Oilers. Frankly, this is based on the fact that once again Puljujarvi has dropped in the lineup. He's still in the lineup, but perhaps he drops out of the lineup. There's some media speculation that Puljujarvi might be assigned to the team's AHL affiliate, the Bakersfield Condors. If this does happen, this could in fact be a breaking point for a player who just wants to develop in his own way in the NHL, but at this point, it's still a little too soon to say.
Tippett won't coach Seattle expansion team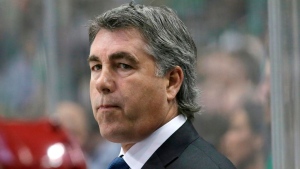 LeBrun: Former NHL coach Dave Tippett joined me on my Podcast recently. Tippett, when he was hired by the Seattle group as an advisior, they told him to keep the coaching option on the table just in case. Well, Tippett said this week that the he and the Seattle group have deceided that he'll be an executive on the team, if and when, Seattle is granted the 32nd NHL franchise. This means that there is now potentially a sexy vacancy in Seattle. Keep in mind who just got fired this week — none other than Tippett's very good friend and former teammate, Joel Quenneville — but let's not put the horse in front of the cart just yet. A lot of decisions have to be made there.
19-year-old WHLer on Canada's radar
McKenzie: His name is Brett Leason and he plays for the Prince Albert Raiders, and is in his final year of junior eligibility. The 19-year-old has 17 goals in 17 games, and that's already a career-high for him. He's virtually come out of nowhere. He's a six-foot-four, 200-pound winger, who has twice gone undrafted in the NHL draft. If he keeps going the way he's going right now, he has a chance to be the next Tanner Pearson, who was also passed over in two drafts and comes back to potentially be a first-round pick as Pearson was in 2012. And Leason also could be the next Drake Batherson, who last year came way off the radar to be on Canada's junior team. Leason is playing well enough that he's likely to be invited to the final evaluation camp for Team Canada. So keep an eye on the Prince Albert Raider.