Prince Harry, Trudeau to attend Invictus Games opening ceremony in Toronto
Prince Harry, Prime Minister Justin Trudeau and a host of other dignitaries will be on hand for tonight's opening ceremony of the Invictus Games in Toronto. Harry founded the Invictus Games in 2014 as a way to inspire and motivate wounded soldiers on their paths to recovery.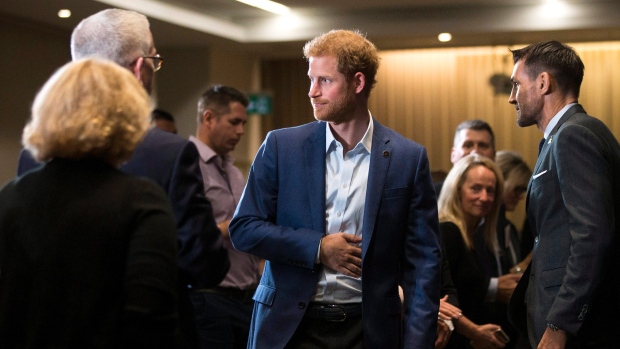 TORONTO — The Invictus Games got off to a rollicking start Saturday as scores of war-wounded athletes marched, limped or wheeled their way to thumping martial music, dazzling lights and supportive cheers into a downtown Toronto arena, where they heard Prince Harry praise them for the courage that had brought them to the event he co-founded.
The prince, who earlier in the day wowed a crowd of well-wishers across from a mental-health facility he was visiting, drew sustained applause as he helped open the week-long Games.
Harry, who served in Afghanistan with the British army for about two months, said he wanted to use his platform "to help the world understand and be inspired by the spirit of those who wear the uniform."
"In a world where so many have reasons to feel cyncial and apathetic, I wanted to find a way for veterans to be a beacon of light and show that us all that we have a role to play — that we all win when we respect our friends, neighbours and communities," he said.
"That's why we created Invictus — not only to help veterans recover from their physical and mental wounds, but also to inspire people to follow their example of resilience, optimism and service in their own lives."
Prime Minister Justin Trudeau welcomed the athletes and coaches after the 17-country "Parade of Nations" that saw host Canada enter last to thunderous applause and cheering. Trudeau called them all an inspiration to others as he spoke of their sacrifices and dedication to helping others.
"No matter what challenges life has set before them, they continue to do what they do best: serve their countries, with passion and integrity," Trudeau said to cheers. "You're not only here to inspire, you're also here to win."
Trudeau added, "We know that no one leaves a battlefield unchanged, and that not all scars can be seen. Asking for help when you have physical and mental injuries, that's hard for everyone. But it's especially tough for people like you who have dedicated your lives to helping others."
A star-studded show featuring performances by Sarah McLachlan, Alessia Cara and a speech from actor Mike Myers entertained the appreciative crowd, who filled the arena for an opening ceremonies that included the national anthem sung by the Tenors and a Games flag-raising.
About 550 competitors from countries as far-flung as Afghanistan, Italy, Ukraine and New Zealand are taking part in 12 sports in the annual event, which was created by Prince Harry and aims to help the war wounded, many grievously, with their recovery.
American first lady Melania Trump was among dignitaries who watched as proud flag-bearers sported huge grins while comrades waved or flashed victory signs.
Harry's girlfriend, actress Meghan Markle, was also among those in the crowd although she was not seated next to the prince.
The Games had created a "real buzz around Toronto,'' Harry told Trudeau at an earlier meeting Saturday at which they shared laughs and pleasantries. Trudeau thanked the royal visitor for founding the Games and creating opportunities for veterans.
The number of well-wishers who gathered outside the room where Trudeau and the prince met paled in comparison to the several hundred who stood behind a barricade in unseasonably blazing heat earlier in the day as the prince toured one of Canada's premier mental-health facilities.
The crowd whooped as they glimpsed him entering the Centre for Addiction and Mental Health and clamoured for his attention when he emerged more than hour later. The prince did not disappoint, crossing the road to talk to children, meet a pup, and shake outstretched hands.
"Oh, my goodness, I'm so happy, he shook my hand," said a dazzled Robinowe Bukirwa, who wondered if she was dreaming even as the prince faded into the distance. "I don't think I'm going to wash my hand today. I'm so very excited."
The prince's tour of the centre included two roundtables — one with nine senior staff members focused on research, the other on dealing with youth coping with mental illness.
Describing the complex issue as one requiring a "massive team effort," Harry listened attentively to staff discuss their work, and anecdotes from patients who had sought treatment for mental-health and addiction struggles at the facility in downtown Toronto.
The prince stressed the importance of mental-health research and treatment — a topic he has championed. There is no "silver bullet" when it comes to dealing with the problem, he said.
"You need options," he said at one roundtable.
One person in attendance told Harry she still cherished a visit decades before from his mother, the late Diana, the Princess of Wales. The prince also met privately with teenaged inpatients of the mental health facility.
Harry's busy schedule Saturday, which followed meetings with Games athletes on Friday, included a short get-together with Gov. Gen. David Johnston.
"Welcome to our humble country," Johnston told the prince.
"It's fantastic to be back," Harry answered. "Always, a pleasure to be in Canada, my home away from home."
The inaugural Games were held in London in 2014 and next year's will be in Sydney.