Isles continue home dominance with rout of Canucks
Calvin de Haan and Jordan Eberle scored goals one minute apart in the first period to spark the New York Islanders to a 5-2 win over the Vancouver Canucks on Tuesday night. The Islanders won their fourth straight and are the only team not to have lost a game in regulation at home this year.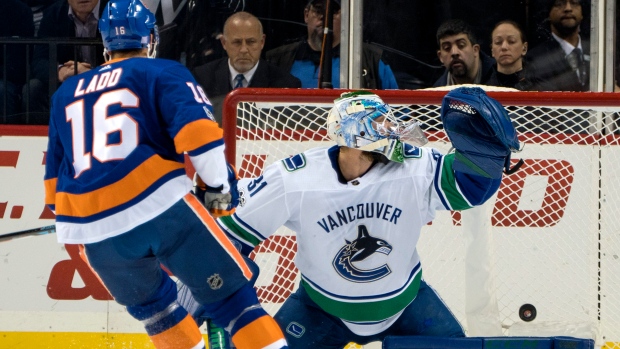 NEW YORK — Coach Doug Weight knows his New York Islanders have shown they are a good team through the first part of the season.
He still sees room for improvement.
"We can get better," Doug Weight said after the New York Islanders' 5-2 win over the Vancouver Canucks on Tuesday night.
Calvin de Haan and Jordan Eberle scored goals one minute apart in the first period, Andrew Ladd, Anders Lee and John Tavares also scored goals for New York, and rookie centre Mathew Barzal recorded the primary assist on Eberle's goal.
Eberle now has goals in three straight games and recorded his 400th NHL point as New York improved to 15-7-2 overall and 8-0-2 at Barclays Center.
"It's part of the learning curve in figuring out what we need to do, night in and night out to win hockey games or to give ourselves the best chance to win," Ladd said. "We've done that the last little while."
Jaroslav Halak made 22 saves for the Islanders.
Whereas the Islanders were brimming with confidence, the Canucks are looking for answers after dropping to 11-10-4 with its third straight loss, all to the three teams in the New York City area.
"It's frustrating," said Bo Horvat, who along with former Islander Thomas Vanek scored for the Canucks.
Anders Nilsson stopped 31 shots. "You're not playing the way you have to be the last three games. It hurts in the standings. The division is so tight. And we need all the wins we can get."
The game was the first NHL meeting for Barzal and Canucks rookie right winger Brock Boeser. Barzal entered the game with 23 points (six goals and 17 assists) in 23 games while Bowser had 22 points (11 goals and 11 assists) in 21 games. Barzal finished with an assist while Boeser did not record a point.
"I met him a couple years ago at the (draft) combine," Barzal said of Boeser. "Really nice kid. Having a heck of a season so it was fun competing against him. He's a heck of a player and hope he has a good season."
For all intents and purposes, New York put the game away in the opening period as the Islanders went into the first intermission with a 3-1 lead, thanks to de Haan's first of the year with 3:18 left in the period and Eberle's 10th of the season exactly one minute later.
Instead of sitting on their two-goal lead, New York kept attacking in the second period, and it paid off when Lee scored his 13th of the season at 3:46. Vancouver cut the deficit in half on Horvat's shorthanded goal at 6:33.
"It was 3-1 after the first and I didn't think we played that bad. They second they dominated us," Canucks defenceman Chris Tanev said. "We didn't really push back."
New York never trailed as Ladd opened the scoring with his 6th goal of the season on shorthanded breakaway at 5:16. Vanek tied the game with his sixth on the power play 58 seconds later with a tap-in.
Tavares' goal 13:35 into the third ended the scoring.
New York outshot Vancouver, 36-24. The Canucks finished the game 1 for 2 on the power play, and killed all three Islanders power plays.
"They're a good team. They create a lot with their speed and their skill and their defence being part of the attack," Canucks coach Travis Green said of the Islanders, before assessing his team. "We had some guys who looked a little tired. We didn't play quick enough. When you don't play quick you don't put yourself in positions to defend. You don't take away time and space.
"We deserved to lose."
NOTES: Daniel Sedin did not record a point and remains stuck on 998 for his career. His brother Henrik is the only player in Canucks history to record 1,000 points with the team. ... The game was the first against the Islanders for Travis Green as coach of the Canucks. Green, 46, played 388 games over six seasons for New York, recording 92 goals, 145 assists and 237 points. ... Anthony Beauvillier replaced Casey Cizikas as the centre on New York's fourth line. Cizikas suffered a lower body injury in the Islanders' 2-1 win over the Senators Saturday night in Ottawa. The Islanders scratched defencemen Ryan Pulock and Dennis Seidenberg.
UP NEXT
Canucks: Conclude six game road trip Thursday night in Nashville.
Islanders: Host Ottawa Friday night.
___
For more AP NHL coverage: https://apnews.com/tag/NHLhockey