Jets name Wheeler as captain
The Winnipeg Jets have named forward Blake Wheeler as their new captain.Wheeler fills the void left by former captain Andrew Ladd, who was dealt to Chicago in February.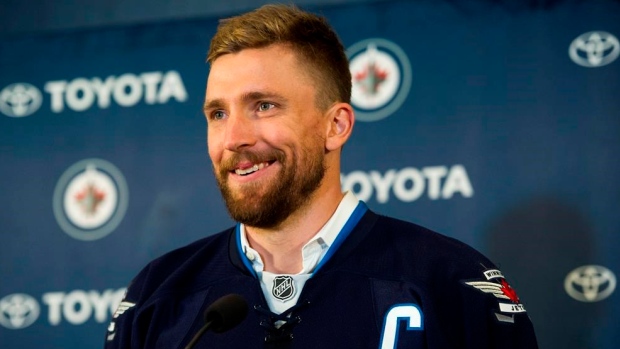 WINNIPEG — Blake Wheeler's 30th birthday presents included a "C" on his Winnipeg Jets jersey.
Wheeler, a veteran of eight NHL campaigns, was named captain of the Jets on Wednesday after three seasons as an alternate.
He takes over from Andrew Ladd, who was traded to Chicago in February and then signed with the New York Islanders earlier this summer.
Wheeler said the timing of the personal and professional milestones was a coincidence.
"It was kind of ironic when they told me it was going to be today," Wheeler said at a news conference. "I don't think they may have even realized that today was my birthday. Good start to the 30s."
The team also announced defenceman Dustin Byfuglien and centre Mark Scheifele would be alternate captains.
Jets head coach Paul Maurice praised Wheeler as a leader on and off the ice.
"I'm not sure that I've ever coached a man that while staying on the ice or standing behind the bench, if I thought a young player was looking for direction, that I could so easily say, 'Just watch him,' " Maurice said of Wheeler.
The six-foot-five, 225-pound native of Plymouth, Minn., is often sought for comment by reporters and is known for his candid, and sometimes blunt, assessment of himself and the team.
That's OK with Maurice.
"Some of the times that you get a little edge from him, it's that he hasn't come down yet from the game," Maurice said. "I don't want that to change.
"So if I have to answer some things that he lets fly after a game where he's wearing his heart on his sleeve and he lets it rip, I'll try to deal with that the next day."
Wheeler began his NHL career with Boston in 2008-09 and was dealt to the Atlanta Thrashers during the 2010-11 season.
When the Thrashers were bought and relocated to Winnipeg as the Jets prior to the 2011-12 season, Wheeler began to excel.
He's put up more than 60 points in four of his five seasons with the team, hitting a career high with 78 points last season, tied for sixth in league scoring. He signed a six-year extension with the Jets in 2013 and has amassed 440 points in 615 career games.
Wheeler and Byfuglien will play for the United States in September's World Cup of Hockey in Russia, while Scheifele will compete for Team North America.
Wheeler said Byfuglien and Scheifele will be good alternate captains, but added leading the team will be a "joint obligation" of all the players.
Maurice said Byfuglien, 31, and Scheifele, 23, bring their own unique attributes to the leadership trio.
Byfuglien has been a Stanley Cup champion during his six-year career and his "joy" of playing the game is infectious, Maurice said. Scheifele is entering his fourth season and his professional development is something the team's young players can aspire to follow.
In a conference call later in the day, Byfuglien and Scheifele said they were honoured to be alternate captains.
Scheifele said young players may feel more comfortable approaching him as he remembers how intimidating the veterans can seem at first.
Byfuglien has been an alternate captain with the Jets before and said wearing the "A" again is something he appreciates and can build off of.
Both agreed Wheeler is a great choice for captain because everyone can look up to him.
"He eats, sleeps and breathes the Winnipeg Jets," Scheifele said of Wheeler, describing him as a "workhorse."
Wheeler said he talked over becoming captain with his wife Sam and how it would affect their family, which includes son Louie, who turns four in October, and one-year old daughter Leni.
His wife will have to be more involved with the spouses and girlfriends of players, while he'll be more of a spokesperson and role model, he noted.
"Regardless of whether you like it or not, everyone looks at you a little bit differently," Wheeler said. "They look at what things are supposed to look like and how you're supposed to act, how you're supposed to prepare and how you're supposed to play on a nightly basis.
"That doesn't necessarily mean that you're going to have your A-game 82 times a year. That's probably unrealistic, but people are going to look at you when don't have your A-game and see how you respond to that.
"There's a bit of maturity that comes with that so luckily I just turned 30."