Jones stops 44 as Sharks force Game 6 in Stanley Cup Final
Melker Karlsson scored the winner and Martin Jones made 44 saves as the San Jose Sharks avoided elimination with a 4-2 win over the Pittsburgh Penguins on Thursday night in Game 5 of the Stanley Cup final.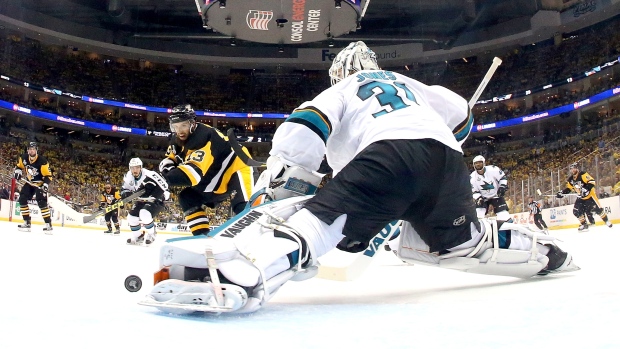 PITTSBURGH — The San Jose Sharks might have been flying home for a different reason had it not been for Martin Jones on Thursday night.
Jones was perhaps the sole reason the Sharks head back to San Jose with a chance to even the Stanley Cup final. The 26-year-old made 44 saves in Game 5, keeping his team afloat in a 4-2 win over the Pittsburgh Penguins at Consol Energy Center.
"It's just not tonight," Sharks centre Joe Thornton said. "He does it every game for us. He was just a stud for us."
Pittsburgh outshot San Jose 46-22, but it was the Sharks that emerged behind Jones, who boasts a .933 save percentage in the final. San Jose now trails the best-of-seven series 3-2 with Game 6 on Sunday night at SAP Center.
The Sharks also got the finest effort of the final from Logan Couture, who had three points in a first period that saw the two teams trade goals in a chaotic 20 minutes. But it was Jones, the goalie San Jose traded for and signed to be its No. 1 last summer, who made the biggest difference.
Repeating Thornton's claim, Sharks centre Chris Tierney said there was no surprise on the San Jose bench at the performance, "but he kind of went above and beyond tonight."
His brilliance really kicked in after the Sharks had a 2-0 lead melt away in quick fashion.
Described by Sharks coach Pete DeBoer as the key fix for Game 5, San Jose indeed scored first for the first time all series. Brent Burns and Couture both beat a shaky Matt Murray in the opening three minutes, but from there Pittsburgh took over.
Encouraged passionately by a boisterous home crowd, the Penguins cut the lead to one when Evgeni Malkin flung a shot off the skate of Sharks defenceman Justin Braun — the power-play goal being the second in as many games for Malkin.
Pittsburgh tied it 22 seconds after that when Carl Hagelin deflected a Nick Bonino shot as he camped in front of Jones.
"I know they came back and scored the two (to tie it), but to start like that in a building like this, in a game like this, it was huge," Thornton said of the 2-0 lead.
Neither Penguins shot beat Jones clean and from there the Sharks goaltender was unbeatable. San Jose surged back in front, too, on the second this series by Melker Karlsson, who snuck a shot under the left arm of Murray.
It was the third goal in five shots to beat the 22-year-old rookie.
Couture, who scored the first Sharks goal on a tip in front, set up the Karlsson marker with a nifty no-look backhand feed. It was the Guelph, Ont. native's second assist of the period. He continues to lead all post-season scorers with 29 points.
Interrupted briefly by the Karlsson goal, which came with less than six minutes to go in the first, the Penguins brought the pressure again in the second, outshooting the Sharks 17-8.
Sidney Crosby was stopped in front on a rebound while his set up to Conor Sheary was turned down minutes later as was Penguins winger Bryan Rust, driving hard to the front of Jones' crease. A Malkin point shot that nearly skipped through was turned aside as was Bonino, his rebound attempt kicked out by the left pad of Jones with less than five minutes to go in the second.
Patric Hornqvist raced behind the Sharks defence shortly after that on a brilliant feed from Malkin, only to be stopped by Jones.
Jones was composed and seemingly cool despite the pressure that came with the night. A loss would've eliminated the Sharks and sent the Penguins to their fourth Stanley Cup.
Teammates say that calm demeanour is nothing new.
"Without him we're probably in a different situation right now," said Braun.
Braun called it the best performance he'd seen from Jones, who played as the backup to Jonathan Quick for two years in Los Angeles.
"He doesn't flinch," said Braun. "He's always tapping us on the pads saying we did a good job and usually he's bailing us out. It was great to watch tonight, but we've got to give him a little more help."
Fitting of their northern California locale, the Sharks were in an easy-going mood heading into Game 5. DeBoer even suggested that the pressure was "lifted" in a game such as this when most in the building expected the Penguins to clinch the Cup for the first time on home ice.
"We didn't want the season to end tonight," Couture said.
Another performance like this won't do — a point repeatedly made by Sharks players afterwards.
San Jose is trying to join the 1942 Toronto Maple Leafs as only the second team in NHL history to overcome a 3-1 deficit in the final.
"It's great to bring it back," Braun said of returning home. "We're just playing for our lives right now."