Kadri says he's ready if Sharks want a piece of him
Toronto Maple Leafs centre Nazem Kadri says he won't back down if the San Jose Sharks want a little retribution after Kadri fought veteran Joe Thornton in a game last January, pulling off a piece of his beard in the process, Mark Masters writes.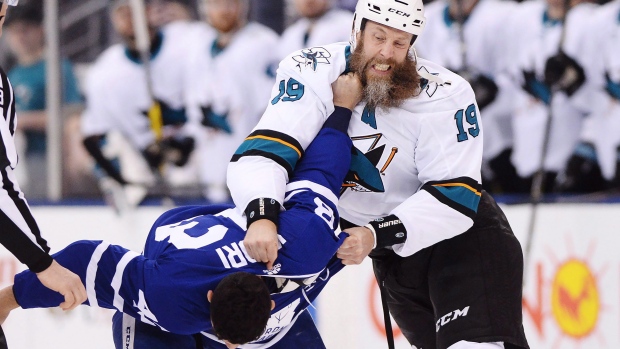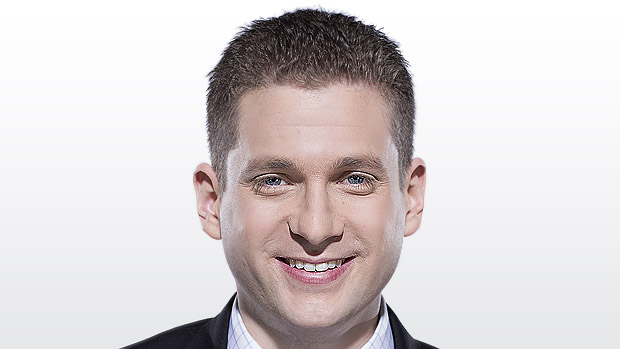 TSN Toronto reporter Mark Masters checks in daily with news and notes on the Maple Leafs. The team practised at the MasterCard Centre on Tuesday ahead of their Wednesday game against the San Jose Sharks.
When the Toronto Maple Leafs played in San Jose on Nov. 15 it was pretty clear the Sharks felt they had a score to settle with Nazem Kadri. Apparently it was leftover bad blood from the previous game between the two teams (Jan. 4, 2018) when Kadri fought Joe Thornton, pulling out a piece of his beard in the process.
"That's what they told me," Kadri confirmed when asked why the Sharks were so irritated.
Although it did seem a little odd. For one, the fight between Kadri and Thornton happened off the opening faceoff so there was plenty of time for the Sharks to seek retribution back then. Kadri was also confused.
"I'm really with you on that one," he said. "I'm not quite sure. I didn't expect such a big reaction. It kind of caught me off guard in a way. But, at the same time, I mean, I'm never a guy who's going to back away or back down so however they want to play is cool with me."
After the game earlier this month, Sharks forward Barclay Goodrow, who tried to goad Kadri into a fight, said the team was standing up for Thornton. ​
"Kadri chose to fight Jumbo, who quite frankly shouldn't have to do that, last year off of the opening faceoff so, I thought I would try to return the favour," Goodrow told reporters.
But Kadri insists that Thornton, who has just two fighting majors in the last six seasons, is the one who initiated things.
"He asked me to fight and I'm not trying to fight guys that are six inches and 50 pounds heavier than I am," Kadri said. "That's not something I want to do. But it was his decision and I felt like I had to answer the bell at that point. And I don't back down. And however they want to proceed and progress moving forward I'm OK with."
For the record, Thornton is listed as six-foot-four, 220 pounds while Kadri is listed as six-foot, 192 pounds.
So, is Kadri expecting any more shenanigans in Wednesday's rematch?
"I don't know," he said. "You'd have to ask them. I'm going to be ready regardless. I'm not going to change the way I play. And I got teammates backing me up so we're just going about our business. You know, winning's the most important (thing) to us."
"To me, there's no one tougher on their team than Big Joe," Leafs coach Mike Babcock said post-game in San Jose. "If Big Joe wants to look after something that happened in the past he can probably do that. So, to me, it was good for Naz. Naz is that kind of guy, he's a little bit greasy anyway so why not."
San Jose's tactics seemed to backfire as Goodrow took a roughing penalty on the first shift and the Leafs scored moments after the penalty expired. Later in the first, Kadri took coincidental penalties (roughing, slashing) with Timo Meier leading to a Kasperi Kapanen four-on-four goal.
Kadri didn't register a point, but played a big role in Toronto's 5-3 win.
"That's what I look to do," Kadri said. "It's part of my game to try to agitate as much as possible. For me, I don't think I'm a guy you can really push off his game when it comes to the physical aspect."
The Sharks face the Sabres in Buffalo on Tuesday night and likely will not hold a morning media availability in Toronto ahead of Wednesday's game.
----
Auston Matthews practised in a regular sweater on Tuesday taking significant contact in a team workout for the first time since sustaining a left shoulder injury on Oct. 27.
"I felt good," he declared afterwards. "I think guys took it, for the most part, easy on me, but just in those battle drills and competing and stuff everything felt good. In my mind, I feel ready to play tomorrow. I still need to talk to the medical guys but, as far as I'm concerned, I feel pretty ready to go."
Babcock said a final decision on the centre's status will be made Wednesday morning after a discussion with head athletic therapist Paul Ayotte. But all signs point to the 21-year-old getting back in against the Sharks.
----
Matthews missed time with three separate injuries last season, but always made a productive return to the lineup:
Back injury - Out from Nov. 6-18, 2017
First game back (at Montreal) - two goals
First seven games - seven points (three goals, four assists)
Concussion - Out from Dec. 9-23
First game back (at NY Rangers) - one goal, one assist
First seven games back - Seven points (six goals, one assist)
Right shoulder - Out from Feb. 22 to March 22
First game back (at Nashville) - one goal
First nine games back - 13 points (six goals, seven assists)
----
Wednesday's contest will mark the fifth game in eight nights for the Leafs coming on the heels of another five-in-eight run.
"We've had a tough schedule here," Babcock acknowledged. "I don't think our energy level in the second five in eight has been the same, but ideally in the next few days we'll get our energy back and get playing like we can."
----
Defenceman Nikita Zaitsev, who missed Monday's morning skate due to illness, was also absent from Tuesday's practice.
Lines at Leafs practice:
Forwards
Hyman-Tavares-Marner
Marleau-Kadri-Kapanen
Johnsson-Lindholm-Brown
Ennis-Gauthier-Leivo
Matthews
Defencemen
Rielly-Hainsey
Gardiner-Marincin
Dermott-Ozhiganov
Holl
Goaltenders
Andersen
Sparks