Kane set for surgery; out 4-6 months
Winnipeg Jets forward Evander Kane will undergo shoulder surgery, head coach Paul Maurice told reporters on Friday. He is expected to be out four-to-six months.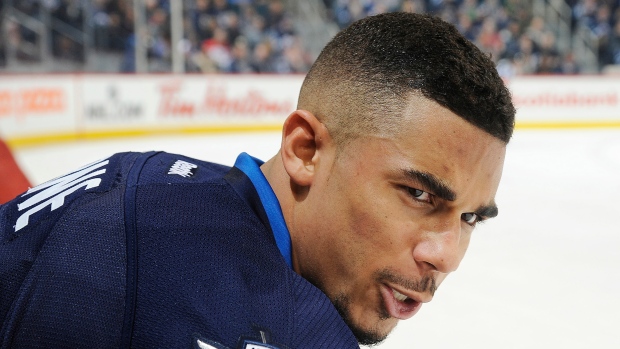 Evander Kane chose to end his season by undergoing shoulder surgery, a decision his agent said was based entirely on health reasons and not the events that led to the Winnipeg Jets forward missing a game earlier this week.
Kane will need four to six months of recovery time after undergoing surgery to repair his left shoulder. The timing is curious because the 23-year-old was made a healthy scratch for Tuesday's game amid unusual circumstances.
A source told The Canadian Press that Kane violated team rules by showing up to a Tuesday afternoon meeting in a track suit, with Dustin Byfuglien later throwing the garments into the shower. Kane did not get on the team bus to the arena and did not play in his hometown of Vancouver.
Kane's agent, Craig Oster, said he did not want to speculate on the events of that day because he didn't have all the facts. Oster said Kane's injury dated back to late last season and had been getting worse.
"Ideally you'd like to not do it and you'd like to avoid it, which he tried," Oster said in a phone interview Friday afternoon. "It's deteriorated to the point now where the doctors felt that surgery was required."
Kane's shoulder popped out of joint twice during the Jets' game Jan. 29 at Philadelphia, Oster said, which led to him wanting another MRI exam.
Doctors decided last summer that Kane could rehabilitate the shoulder and continue to play, but more damage had been done this season, according to Oster.
"He's played this entire year with not just one injury but multiple injuries," Oster said. "Everything that he does on the ice shows that he's played as hard as he can for the Winnipeg Jets."
Oster said the decision to have surgery now "is based simply on health reasons, nothing more."
In 37 games, Kane had 10 goals and 12 assists. In 361 career NHL games for the Jets and previously the Atlanta Thrashers, Kane has 109 goals and 113 assists.
It remains to be seen if Kane has played his final game for Winnipeg. Coach Paul Maurice said Kane would be welcomed back next season, but this is also not the first time his status has been questioned.
"This question has been asked about Evander for many years and many, many times and the answer's been consistent: He's a Winnipeg Jet," Oster said. "He continues to be a Winnipeg Jet and will be until his contract expires or until he's traded."
Even with Kane on injured reserve, the Jets could trade him before the March 2 deadline or wait until the off-season. With an annual cap hit of US$5.25 million for the next three seasons, the former 30-goal scorer is an attractive target for teams wanting a top-six winger.
Oster said Kane has not demanded a trade but did not want to speculate about what Jets management might decide to do.
Kane's future with the club came into sharp focus based on Tuesday's events. Oster confirmed in a Toronto radio interview that Kane was not at the arena for the game against the Canucks but did not shed any other light on the details of what transpired.
"I think there's been a terrible amount of speculation and rumours in terms of what may or did happen," Oster said. "I don't know the facts. I don't know that anybody really knows all of the facts so I really don't have anything to comment (on) because I refuse to speculate about it."
Maurice told reporters in Winnipeg after the team's morning skate at MTS Centre that the decision to bench Kane was his call.
"There are things that the players handle and there are things that I handle," Maurice said. "This was one that I handled."
Without Kane, Byfuglien at least temporarily has been moved back to forward from defence, where he was playing at an all-star level. Maurice said ideally he would like to get Byfuglien back on the blue-line.
Michael Frolik will get more penalty-killing time and Adam Lowry more power-play time in Kane's absence, which is not all that new to the Jets given that he had missed time earlier in the season.
"He's a key piece that comes out and we're going to have to make up for that," Maurice said. "(But earlier this season) Evander was out of our lineup at times that we did play well."
Dr. Peter MacDonald of the University of Manitoba is scheduled to perform the operation Saturday.