Kings' Brown unhappy with suspension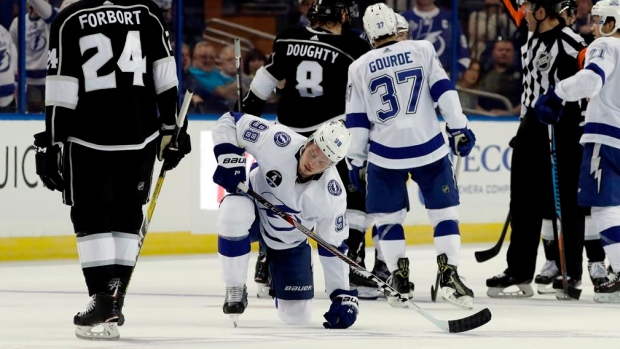 Los Angeles Kings forward Dustin Brown is unhappy with the league's decision to hand him a one-game suspension for kneeing Mikhail Sergachev on Saturday night.
Brown received the suspension on Sunday and will sit out his team's Tuesday contest against the Carolina Hurricanes.
The 33-year-old picked up a five-minute major penalty and a game misconduct for kneeing Sergachev in the second period of his team's 4-3 loss to the Tampa Bay Lightning on Saturday. Brown's leg collided with Sergachev as the rookie defenceman attempted to avoid him while exiting the defensive zone.
"No one knows what's fair anymore. I mean, I saw it differently than they did. They thought I stuck my knee out. I felt like I was going through and he's sidestepping me. So I hit him with my knee, yeah but it was the result of him making a move laterally when I'm trying to deliver a hit," Brown told LA Kings Insider.
"We were coming opposite angles and I was just trying to make an open-ice hit. He's trying to make a good play, like trying to beat me one-on-one and then he's going laterally on me," Brown added. "That's what I was saying, I don't think I changed the angle. When I think of a knee, I think of a guy sticking his knee out to clip a guy. My play, I thought, was lower-leg contact because he's trying to get out of the way and I'm coming through on my original path but the league decided I stuck my leg out I guess. I don't know exactly what their official statement was."
In 55 games this season, Brown has 16 goals and 38 points with 52 penalty minutes.
He received a $10,000 fine on Jan. 20 for cross-checking Pittsburgh Penguins defenceman Justin Schultz from behind.