Laine talks goals, expectations and contract with Dreger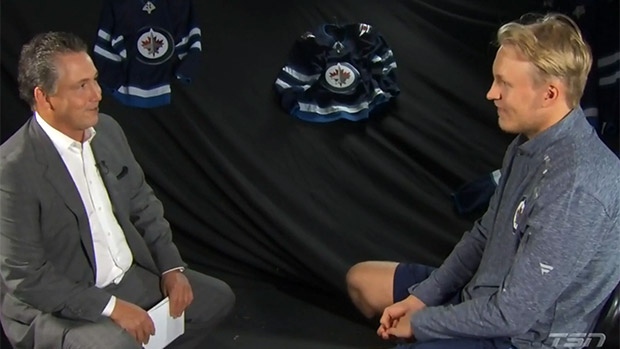 With a young nucleus of promising NHL talent, an undisputed No. 1 star goaltender and an impressive run last spring to the Western Conference Final, the Winnipeg Jets have emerged as a Stanley Cup contender - likely for many years to come.
With training camp set to begin this week, TSN Hockey Insider Darren Dreger sat down for an interview on Wednesday with star winger Patrik Laine to talk about the team's upcoming season and his own expectations.
Here are a few segments that stood out in this extensive chat, with clips of the extended interview that are viewable worldwide.
Darren Dreger: You gave Alex Ovechkin a good run for the Rocket Richard Trophy last season - 44 goals is big-time in NHL standards. Any bold predictions going into this new season as to whether or not you're going to 'overtake Ovi?' Perhaps even crack that '50' barrier?
Patrik Laine: "I think that would be a great milestone, great achievement - but that's something that comes if you play well and you've got to do the small things for the team first and when you work hard all season, you're going to get rewarded at some point. But that's something I want to do at some point of my career and why not this year?
Dreger: No guarantees? You're going to try, obviously, but no bold predictions?
Laine: No, just going to try as hard as I can and if I can make it, I'll be satisfied. But if I won't, I won't be sad for that.
Dreger: You've lost - what I call - considerable weight. I mean 14, 15 pounds in preparation for training camp in your third NHL year. Clearly that was by design - why did you lose that weight, what's the motive?
Laine: Just pretty much to give myself a chance to be quicker on the ice. I've been working hard this summer to be quicker and be faster and I think that was just one reason. I think overall I want to feel good on and off the ice and I think that will help me because I'm a little bit leaner, a little bit lighter. Hopefully I will be good on the ice and we'll see it too.
Dreger: Blake Wheeler gets his extension, Connor Hellebuyck gets his extension, Josh Morrissey is likely around the corner - you're in the third and final year of your entry-level contract. How much do allow the business side of that to enter into your thinking? Do you think about it at all...or are you just trying to keep that away?
Laine: Just trying to keep that away, just trying to focus on the hockey side, making myself as a better player on the ice. Obviously, sometimes you're going to think about it. It would be good to do it so I could get it out of the way and start focusing on hockey, but right now - just not thinking about it, try to improve myself and just be a good player.