Lightning G Vasilevskiy fighting fatigue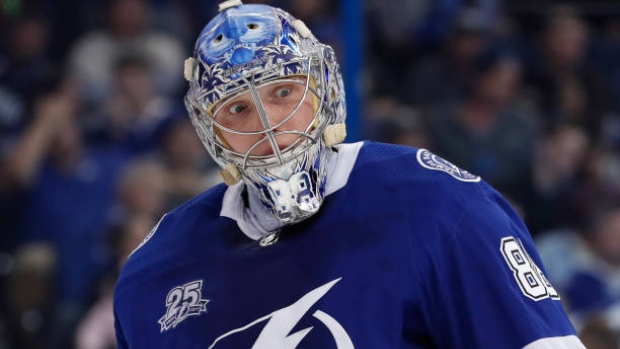 Tampa Bay Lightning goaltender Andrei Vasilevskiy has emerged as the Vezina Trophy favourite with a 39-12-3 record this season.
The 23-year-old admitted Wednesday, however, that the career-high 54 starts he's already made are wearing on him.
"Tiredness is something that I probably never faced before," Vasilevskiy told the Tampa Bay Times. "I mean, 50-plus games. When you play in 20-plus games, it's like you think, 'Oh, I'm good, I can play 60-plus.' But now when I'm on 50-plus, I'm like, 'That's tough.'
"So that's why sometimes I'm probably not as sharp, like (I was) probably the first half of the season. That's why I have to adjust and be on the top of my game."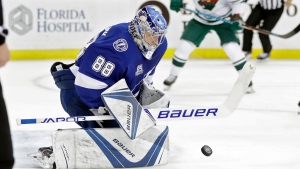 Vasilevskiy has a career-high .925 save percentage this season along with a career-best .917 save percentage. He appeared in a total of 50 games last season and is already five games above that mark this year with 15 games left on the season.
Lightning head coach Jon Cooper said the team is planning to give backup Louis Domingue more starts over the final stretch of the season, noting the focus will be on having Vasilevskiy at his best in the postseason.
"In the end, it's how you get your goaltender ready for the playoffs," Cooper said. "As a coaching staff, you look at pockets of schedule that can help… There's no question that 'Vasy' looks after himself physically. It's the mental grind that is the aspect of the game everybody goes through."
The 2012 first-round pick posted sparkling save percentage marks of .939 in November and .943 in December. In the new year, though, Vasilevskiy's numbers have fallen back. He posted a .916 save percentage in both January and February and he's allowed 10 goals through his first two starts this month.
Vasilevskiy said he believes he's working too hard off the ice and in practice.
"It's probably, I wouldn't say my weakness, but I have to stay away from hockey a little bit," Vasilevskiy said. "I have to take more rest. Usually I'm working pretty hard in practice and off the ice. Now it's 50-plus games, and soon I hope it's going to be 60- to 70-plus, so I have to be fresh, I have to be sharp to help our guys get points and stay on the top of my game."
The goaltender added he plans to opt for treatments over riding the exercise bike after games to help fight fatigue moving forward.
"When you're tired physically, you probably will be mentally tired, too," Vasilevskiy said. "I have to take more treatments, more rest then, eating well, sleeping well, and sometimes just get away from hockey to keep my mind in good shape.
"I'm kind of discovering more new things in my body now. When I played 50-plus games, I feel much different than when I played 20 games in a season. It's all a good experience for me. So I will have to adjust to it and be fine."
Vasilevskiy will make start No. 55 on the season against the New York Rangers on Thursday night.