Lightning 'very interested' in re-signing Budaj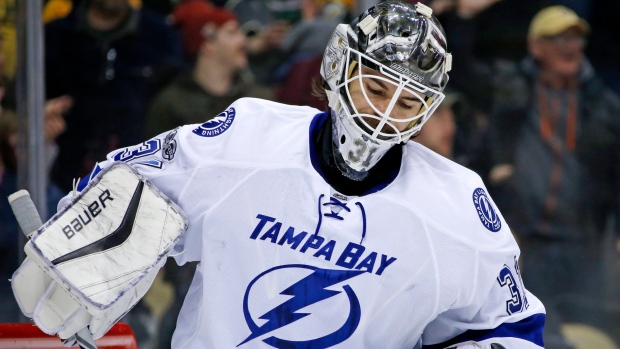 Peter Budaj only made four starts for the Tampa Bay Lightning this season after being acquired ahead of the trade deadline, but the Lightning liked what they saw.
Budaj, who came from the Los Angeleses along with a seventh-round pick and defenceman Erik Cernak when the Lightning traded Ben Bishop and a fifth-round pick to the Kings, is scheduled to become an unrestricted free agent in July.
Lightning general manager Steve Yzerman said Thursday the team would like to bring Budaj back.
"We were very pleased with the finish to the season Peter had, we'd very much be interested in bringing him Peter back," Yzerman told 620 WDAE, per the Tampa Bay Times. "As the offseason winds down here, we get closer to July 1, we'll figure out what we're going to do for backup and goaltenders in Syracuse."
Budaj posted a 3-1 record in his four starts with a .898 save percentage and a 2.80 goals against average. He made 51 starts for the Kings before the trade, posting a .917 save percentage with a 2.12 goals against average filling in for the injured Jonathan Quick.
The 34-year-old owns a career .905 save percentage with a 2.67 goals against average.
Greg McKegg and Luke Witkowski are also unrestricted free agents for the Lightning. Jonathan Drouin, Tyler Johnson, Ondrej Palat and Andrej Sustr are restricted free agents.
Starter Andrei Vasilevskiy is signed through 2019-20.
"We think we have a young man who has a chance to be a really, really good starting goaltender for a long time," Yzerman said of the Russian. "He's got the athletic ability, the drive to be. He just needs experience."
Vasilevskiy posted a 27-save shutout with Russia in their quarter-final game against the Czech Republic.