Lightning won't trade Stamkos this season
The rumours can be put to rest, at least until the summer. Tampa Bay Lightning GM Steve Yzerman issued a statement Monday, saying the team won't trade Steven Stamkos prior to the February 29 Trade Deadline.
Frank Seravalli, TSN Senior Hockey Reporter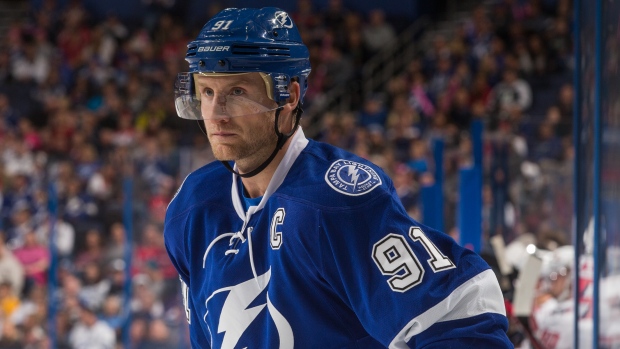 Steven Stamkos isn't going anywhere.
At least not until July 1, anyway.
Tampa Bay Lightning general manager Steve Yzerman issued a strong statement on Monday saying that his captain will not be traded in the next two weeks, squashing any chatter or rumour to the contrary.
"As February 29th approaches, I am stating today that Steven Stamkos will not be traded before the NHL's trade deadline," Yzerman said via press release. "I have said repeatedly that it is our hope to reach an agreement with Steven on a new contract at some point, and with 27 games remaining in the season, our entire organization, Steven included, wants to focus on making the playoffs. I will keep the negotiating process strictly between the involved parties and have no further comment on the state of those negotiations."
That the Lightning, gearing up for what the team hopes is another deep run in the playoffs, will not trade Stamkos is hardly a surprise. Stamkos, 26, has said all along that his goal is to win in Tampa Bay.
Instead, Yzerman's statement takes all the pressure off Stamkos for the remainder of the season, allowing him to focus on hockey. The Lightning need his help; they began Monday just one point up on Pittsburgh for the Eastern Conference's final wild card spot.
Buzz about Stamkos' status prior to the trade deadline increased last week when Stamkos was asked whether he would consider waiving his no-trade clause if Yzerman asked.
Stamkos predicted there would be "answers in a couple weeks when that time comes." Some viewed that as cryptic, while Stamkos was likely only trying to say that a resolution was near.
"I think the answer is we'll cross that bridge at the time," Stamkos said. "I don't think it's that time right [now]. So, I continue to come to the rink every day as the leader that I am and the teammate that everyone in this room knows that I am, and give my best effort. I've said that since Day 1 of training camp and that hasn't changed."
Rather than definitively say he would not waive his no-trade clause, which would have also quelled the rumour mill, Stamkos said his fear was that any statement he made about it would have been saying something that "someone can twist." Nothing can be twisted from Yzerman's statement.
The Lightning remain relatively confident that they can broker a new contract with Stamkos prior to July 1. The risk, of course, is that Yzerman and the Lightning get nothing in return for a 26-year-old sniper in his prime if Stamkos walks as a free agent this summer.
Plenty of questions remain about Stamkos' long-term future in Tampa Bay, but there are a few less for Stamkos to answer now, with everyone knowing he will be a Bolt for at least the next 27 games.
"We've had open lines of communication. There are ongoing talks. Really, that's been it," Stamkos said last week. "There hasn't been anything that we're going to say that's going to blow everyone out of the water. We've done it that way, shown a lot of respect towards each other."
Frank Seravalli can be reached at frank.seravalli@bellmedia.ca.