Oilers fire head coach Eakins; MacTavish to transition Nelson into role
Sitting in last place in the Western Conference, the Edmonton Oilers have fired head coach Dallas Eakins. Oklahoma City Barons head coach Todd Nelson will be taking over on an interim basis after a brief transition period with general manager Craig MacTavish behind the bench. Eakins will speak to the media at Rexall Place, Tuesday at Noon et/10am mt.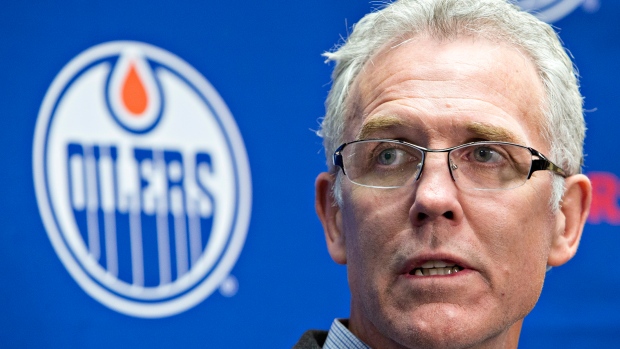 EDMONTON - Oilers general manager Craig MacTavish sacked head coach Dallas Eakins on Monday, saying while Eakins is taking the fall for mounting losses, he isn't solely to blame for what's shaping up to be another dismal NHL season in playoff-starved Edmonton.
"There's blood all over my hands in this too as well because I put the lineup together and the roster," MacTavish told a news conference at the Oilers' downtown offices.
"But it's just the compounding of the losses that led me to this decision."
MacTavish will take over as head coach on a transitional basis before handing the reins to Todd Nelson, who is being promoted to interim head coach from Edmonton's American Hockey League affiliate in Oklahoma City.
MacTavish said he didn't have a timeline on when he would return to the front office.
Eakins will speak to the media at Rexall Place, Tuesday at Noon et/10am mt.
Nelson inherits a team that has lost 15 of its past 16 games is last in the Western Conference with 19 points through 31 games.
The Oilers are on track to miss the playoffs for the ninth consecutive year and Nelson will be the fifth head coach in seven years.
Disillusioned fans in recent weeks have begun voting with their feet.
Gaps and rows of empty seats are commonplace at Rexall Place, and tickets can be had for fire sale prices.
Criticism has been pointed directly at management, including hockey operations boss Kevin Lowe and owner Daryl Katz.
Considered one of the hottest coaching candidates when with the AHL's Toronto Marlies, Eakins was the star hire made by MacTavish when he took over as general manager less than two years ago.
MacTavish was so keen to lock up Eakins he fired the head coach at the time, Ralph Kruger, on Skype.
Eakins, with a four-year deal, was seen as an X and O's wunderkind, on the cutting edge of the new generation of coaches with novel ideas like the swarm defence.
It didn't translate to the ice.
The Oilers finished with the third-fewest points in the NHL in 2013-14 with a record of 29-44-9 in the one full season under Eakins.
They were 7-19-5 so far this year, but the nature of the losses was what rankled fans on social media and phone-in shows.
The Oilers, despite offensive magicians like Ryan Nugent-Hopkins, Jordan Eberle, and Taylor Hall, are averaging just 2.1 goals per game.
The team has been mocked as soft, with forwards not wanting to fight for the puck, preferring to shoot from the perimeter with little follow up.
The defence has been exposed as erratic and undisciplined.
MacTavish has been criticized for delivering to Eakins just two NHL calibre centres — Nugent-Hopkins and Boyd Gordon — and suspect goaltending in Ben Scrivens and Viktor Fasth.
The firing came just over a week after MacTavish gave Eakins a public vote of confidence, telling reporters then that Eakins still had the respect of the dressing room and that it was up to the players to turn the season around.
But the losing continued.
"I think the fact we weren't able to get any traction at all after that, it led me to believe the time was right for a coaching change," said MacTavish.
MacTavish more than a week ago, also said there was no point to breaking up the core talent of the team, saying there were so few tradeable assets, any trade would be a simultaneous step forward and backward
On Monday, when he was asked again if he would touch the core, he didn't rule it out.
"I don't want to answer that question until I get a hands-on understanding of exactly what's happening in there (the dressing room)," said MacTavish.
"I want to have ample opportunity to have eyeball-to-eyeball conversations with the core group."
With an average age of under 27, the Oilers' roster includes three No. 1 overall picks: Hall in 2010, Nugent-Hopkins in 2011 and Nail Yakupov in 2012.
All aspects of the organization, including himself, remain under scrutiny, said MacTavish.