Malkin drops gloves with Stamkos in 'best game in a while'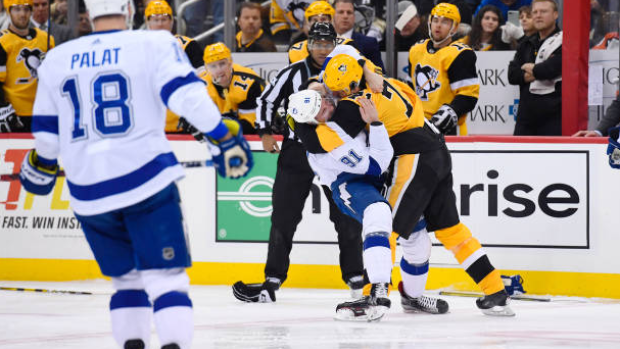 Evgeni Malkin made his presence felt on Wednesday night, picking up two assists as the Pittsburgh Penguins built up a 4-0 lead on the NHL-leading Tampa Bay Lightning and engaging in a third-period fight with Lightning captain Steven Stamkos.
Malkin became the fifth Russian-born player in league history to reach 600 career assists on Wednesday night and head coach Mike Sullivan praised his performance after the 4-2 win.
"That's Geno's best game in a while, I think," Sullivan said. "He was on the puck. You noticed him. He was a presence every shift."
Malkin and Stamkos traded slashes early in the third period before dropping the gloves. Both players traded shots to each other's helmets before wrestling to the ice.
"It happened so quick. By the time I caught up they were falling," Penguins defenceman Kris Letang said. "Geno is always good for one fight a year. I guess that was it."
Sullivan said Malkin, who extended his point streak to four games and posted his first multi-point game since Jan. 11, was also in peak form defensively.
"When he's engaged like that emotionally, I think that's when he's at his best," Sullivan said.
According to HockeyFights.com, Wednesday was the first Malkin had fought since Dec. 21, 2017, while Stamkos had last dropped the gloves on March 30 of last year.
"I thought he gave me a little whack. I gave him one back. It's just hockey," said Stamkos, who posted his 27th goal of the season with three minutes left in the loss.