Manziel: If no NFL, 'I'm going to play in the CFL'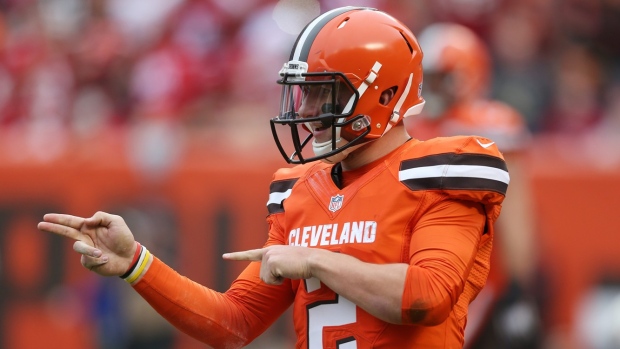 Quarterback Johnny Manziel wants to play in the National Football League next season, but if no offers arise, he has a back-up plan: the Canadian Football League.
Manziel confirmed his intentions at the Texas A&M pro day in College Station, TX on Tuesday.
"If something (NFL) pops up, it pops up. And if if not, and I don't the opportunity to go back, I'm going to play in the CFL." Manziel told reporters.
Manziel will play in the Spring League next month as he hopes to show enough to earn a second a NFL opportunity. Manziel, who also threw to draft eligible players at the University of San Diego last week, said Tuesday he will not throw at any more pro days.
The 25-year-old Manziel's CFL rights are currently held by the Hamilton Tiger-Cats, who currently have Jeremiah Masoli, Vernon Adams, Dane Evans and Bryant Moniz under contract behind centre.
TSN's Farhan Lalji reported in January Hamilton had offered Manziel a contract in the range of $150,000 with some minor incentives earlier that month for the 2018 season, but Manziel's camp was looking for an offer in the range of $500,000. Lalji noted at the time the gap between the two sides may have closed, but Manziel is believed to be looking for starter's money.
Manziel responded to that story, when posted to Twitter by TSN, with the response "Nahhh."
Manziel's agent Eric Burkhardt, however, has stated that his client is worth at least the same amount of money as starter Jeremiah Masoli, who the Ticats signed on Jan. 4 for just under $250,000 with incentives worth as much as $90,000. Masoli will then make $325,000 in 2019 with the possibility to make as much as $375,000 with incentives.
The 2012 Heisman Trophy winner, Manziel last played in the NFL in 2015 with the Cleveland Browns. Off the field, Manziel had dealt with well-publicized substance abuse issues and was indicted on assault charges stemming from a January 2016 incident involving an ex-girlfriend that was settled with a plea arrangement. In February, Manziel revealed that he was diagnosed with bipolar disorder and was taking medication for it.