Marner's magic creating space for Leafs teammates
There are a couple of moments in every Toronto Maple Leafs game when Mitch Marner seems to take over as he enters the offensive zone, giving linemates John Tavares and Zach Hyman plenty of time to get into dangerous scoring positions and watching the dynamic winger working at full speed with the puck on his stick is simply magical, Mark Masters writes.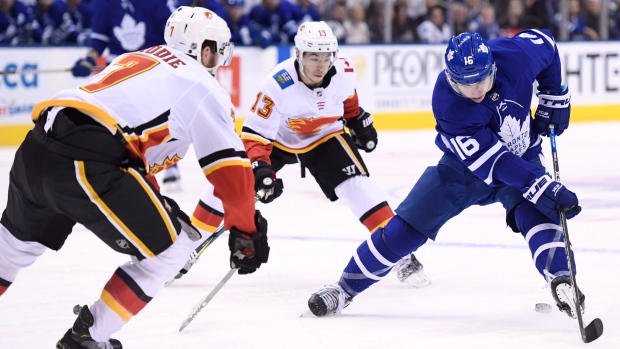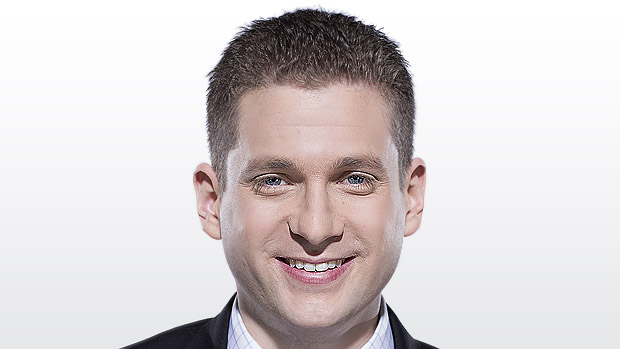 TSN Toronto reporter Mark Masters checks in daily with news and notes on the Maple Leafs. The team practised at the MasterCard Centre on Thursday.
Call it Mitch Marner magic. There are a couple moments in every Toronto Maple Leafs game when the dynamic winger seems to take over.
A recent example came in the first period of Tuesday's win as Marner stole the puck from Vegas Golden Knights defenceman Colin Miller and proceeded to wheel around the entire zone.
"I usually know the d-man is pretty flat-footed so it's hard for them to get their gap and get moving again," Marner said in describing his thought process. "For me, it's just making sure that I'm using my speed to get around, try to find open guys and if they're not open then try and take it to the net."
Marner's loop around the net bought time for linemates John Tavares and Zach Hyman to gain the zone and get into dangerous positions.
"When you have his ability to handle the puck and then speed with it, it really puts the defender on his heels," observed Tavares. "He's got to defend him driving low, beating him to the net and that gives him the ability to be able to turn up, use his edges, use his puck skills, read the play to buy some time and give himself an opportunity to make a play like that and create an opportunity."
"You know, not many guys can do that and keep their speed and make a play like that, so [it's] a pretty special play," said defenceman Jake Gardiner.
----
Gaining the offensive zone with possession is one of the toughest things to do in today's NHL, but not for Marner. He pulled off a backhand-toe-drag-between-the-legs entry early in the third period against the Golden Knights. It created space for himself and his teammates.
"He's probably one of the better ones in the league," noted Gardiner when asked about Marner's zone-entry excellence. "I mean, you think you've got him pinched off and then he'll make a little play whether it's a pass or chip it to himself, something. He's very smart that way and sees the ice so well."
The Leafs, obviously, want to maximize Marner's in-zone ability and, to that end, Mike Babcock spoke with the 21-year-old on Thursday about fine tuning his line's cycle game.
"They're our heaviest line by a long ways," the coach said. "They spend more time in the offensive zone than the other lines and we need them to continue to grow in that area."
Both Marner and Tavares see plenty of room for improvement in that regard.
"It's just being a little bit better reading each other's body language and getting to the right spots," said Tavares.
"We usually know Hyman's around the net," said Marner, "for us two it's just making sure that, if one of us is in trouble, the other one's trying to get open for him and talk to him and be an outlet."
----
Babcock breaks the regular season down into five-game segments with the goal of gaining at least six points in each segment. If the team does that it basically guarantees a playoff spot (98.4 points).
Toronto's best segment this year was the first one when the Leafs went 4-1-0. But the underlying numbers in the last two segments – the Leafs went 3-2-0 in each – are more encouraging from a defensive perspective.
"We don't spend as much time worrying about shots as some people do," Babcock said when asked about his team reducing the number of shots against this season. "But the scoring chances are important. Our last two segments have been the lowest in the four years I've been here so that's real positive. Now, we got to do it again."
It's probably no coincidence that the goals-against totals have also been declining. Toronto allowed 20 goals in the first five games (four per game), 12 in the next five (2.4 per game) and only eight in the five most recent outings (1.6 per game).
----
The Leafs led the NHL in shootout wins last season posting a 7-2 record in the tiebreaker. But Toronto's two best shootout performers from last season – Tyler Bozak, five goals (free agency) and Auston Matthews, three goals (injury) – are out of the equation. So, who will be leaned on should the score be deadlocked after overtime?
Well, the Leafs worked on breakaways at the end of Thursday's practice. Garret Sparks was in net for most of it and he said Tyler Ennis stood out. Marner agreed with that assessment.
"Enzo is a pretty good shootout guy," Marner said. "He scores quite a bit when we do them. So, he's pretty impressive just with how many moves he's got."
Ennis is 15/44 (34.1%) in shootouts during his career putting him just behind Matthews (5/14, 35.7%), but ahead of Toronto's other top candidates like Marner (5/16, 31.3%), Patrick Marleau (12/40, 30%), Tavares (16/59, 27.1%) and Nazem Kadri (5/25, 20%).
The Leafs have only gone past regulation twice this season beating both the Montreal Canadiens and the Chicago Blackhawks in overtime during the first week of the season.
----
Babcock confirmed that Frederik Andersen and Sparks will split the next two starts as Toronto hosts the New Jersey Devils on Friday before travelling to Boston for a playoff rematch with the Bruins on Saturday. The coach, however, refused to reveal which goalie will play in which game.
Andersen has dominated Boston during the regular season (10-1-0, .935 save percentage) and a showdown with a divisional opponent is more significant, especially in light of the NHL's playoff format. However, if Babcock sticks to what he's done during his time in Toronto, it will be Andersen starting against the Devils. Babcock has always leaned on his No. 1 in the first half of a back-to-back set.
Sparks hasn't played since stopping 33 of 34 shots in a win over the Los Angeles Kings on Oct. 15.
TSN's Kristen Shilton has more on Andersen's strong start this season here.
----
As has been the case all week, Matthews skated before practice on Thursday morning as he continues to work his way back from a shoulder injury sustained on Oct. 27. The Arizona native worked alongside assistant athletic therapist Jon Geller and player development consultant Darryl Belfry for about an hour.
Last season when Matthews was recovering from a separated shoulder, he was able to rejoin his teammates for at least part of practice 13 days after the injury was sustained. He'll hit the two-week mark since the latest injury on Saturday.
----
Lines at Thursday's practice:
Forwards
Hyman-Tavares-Marner
Marleau-Kadri-Kapanen
Johnsson-Lindholm-Brown
Ennis-Gauthier-Leivo
Defencemen
Rielly-Hainsey
Gardiner-Zaitsev
Dermott-Ozhiganov
Marincin-Holl
Goaltenders
Andersen
Sparks
Power-play units at Thursday's practice:
Rielly
Tavares-Kadri-Marner
Marleau
Gardiner
Ennis-Johnsson-Leivo
Hyman