Marner states his case in Leafs preseason finale
For Mitchell Marner, Saturday night was one last chance to prove he's ready for the NHL. Not just for a nine-game audition, but a full-season schedule.​ With the Toronto Maple Leafs ending their preseason slate in Detroit against the Red Wings, Marner played like a man on a mission.
Kristen Shilton, TSN.ca Maple Leafs reporter, TSN.ca Staff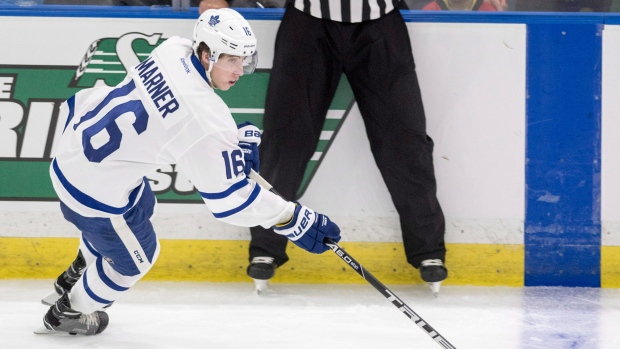 For Mitchell Marner, Saturday night was one last chance to prove he's ready for the NHL. Not just for a nine-game audition, but a full-season schedule.
With the Toronto Maple Leafs ending their preseason slate in Detroit against the Red Wings, Marner played like a man on a mission. Ultimately the Maple Leafs came up short, falling 4-3, but exhibition can be more about individuals than a team. This night was Marner's to use to his advantage.
After everyone in the lineup struggled against the Montreal Canadiens in Thursday's 6-1 blowout loss, Marner was night-and-day better from puck drop on Saturday. He came out firing with an early turnover in the neutral zone to create a great scoring chance, and would have potted his first of the preseason from good position on a gaping net if not for an unruly puck that bounced over his stick.
By his own admission, Marner's confidence when he came to Toronto's camp last season wasn't where it needed to be. For the most part, that problem was clearly alleviated at development camp and has carried on through to the end of the preseason. His puck possession on Saturday showed how much more comfortable he's become, and unlike Thursday, Marner was making better decisions with it, putting pucks in the right places. With his focus on honing a 200-foot game, his backcheck to take away a two-on-one chance for Detroit illustrated how far he has progressed.
With another loss in the books, Toronto fell to 2-4-2 in the preseason. Marner appeared in six of the eight contests and has tallied four assists. A preseason ago, he played in just two and recorded no points. Marner saw time on a line with Auston Matthews in two games while his usual centerman, Tyler Bozak, was nursing an injury. He was back with Bozak on Saturday and while Marner and Matthews have good awareness of each other on the ice, playing with a veteran centre has yielded better results for Marner. If his line remains the same, he'll start the season with Bozak and James van Riemsdyk, who adds a strong net presence to the group.
Overall, Saturday was Marner's best game, but also the most complete game the Maple Leafs have played. After getting down 2-0 early, they didn't let the game get away from them like they did in the same position in Montreal. As a group they remained calm and stuck to their systems, which eventually produced results. Trailing 3-1 to start the third, Toronto opened the period by scoring twelve seconds apart to give the entire bench a boost. The second score, from Brooks Laich, was originally called a no-goal because Connor Brown interfered with Petr Mrazek, but that was overturned upon review.
What's most clear after eight exhibition contests is that what success Toronto finds this season will depend on how fast the young players can develop and how good the team's goaltending can be. Especially early on, they're going to need Frederik Andersen to be better than he was on Thursday and Saturday. As Andersen gets to know the nuances of his teammates, he'll settle in to a groove. As for the kids, they've already made positive adjustments. There are many more left to make.
--
TAKEAWAYS
A glaring trend for the Maple Leafs in this preseason has been slow starts. No matter the lineup or opponent, Toronto has been consistently outplayed in the first period of almost every game they've played and Saturday was no exception. Detroit jumped out to a 2-0 lead in the initial 8:11, partly because of poor communication between goaltender Frederik Andersen and his defenders, and partly because it once again took some time for the Leafs to find their legs. Always playing from behind isn't going to help a young team succeed.
Auston Matthews was arguably the Leafs best forward on Saturday, thanks in no small part to the burgeoning chemistry developing with his line mates Zach Hyman and William Nylander. Throughout the game, Matthews was consistently able to get pucks on net and create chance after chance offensively. He earned an assist on Hyman's second period goal that he set up with his speed through the neutral zone. Early in the third, Matthews won the faceoff in the offensive zone that lead to Nylander's goal. They sky is the limit for how good this talented group can be with more time and experience.
Connor Brown may not have a spot on the Maple Leafs final roster, but he certainly hasn't looked out of place at the NHL level. Playing with Brooks Laich and Matt Martin on Saturday, Brown was using the space they gave him to show the breadth of his skills. He's a tough winger with a nice scoring touch, a bottom-six forward you can count on. After getting seven games last season (one goal, five assists), Brown deserves to see more time with Toronto this year.
In what was at times a sloppy game for Toronto defensively, Jake Gardiner had a solid showing. He played calm when the Red Wings were pressing, taking the extra time to reset rather than force the play. He made a nice hustle play on Tomas Tatar who had broken away on a potential scoring chance. On the other side, Matt Hunwick had a difficult game. It was Hunwick that Andersen was trying to feed from behind the net on the play that led to the first goal, and Gustav Nyquist stripped a puck off Hunwick late in the second to set up the scoring play that gave the Red Wings a 3-1 lead. He and Nikita Zaitsev are expected to start the season playing together, but they need more time to build chemistry.
When the Leafs announced cuts from their camp roster on Saturday morning, Brandon Prust wasn't among them. But he also wasn't on the ice for Saturday's game. Prust is with Toronto on a professional tryout and has been playing fairly well in camp and the preseason. With the Maple Leafs battling some injuries, it could explain why Prust is still around. Whether he sticks with Toronto or not, he said Friday he still thinks he can play in the NHL and will try to use the exposure from his team with the Maple Leafs to get on with another club.