Matthews skates again, but status remains murky
Toronto Maple Leafs star Auston Matthews cranks it up a notch with full-speed drills at Monday's practice, but head coach Mike Babcock is still unsure if his No. 1 centre will be available for Tuesday afternoon's game against the Carolina Hurricanes.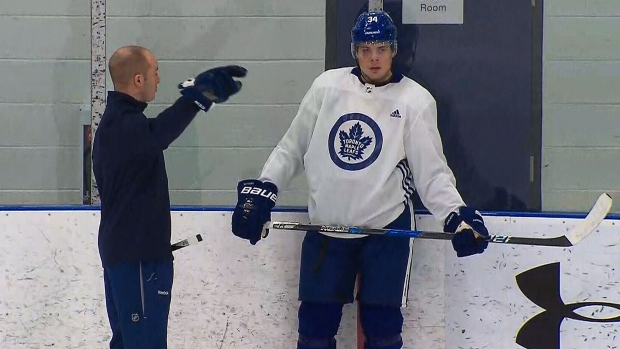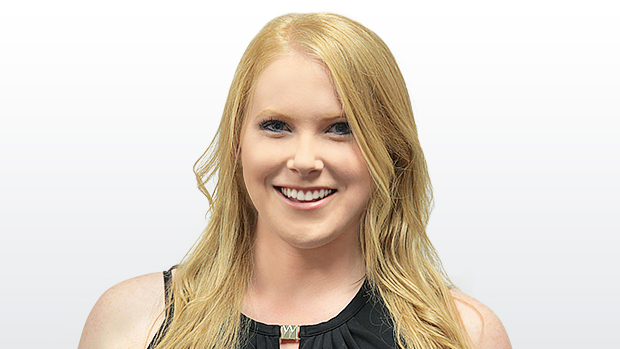 TSN's Kristen Shilton writes on the Toronto Maple Leafs, who held an 11 a.m. practice at MasterCard Centre on Monday.
When Auston Matthews skated prior to Sunday's practice, it was a fairly low-key workout, with some light shooting and skating drills. On Monday, he cranked his routine up a notch.
Joined by a trainer and skills coach, Matthews went full-speed through several drills similar to what his teammates would be doing later in practice, including puck protection work and makeshift battle drills. He has missed the Leafs' last four games after he and teammate Morgan Rielly collided in the 4-3 win over the Penguins in Pittsburgh Dec. 9.
Matthews was clearly pushing himself harder than he had the day before, which could be a positive sign that he's nearing a return for the Leafs. That explosiveness that makes Matthews so dangerous appears to be returning as well, and he was snapping the puck with impressive speed and accuracy. When he finished his solo workout, Matthews spent about 20 minutes firing on Frederik Andersen and Curtis McElhinney, who didn't need to see the pucks fly behind them to know Matthews hasn't lost much of a step.
"His shot is still the same, so that's good," Andersen said jokingly after getting beat two or three times top-shelf. "We obviously want to see him healthy and make sure he's good. We're taking it slow with him."
While the Leafs, who have scored just four goals in their last four games and have lost three straight, could certainly use some offensive reinforcements, they may have to wait a little longer for Matthews to be cleared. Despite signs of progress, head coach Mike Babcock was unsure if his centre will be available for Tuesday afternoon's home game against the Carolina Hurricanes or Wednesday's contest against the Blue Jackets in Columbus.
"That's a great question, I asked the same one," Babcock said. "He's doing good. I don't know when they're letting him play but he's doing good, how's that?"
For Matthews' teammates, just seeing him back on the ice and knowing he's getting closer to rejoining the lineup was enough to offer a boost.
"When someone is going through something, as soon as you see him back out there on the ice, everyone gets a little bit excited," said Patrick Marleau.
"You always want to see your teammate and your buddy be back on the ice and get back with us as soon as possible," added Zach Hyman. "He's doing all the stuff he needs to do and it's a good sign to see him back out there."
Babcock tinkers with lines again
William Nylander had moved back to centre in Sunday's practice, but on Monday he had a new left winger in Marleau.
The veteran skated beside Nylander and Hyman for the first time this season as a trio, and Babcock is hopeful they can generate the necessary spark to get the Leafs' offence humming again.
"You're just hoping there's some chemistry and that they're going to play well and spend more time in the offensive zone than in their own zone," Babcock said. "We played Willy in the middle at home before when we control the matchup, we control the matchup here [Tuesday] so we're going to try and do the same thing. Patty…can play down low and look after him if he needs to as well and go from there. Hyman, [Connor] Brown and [Nylander] are a real good line also, so we can always have that option."
What Marleau adds to a line with two sophomores is the stability and poise in the defensive zone that was a bit lacking in Nylander's first outing at centre on Dec. 10. And in his 19th NHL campaign, Marleau appreciates the burst of youthful speed and energy that comes from playing with Nylander.
"I think Willy is highly skilled and very explosive skating-wise so I'll just try and get open and try to complement him," Marleau said. "I think to have a bit more sustained o-zone time, playing heavy, and protect the pucks down low, that's going to create more chances."
Hyman is generally super-glued to Matthews' left wing, but since he's been out of the lineup, Hyman has played primarily with Marleau. He's long admired the veteran and has drawn further motivation from seeing how the former Shark carries himself on the ice.
"I've played with both of them for a while but I've never played with them together, so that'll be fun," said Hyman of Nylander and Marleau. "They're both good players and, with Willy in the middle, he uses his speed well and passes well and Patty is just a workhorse and obviously an elite shooter so it'll be fun to play with him."
Getting offence back on track
While appreciative of a three-day break between games, the time off did give the Leafs ample time to consider their flagging offence – and, hopefully, how they can improve it. Work on the forecheck and cycling the puck were focal points in both Sunday and Monday's practices, and the message has been received loud and clear: protect the puck at all costs to stay in the offensive zone.
"I think we just have to play better with the puck, hold onto the puck more in (their end) and be creating chances," said Hyman. "If you do that, it leads to breaking out quicker and having the puck more, and when the other team is changing it gives your D more time."
Their lack of sustained pressure in recent weeks has naturally led to fewer shots being fired on net. Toronto hasn't put more than 29 shots on goal in any of their last six games, while they've allowed more than 30 shots against in four games along that same stretch.
"We need to shoot more, but we're getting chances," said Andersen. "Sometimes it's not really going your way, but I'm pretty positive we're going to score eventually and when it does start turning, it's going to be good and guys will get their swagger back."
Marleau has seen a little of everything over the course of his career, and understands why adjusting to a league that's constantly adjusting to you isn't as easy to accomplish in practice as in theory.
"At the start of the year, everyone is still trying to play the system and get used to it," he said. "Now, everyone is pretty dialed in so it's about doing those things to be successful each and every shift. Maybe you'd get away with it earlier in the season, but you don't get away with it now. You need those three or four extra chances to get that one goal."
With Matthews' status still uncertain, the loss of Nikita Zaitsev couldn't have come at a worse time for the Leafs. He leads the team in ice time per game (22:50) and has been an impact player at even strength and on special teams. Filling the void of both players will require additional commitment from every player.
"We're going to have to step up with Zaits out, but we have guys who are hungry to play and they should play good," Andersen said. "You want to be playing solid in the defensive zone and you want to be scoring more goals; that's something we've talked about. But we're keeping (the games within reach and you just have to keep going and shoot the puck, and eventually it's going to turn."
Andersen adjusts routine for afternoon game
Goaltenders – and just players in general – are notorious for having strict pre-game rituals. Andersen has a specific routine he likes to go through before each game and, with the Leafs almost always playing at the same time, that routine is rarely disrupted.
But for the odd special occasion, like Tuesday's 2 p.m. start for the Leafs' Next Century game, Andersen has devised a new regime to be at his best by puck drop.
"You don't play a lot of those, so you (draw on) the experience you do have," he said. "Maybe get up a little bit earlier, have some breakfast, get a quick nap in again so you don't feel like you're eating pasta for breakfast. That's just small challenges that those games present, but you just have to adjust a little bit."
Andersen also usually likes to get a skate in before a game, but an early start may make that impossible. Either way, he and the Leafs are looking forward to honouring the franchise's 100th birthday on what Toronto Mayor John Tory has declared "Toronto Maple Leafs Day" in the city.
"Any time you're involved in an Original Six (team), there's a ton of history and tons of great players that have gone before you and you want to represent them well," said Babcock. "We want to get our franchise back to its rightful place, we're working at that, trying to get better each and every day. We understand it's a process, but I think we have a product right now that our fans are proud of and we just have to keep getting better."
The Leafs have asked season ticket holders or fans who can't use their tickets on Tuesday afternoon to donate them to children who can attend the game. It should make for a more boisterous atmosphere than the Leafs are used to at Air Canada Centre, which should suit the players just fine.
"It's a great time of the year, right around the holidays. Reminds you of being a kid," said Hyman. "It's a good time to be playing hockey."
Leafs lines at Monday's practice
Forwards
Marleau-Nylander-Hyman
Komarov-Kadri-Brown
van Riemsdyk-Bozak-Marner
Martin-Moore-Kapanen
Leivo
Defencemen
Rielly-Hainsey
Gardiner-Carrick
Borgman-Polak
Marincin
Goaltenders
Andersen
McElhinney