McKenzie: Canada's WJHC team looking closely at how NHL camps unfold
In this, the final week of pre-season games, NHL general managers are watching closely to see if their underage prospects who are eligible to be sent back to junior are worthy of playing regular season games and occupying a spot on a 23-man roster. And as TSN Hockey Insider Bob McKenzie, that will be a huge factor as Hockey Canada looks ahead to the 2015 World Junior Hockey Championship.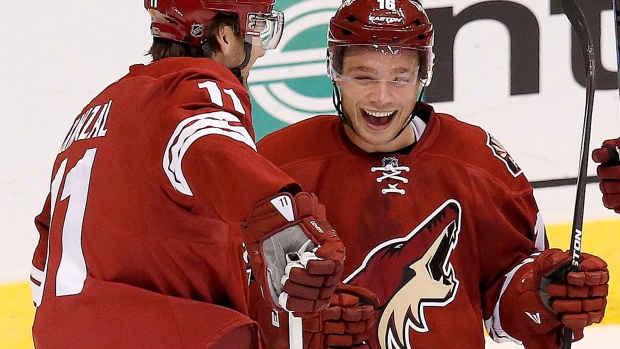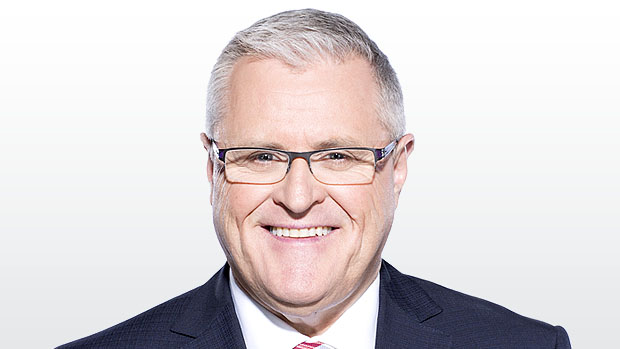 In this, the final week of pre-season games, NHL general managers are watching closely to see if their underage prospects who are eligible to be sent back to junior are worthy of playing regular season games and occupying a spot on a 23-man roster.
Meanwhile, Ryan Jankowski is just as intently watching those GMs, knowing their decisions made this week or next could complicate his job as Hockey Canada's chief scout and the assembling of Canada's national junior team for the 2015 World Junior Championship.
"It's early yet and just because (an underage) player starts the season in the NHL doesn't necessarily mean we won't get him (for the World Junior tourney)," Jankowski said, "but, yes, we're keeping an eye on how all these kids are doing and how things will unfold with their NHL teams. Once we see where everyone is, we can start formulating a plan."
The World Junior tourney is always a big deal, but it's bigger than ever this year.
For starters, Canada has not won a gold medal for four consecutive years, not yet as dire as the seven-year drought between 1998 and 2004 but disturbing nonetheless. Worse still, Canada is coming off back-to-back fourth-place finishes, an unprecedented medal-less stretch since Canada started its Program of Excellence for the 1982 WJC. Finally, this year's tournament is being held in Montreal (preliminary round games for Team Canada) and Toronto (medal-round games) so everything about this year's event is bound to be magnified on home soil in the country's biggest city.
"I think there's a lot more focus this year (on underage players in NHL camps) because we have 11 eligible returnees from last year's team, which is a lot more than usual," Jankowski said. "How many of them we'll get, you just never know. The 1995 birth year is a particularly strong group in Canada and the expectation is those 19-year-olds will form the core of our team."
Indeed, there's a lot to like about the 95s but that's a double-edged sword because it's the NHL teams who are, to varying degrees, liking what they are seeing from the prospects in training camp right now.
Team Canada's top candidates to be captain are Curtis Lazar and/or Sam Reinhart, but there's reason to believe both could start the NHL regular season with the Ottawa Senators and Buffalo Sabres, respectively, and get the nine-game trial treatment (if an underager is returned to junior having played nine or less games, his NHL contract 'slides' to the next year).
Lazar has had an outstanding camp in Ottawa. The Sens are going to want to see how he fares when the games count.
By all accounts, Reinhart has had an 'okay' camp and while it's not a slam dunk he'll play with Buffalo all season long, the notion of sending him back to junior for a fourth WHL season is not particularly appealing either. He's going to have to prove he's not ready to play in the NHL and the true test of that will be to play some regular season games.
When Canada's 95s won the 2012 Ivan Hlinka Memorial tourney, the top line was Nate MacKinnon between Jonathan Drouin and Lazar. There is, of course, no hope of getting MacKinnon, who (even though he's still junior eligible) is entrenched as a star on the Colorado Avalanche. On the bright side, though, draft-eligible returnee Connor McDavid is a given for Team Canada, so the No. 1 offensive centre spot is spoken for.
Drouin will certainly start the season with the Tampa Bay Lightning, though he's sidelined for at least a couple of weeks with a broken bone in his hand.
Three more key returnees for Team Canada included centre Bo Horvat, centre-winger Nic Petan and defenceman Josh Morrissey.
Horvat would appear to have a legitimate shot to start the season with the Vancouver Canucks. He's been getting better and better with each passing day in training camp and is likely to at least get a regular-season trial with Vancouver.
Petan and Morrissey have shown well in Winnipeg Jet camp and they're expected to play Monday night against Edmonton, but the sense seems to be both would benefit from another year in junior. Petan is offensively talented but needs to work on his defensive play to stay in the NHL. Morrissey is a talented puck mover and offensive threat but still needs to get quicker and stronger to be a fulltime NHLer.
Big centre Frederick Gauthier is injured (cracked rib) and still technically with the Toronto Maple Leafs but he hasn't been participating in the Leafs' main camp and it's likely he'll eventually end up back in the Quebec Major Junior Hockey League.
Two other 1995-born returnees – netminder Zach Fucale (Montreal) and defenceman Chris Bigras (Colorado) – are already back in junior hockey. Fucale is a strong candidate to be Team Canada's No. 1 goalie. Bigras, who was deemed a bit of a disappointment at the Avalanche camp, is a returnee who is by no means guaranteed a spot on this year's team.
The only potential returnee we haven't mentioned is defenceman Aaron Ekblad, the 1996-born first overall pick of the Florida Panthers in the 2014 draft. Panther GM Dale Tallon has indicated the perfect-world plan is to keep Ekblad in Florida this season, but that isn't to say there are other young defencemen pushing for spots in Florida. Team Canada knows there's no guarantee it will get Ekblad, but that doesn't mean they can hope as there is a real dearth of high-quality right-hand shot defencemen.
There are also a handful of high profile 1995-born players who didn't make last year's national junior team that would be strong candidates to be on this year's Team Canada - if they don't end up in the NHL, that is.
Arizona Coyote winger Max Domi is in solid contention for an NHL roster spot and he'll get more pre-season games this week to make his case to get a regular-season trial.
Edmonton Oiler defenceman Darnell Nurse is going to get a long look in this week's pre-season games, though with the Oilers having added more veterans to the blueline and youngsters Martin Marincin and Oscar Klefbom also making strong bids in direct competition with Nurse, it will be a battle. Still, the notion of Nurse getting a regular season trial isn't out of the question.
Philadelphia's towering defenceman Sam Morin remains is also still in the Flyer camp.
New York Ranger third-rounder Anthony Duclair - the 50-goal man from the QMJHL - has played his way back into talk for Team Canada, but he's made an impression in NHL camp, too. With first-round speed and talent, Duclair scared off NHL scouts, and Hockey Canada, with some apparent attitude issues in his draft year, but he appears to have matured into an exciting offensive prospect. He's had an intriguing camp with the Rangers and will play again for them tonight. He's likely destined for junior, though the Rangers have had injury issues in camp. The Rangers being at the 50-contract limit could see Duclair's contract 'slide' to next year.
Jankowski and the Team Canada management group should have plenty of talented 1996-born NHL first-rounders who were drafted last June to choose from, but there are even some questions about where some of them will start this season.
St. Louis Blue first-rounder Rob Fabbri has been outstanding and will play in the balance of the Blues' pre-season games. St. Louis keeps waiting for him to play like an 18-year-old but as the level of competition rises, Fabbri hasn't faded as much he's elevated his play. The Blues are a veteran-laden, contending team and keeping an 18-year-old isn't their usual M.O. but there's been no denying the kid a long look.
The Calgary Flames know in their heart of hearts the best place for first-rounder Sam Bennett to develop this season is probably in the Ontario Hockey League, but he was outstanding in a pre-season game last week and the Flames are dealing with a lot of injuries to forwards. So the upshot is Bennett will get into three pre-season games this week. How he fares in those will determine if he hangs in for a regular season trial.
Carolina first-rounder Haydn Fleury started Hurricanes' camp a little tentatively. He's picked up the pace with each passing day, though the expectation is he's ultimately ticketed for a return to junior hockey. The same would appear to be true of New York Islander first-rounder Michael Dal Colle, who signed his entry-level deal over the weekend, and Anaheim first-rounder Nick Ritchie, who looked very good playing his off wing on a line with Fabbri and McDavid at Team Canada's summer camp.
Having so many balls in the air with kids at NHL camps is to be expected, Jankowski said, but his evaluation process has been further complicated because so many prospective national junior team players are currently out of their junior teams' lineups with multiple-week injuries, including forwards Nick Baptiste, Morgan Klimchuk, Jeremy Gregoire, Jake Virtanen and defenceman Shea Theodore, amongst others.
Jankowksi and Team Canada have no control over injuries or NHL clubs' decisions on underage players. They are, however, masters of their own destiny in terms of how they shape this year's national junior squad. And after two years without a medal of any color, and no gold in the last four tournaments, the clear emphasis is now on selecting the 'best' players with the most speed and skill, worrying less about composition of lines and roles and more about getting the most talented players and the deepest lineup.
Even if the 'best' and/or most talented players make an NHL roster to start the season, there's a long way to go until mid-December, when Team Canada has its final evaluation camp. A lot can happen between now and then, plus the real cut-off for getting an NHL player loaned to Team Canada is the NHL roster freeze the week before Christmas. Team Canada is aiming to be more flexible with select NHL loaned players, not insisting they need to be there for the full final evaluation camp.