Men's Worlds Rosters - Top six ranked teams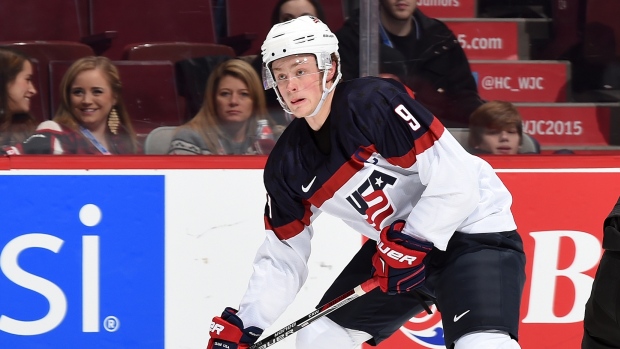 Below are the current rosters for the world's top six ranked teams in the upcoming International Ice Hockey Federation Men's World Championship, which runs from May 5-21. The current top six nations are Canada, Russia, Finland, USA, Sweden and Czech Republic. The teams are in alphabetical order below.
Updated April 26 at 5pm et.
Team Canada
| Player | Age | Team |
| --- | --- | --- |
| Forward | | |
| Sean Couturier | 24 | Flyers |
| Matt Duchene | 26 | Avalanche |
| Claude Giroux | 29 | Flyers |
| Alex Killorn | 27 | Lightning |
| Travis Konecny | 20 | Flyers |
| Ryan O'Reilly | 26 | Sabres |
| Nathan MacKinnon | 21 | Avalanche |
| Mitchell Marner | 19 | Maple Leafs |
| Brayden Point | 21 | Lightning |
| Mark Scheifele | 24 | Jets |
| Brayden Schenn | 25 | Flyers |
| Wayne Simmonds | 28 | Flyers |
| Jeff Skinner | 24 | Hurricanes |
| Defence | | |
| Tyson Barrie | 25 | Avalanche |
| Calvin de Haan | 25 | Islanders |
| Jason Demers | 28 | Panthers |
| Michael Matheson | 23 | Panthers |
| Josh Morrissey | 22 | Jets |
| Marc-Edouard Vlasic | 30 | Sharks |
| Goalie | | |
| Eric Comrie | 21 | Jets |
| Chad Johnson | 30 | Flames |
| Calvin Pickard | 25 | Avalanche |
Team Czech Republic
| Player | Age | Team |
| --- | --- | --- |
| Forward | | |
| Tomas Zohorna | 29 | Khabarovsk (KHL) |
| Lukas Radil | 26 | Moscow (KHL) |
| Roman Horak | 25 | Vityaz (KHL) |
| Lukas Kaspar | 31 | Moscow (KHL) |
| Jiri Sekac | 24 | Kazan (KHL) |
| Roman Cervenka | 31 | Fribourg-Gotteron (Swiss-A) |
| Michal Birner | 31 | Fribourg-Gotteron (Swiss-A) |
| Robert Kousal | 26 | Davos (Swiss-A) |
| Michal Repik | 28 | Sparta (Czech) |
| Petr Vrana | 32 | Sparta (Czech) |
| Robin Hanzl | 28 | Litvinov (Czech) |
| Jakub Lev | 26 | Plzen (Czech) |
| Dominik Kubalik | 21 | Plzen (Czech) |
| Petr Holik | 25 | Zlin (Czech |
| Tomas Hyka | 24 | Mlada (Czech) |
| Radan Lenc | 25 | Mlada (Czech) |
| Jakub Voracek | 27 | Flyers |
| Jan Kovar | 27 | Magnitogorsk (KHL) |
| Tomas Filippi | 24 | Magnitogorsk (KHL) |
| Defence | | |
| Jan Kolar | 30 | Khabarovsk (KHL) |
| Adam Polasek | 25 | Novosibirsk (KHL) |
| Jakub Jerabek | 25 | Vityaz (KHL) |
| Tomas Kundratek | 27 | Bratislava (KHL) |
| David Sklenicka | 20 | Plzen (Czech) |
| Milan Doudera | 24 | Trinec Ocelari |
| Libor Sulak | 23 | Znojmo (Austria) |
| Jan Kostalek | 22 | Manitoba (AHL) |
| David Musil | 24 | Tucson (AHL) |
| Jan Rutta | 26 | Chomutov (Czech) |
| Radko Gudas | 26 | Flyers |
| Jakub Kindl | 30 | Panthers |
| Goalie | | |
| Dominik Furch | 27 | Omsk (KHL) |
| Pavel Francouz | 26 | Chelyabinsk (KHL) |
| Petr Mrazek | 25 | Red Wings |
Team Finland
| Player | Age | Team |
| --- | --- | --- |
| Forward | | |
| Juhamatti Aaltonen | 31 | HIFK (Liiga) |
| Miro Aaltonen | 23 | Vityaz (KHL) |
| Sebastian Aho | 19 | Hurricanes |
| Valtteri Filppula | 33 | Flyers |
| Roope Hintz | 20 | IFK (Liiga) |
| Markus Hannikainen | 24 | Blue Jackets |
| Joonas Kemppainen | 29 | Sibir Novosibirsk (KHL) |
| Sakari Manninen | 25 | HPK (Liiga) |
| Oskar Osala | 29 | Metallurg (KHL) |
| Olli Palola | 29 | Vaxjo (SweHL) |
| Anntti Pihlstrom | 32 | Jokerit (KHL) |
| Jesse Puljujarvi | 18 | Oilers |
| Mika Pyorala | 35 | Karpat (Liiga) |
| Mikko Rantanen | 20 | Avalanche |
| Tomi Sallinen | 28 | Kunlun (KHL) |
| Defence | | |
| Juuso Hietanen | 31 | Dynamo (KHL) |
| Julius Honka | 21 | Stars |
| Topi Jaakola | 33 | Jokerit (KHL) |
| Joonas Jarvinen | 28 | Kunlun (KHL) |
| Tommi Kivisto | 25 | Yekaterinburg (KHL) |
| Lasse Kukkonen | 35 | Karpat (Liiga) |
| Ville Lajunen | 29 | Jokerit (KHL) |
| Atte Ohtamaa | 29 | Kazan (KHL) |
| Veli-Matti Vittasmaki | 26 | Ilves (Liiga) |
| Goaltender | | |
| Juha Metsola | 28 | Khabarovsk (KHL) |
| Joni Ortio | 26 | Skelleftea (Swe HL) |
| Harri Sateri | 27 | Vityaz (KHL) |
Team Russia
Player
Age
Team
Forward

Sergei Plotnikov

26
SKA

St. Petersburg

(KHL)
Evgeny Dadonov
28
SKA

St. Petersburg

(KHL)
Vadim Shipachyov
30
SKA

St. Petersburg

(KHL)
Nikita Gusev
24
SKA

St. Petersburg

(KHL)
Sergei Mozyakin
36
Magnitogorsk (KHL)

Nikita Kucherov

23
Lightning
Ivan Telegin
25
CSKA Moscow (KHL)
Sergei Andronov
27
CSKA Mosocw (KHL)
Alexander Barbanov
22
SKA St. Petersburg (KHL)
Vladimir Tkachyov
23
Ak Bars Kazan (KHL)
Artemi Panarin
25
Blackhawks
Vladislav Namestnikov
26
Lightning
Defence
Alex Bereglazov
23
Magnitogorsk (KHL)
Viktor Antipin
24
Magnitogorsk (KHL)

Anton Belov

30
SKA

St. Petersburg

(KHL)
Artem Zub
20
SKA

St. Petersburg

(KHL)
Andrey Zubarev
30
SKA

St. Petersburg

(KHL)
Vladislav Gavrikov
21
Lokomotiv Yaroslavl (KHL)
Andrei Mironov
22
Dynamo Moscow (KHL)
Goalie

Andrei Vasilevskiy

22
Lightning
Igor Shesterkin
21
SKA

St. Petersburg

(KHL)
Ilya Sorokin
21
CSKA Moscow
Team Sweden
| Player | Age | Team |
| --- | --- | --- |
| Forward | | |
| Joel Eriksson-Ek | 20 | Wild |
| William Karlsson | 24 | Blue Jackets |
| Marcus Kruger | 26 | Blackhawks |
| Gabriel Landeskog | 24 | Avalanche |
| Elias Lindholm | 22 | Hurricanes |
| Joakim Nordstrom | 25 | Hurricanes |
| William Nylander | 21 | Maple Leafs |
| Victor Rask | 24 | Hurricanes |
| Carl Soderberg | 31 | Avalanche |
| Joel Lundqvist | 25 | Frolunda |
| Carl Klingberg | 26 | EV Zug |
| Linus Omark | 30 | Ufa (KHL) |
| William Karlsson | 24 | Columbus |
| Defence | | |
| Jonas Brodin | 23 | Wild |
| Alexander Edler | 31 | Canucks |
| Oliver Ekman-Larsson | 25 | Coyotes |
| Victor Hedman | 26 | Lightning |
| John Klingberg | 24 | Stars |
| Anton Stralman | 30 | Lightning |
| Goalie | | |
| Eddie Lack | 29 | Hurricanes |
| Viktor Fasth | 24 | CSKA Moscow (KHL) |
Team USA
| Player | Age | Team |
| --- | --- | --- |
| Forward | | |
| Anders Bjork | 20 | Notre Dame |
| Nick Bjugstad | 24 | Panthers |
| JT Compher | 22 | Avalanche |
| Andrew Copp | 22 | Jets |
| Christian Dvorak | 21 | Coyotes |
| Jack Eichel | 20 | Sabres |
| Johnny Gaudreau | 23 | Flames |
| Jordan Greenway | 20 | Boston University |
| Dylan Larkin | 20 | Red Wings |
| Clayton Keller | 18 | Coyotes |
| Anders Lee | 26 | Islanders |
| Brock Nelson | 25 | Islanders |
| Defence | | |
| Daniel Brickley | 22 | Minnesota State |
| Danny DeKeyser | 27 | Red Wings |
| Noah Hanifin | 20 | Hurricanes |
| Charlie McAvoy | 19 | Bruins |
| Connor Murphy | 24 | Coyotes |
| Jacob Trouba | 23 | Jets |
| Trevor van Riemsdyk | 25 | Blackhawks |
| Goalie | | |
| Cal Petersen | 22 | Notre Dame |
| Connor Hellebuyck | 23 | Jets |
| Jimmy Howard | 33 | Red Wings |