Molson confident in cap situation, Bergevin's work
With the cap expected to go up next season, NHL general managers will have more flexibility with their cheque books - which suits Montreal Canadiens owner and team president Geoff Molson just fine.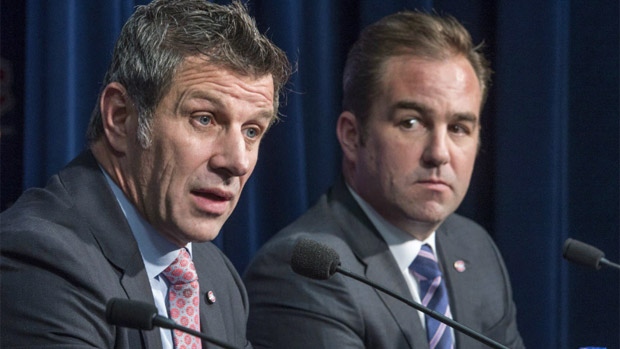 NHL general managers will have more flexibility with their cheque books next season, which suits Montreal Canadiens owner Geoff Molson just fine.
The league announced Friday that the projected salary cap for 2018-19 will be somewhere between US$78 million and $82 million, up from the current $75 million limit.
"I think that the salary cap is going to go up every year and we're going to follow that," said Molson, who is also Montreal's team president and a member of the league's executive committee. "We're a salary cap team and we'll stay within it and wasn't a surprise."
Another issue of concern is the current uncertainty surrounding the North American Free Trade Agreement between Canada, the United States and Mexico. If NAFTA is blown up, it could disrupt the Canadian economy and Canadian dollar that the league's NHL financial landscape depends on.
"I think the strength of the Canadian dollar is very important to all Canadian teams," said Molson. "And it's something that we follow closely. If we see the risk of a downside on the Canadian dollar, we hedge against that and I don't think it's going to change. We look at the 30-year average of the Canadian dollar, it's somewhere averaged where it is right now and we live with it and try to minimize the effect of it to the extent possible."
While the Canadiens are a 'cap team' among the league's 31 franchises, Montreal has about $9 million in cap space this season due in part to the departure of free agents Andrei Markov and Alexander Radulov during the summer.
With the Habs showing signs of improvement after a disappoininting start to the season, Molson says he's still confident that general manager Marc Bergevin can keep improving the club.
"Right now, we've got some room in the cap and you never know what he might do (or) might not do," he told TSN's Gino Reda. "He certainly does have the license to improve the team - that's his job - and I support him fully."
Molson, however, would not tip his hand on whether it will come sooner than later.
"I can't really comment on that," he said with a smile. "I think it'll happen when it happens."