NFL Lives Here: TSN and CTV Deliver Wall-to-Wall Coverage of the 2023 NFL Season
NFL season opener features the defending Super Bowl champion Kansas City Chiefs taking on the Detroit Lions on Thursday, Sept. 7 on TSN and CTV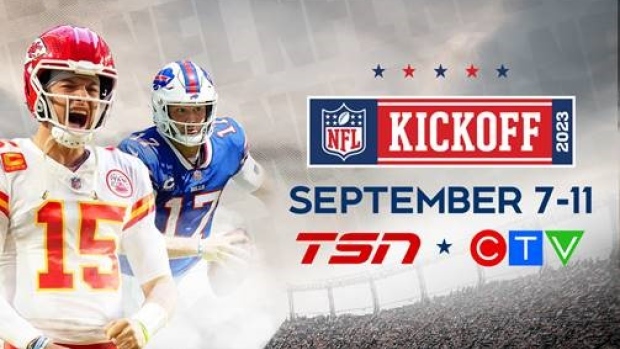 TORONTO (September 5, 2023) – The NFL lives here as TSN and CTV gear up for multi-platform coverage of the 2023 NFL season across TSN, CTV, CTV2, RDS, and TSN+. The new season kicks off with pre-game coverage Thursday, Sept. 7 at 7 p.m. ET on TSN and CTV, followed by the season opener as Patrick Mahomes and the defending Super Bowl champion Kansas City Chiefs take on Jared Goff and the Detroit Lions, live from Arrowhead Stadium in Kansas City at 8:20 p.m. ET on TSN and CTV.
Throughout the season, Bell Media brings fans a massive NFL schedule featuring live coverage of:
THURSDAY NIGHT FOOTBALL on TSN and CTV2
Sunday 1 p.m. and 4 p.m. ET game windows – regular season games across multiple platforms each week including TSN, CTV, CTV2, and TSN+
NFL REDZONE, available on TSN+ every Sunday afternoon on the network's leading digital platforms
SUNDAY NIGHT FOOTBALL on TSN and CTV
MONDAY NIGHT FOOTBALL on TSN
Every game of the 2023 International Series as well as the NFL's first-ever Black Friday game on Nov. 24, 2023
All playoff games on TSN and CTV
SUPER BOWL LVIII, live from Allegiant Stadium in Las Vegas, Nev. on Feb. 11, 2024
NFL programming is also available for live streaming on TSN.ca and CTV.ca, as well as the TSN and CTV apps. RDS delivers live French-language coverage throughout the 2023 NFL season.
The perfect fantasy football companion, NFL REDZONE is available on TSN+ this season, offering seven consecutive hours of live football coverage to TSN+ subscribers through the network's leading digital platforms, including TSN.ca and the TSN app. NFL REDZONE keeps fans up to date on every touchdown from every game, every Sunday afternoon during the regular season.
TSN+ also features one streaming-only NFL game per week on Sunday afternoon, in addition to data-enhanced NFL feeds during THURSDAY NIGHT FOOTBALL and SUNDAY NIGHT FOOTBALL games, featuring data-driven insights, and infographic overlays. TSN+ also streams ESPN's fan-favourite MONDAY NIGHT FOOTBALL WITH PEYTON AND ELI.
NFL ON CTV LIVE, hosted by TSN's Kara Wagland alongside Davis Sanchez and Luke Willson, wraps up the networks' Sunday 1 p.m. and 4 p.m. ET games. Recapping the day's NFL action, the later edition leads into SUNDAY NIGHT FOOTBALL on TSN and CTV. Also returning is TSN's weekly FANDUEL SUNDAY, the network's dedicated segments for sports betting news, information, and analysis. Led by host Tekeyah Singh alongside NFL and sports betting analyst Sanchez, FANDUEL SUNDAY keeps fans on top of all the action with live segments throughout the day, featuring key insights from the FanDuel trading floor.
TSN's massive NFL programming lineup also features the popular preview and wrap-up shows SUNDAY NFL COUNTDOWN, FOOTBALL NIGHT IN AMERICA, NFL GAMEDAY, NFL REWIND, NFL LIVE, and MONDAY NIGHT COUNTDOWN.
SC WITH JAY ONRAIT wraps up every primetime match-up throughout the season with host Jay Onrait breaking down each game alongside Willson. Additionally, SPORTSCENTRE includes regular contributions from NFL reporters Farhan Lalji and Dave Naylor as well as football analysts Jesse Palmer, Sanchez, and Willson throughout the NFL season.
Fans can visit TSN.ca/NFL for daily features and analysis as well as game previews, recaps, and video highlights. TSN's official social media accounts provide up-to-the-minute breaking news, scores, photos, videos, and trending content from the gridiron and beyond.
Additionally, TSN's official TikTok account breaks down big news and hot topics, and BarDown's Luca Celebre leads unique NFL content throughout the season. DIGITAL SPORTSCENTRE features guests from around the league to chat everything NFL. BarDown also introduces HUDDLE UP to social platforms and TSN programming, a football-centric show and podcast hosted by Celebre and Thomas Pocrnic, which features special guests, tier lists, and original content all season long.
FanDuel returns as multi-platform sponsor of the networks' NFL coverage, featuring broadcast and digital assets across TSN, CTV, and TSN+.
Bell Media is the exclusive television broadcast partner of the NFL in Canada.