NHL poised to enter China, hockey's next frontier
With the 2022 Winter Olympics in Beijing, China is eager to step up its game and the league is intrigued by the potential of a new nontraditional market with 1.4 billion people that might take to hockey like it did basketball.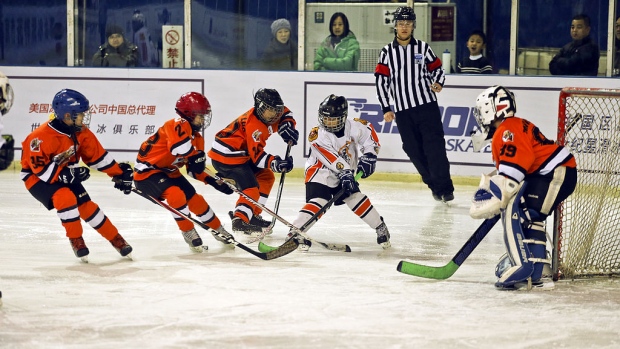 When Andong Song started playing hockey in China at age 6, he wore figure skates on his feet and had to use the straight parts of short-track speedskating rinks for practice.
His father brought back equipment from his travels one piece at a time, and his family moved to Canada a few years later so he could pursue a career in the sport. Song, the first Chinese player selected in the NHL draft, envisions a day when that sort of cross-global exodus is no longer necessary for kids growing up in China.
That could be coming soon with the NHL looking at China as hockey's next great frontier. With the 2022 Winter Olympics in Beijing, China is eager to step up its game and the league is intrigued by the potential of a new nontraditional market with 1.4 billion people that might take to hockey like it did basketball.
"It's a place that hasn't had that much of an opportunity to be introduced to what everybody acknowledges is a great game," commissioner Gary Bettman said. "Because of the size of the market and the fact that lots of sports haven't been developed there, it's a good opportunity to expand the sport even further."
This week, Bettman is expected to announce NHL preseason games in China between the Los Angeles Kings and Vancouver Canucks, along with grassroots programs to build a hockey foundation where the NBA has laid one for decades. It's the first big step toward the NHL making inroads in China, whether or not players participate in the 2018 Olympics in neighbouring South Korea.
NHL Players' Association executive director Don Fehr said showcasing the NHL, running clinics and getting more broadcast coverage all figure into the long-term strategy. Even though Russia's expansive Kontinental Hockey League now has a team based in Beijing, NHL exhibition games — and potentially regular-season games as early as fall 2018 — will have a bigger impact.
"Even with the KHL there, they know it's not the best league," said Song, a Beijing native and sixth-round pick of the New York Islanders in 2015 who now plays for the Madison Capitols of the United States Hockey League. "They know it's not the NHL."
According to the International Ice Hockey Federation, China only has 1,101 registered players and 154 indoor rinks. Despite having a quarter of China's population, the U.S. has 543,239 players and 1,800 indoor rinks.
By October , 14 different NBA teams will have played 24 preseason games in greater China since 2004, so the NHL has some catching up to do. The Boston Bruins sent an envoy on a Chinese tour last summer that included players Matt Beleskey and David Pastrnak, and Washington Capitals owner Ted Leonsis recently said his team could be next after hosting youth players from China in January.
"There will be about 200 new rinks being built in China and we would expect China being a very, very formidable force in the Olympics," said Leonsis, who called China the next great hockey market. "And also we'll see that China will be producing players and I would expect that we'll have NHL players that were born and trained, just like we've seen in the NBA, and China will be able to bring players here."
The NBA gained popularity in China in part due to Yao Ming, the first pick in the 2002 draft. The NHL is going into China hoping to develop homegrown stars. Chinese broadcaster and producer Longmou Li, who has worked the Stanley Cup Final and helped families move to North America for hockey, said 500 to 600 new families are joining the Beijing Hockey Association each year, which could mean churning out an NHL first-round pick every five to six years.
Song said because the sport is still in its infancy in China and centralized in the northeast and in big cities, keeping the best players there instead of seeing them leave for North America is the biggest challenge.
About 200 Chinese hockey families currently live in North America, Li said, and the return of those players, coupled with the KHL's Kunlun Red Star's presence and a commitment to skill development, will help the national team grow in preparation for the 2022 Olympics. With a broadcasting deal already in place to air four NHL games on state-owned China Central TV and 10-12 online through Tencent each week, his keys to the growth of Chinese hockey are players reaching the NHL and the national team competing at the top level of the world championships.
Stanley Cup-winning coach Mike Keenan was recently tapped to take over Kunlun and oversee the men's and women's national teams, so the process is underway.
"If NHL can help China to get that, I think we can at least get 100 million fans from China," Li said. "Because hockey is just so passionate a game, is so fast a game, it's so easy to get people to get involved. But they will need to attract them to watch."
Although being awarded the Olympics was impetus for the Chinese government to pour resources into hockey, it's getting some help from the private sector in the form of Zhou Yunjie, the chairman of of metal can manufacturing company ORG Packaging. The goaltender-turned-billionaire is at the forefront of hockey's growth in China through NHL partnerships and sponsorships.
"As long as (TV networks) in China broadcast many more games in China, it will attract more people to notice the NHL, especially the youth hockey player," Zhou said through an interpreter. "Because there are many Chinese kids that have started learning hockey there, and there is a good population of the people that will develop hockey in China."
When Chris Pronger famously plastered Justin Bieber into the boards during a celebrity game at NHL All-Star Weekend in January, not only was Zhou playing goal but an ORG Packaging patch was on players' jerseys. Talking about spreading the "gospel" of hockey, Leonsis called Zhou "the greatest evangelist."
Zhou can't do it alone, and NHL integration in China is also connected to the 2022 Olympics. After NHL players participated in the past six Olympics, there's pessimism about the league going to Pyeongchang next year. Discussions about Beijing will happen later.
By then, the league should know if the experiment is working.
"If we can get in on the ground floor, help them with that (and) bring our expertise," deputy commissioner Bill Daly said. "You can't argue with the population or the economy, so if we're able to do that it could be a great opportunity for us."
___
Follow Hockey Writer Stephen Whyno on Twitter at http://www.twitter.com/SWhyno .