NHL POY: Turris vs. Tavares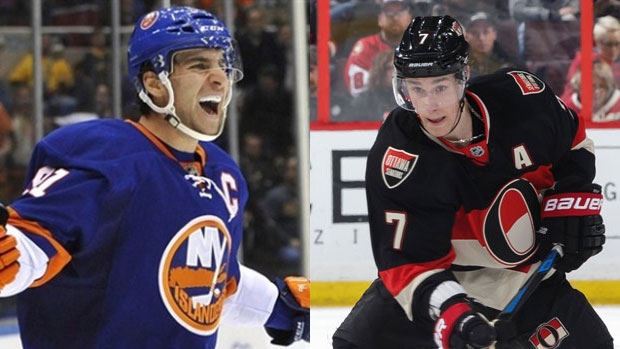 The NHL Play of the Year showdown resumes today with a whole lotta dekes.
The fifth match-up of the Round of 32 pits Kyle Turris against John Tavares as both men make their opponents look just plain weak.
Turris made himself the decoy by blinding the opposition with fancy stickwork.
The Ottawa Senators centre busted into the Carolina zone and tow-dragged around defenceman Ryan Murphy to set up what seemed like a golden one-on-one scoring chance. However, once the Canes' defence turned their attention towards the streaking Turris, he backhanded a perfect tape-to-tape pass and found Mark Stone in the slot for the one-time finish.
Tavares, though, took it upon himself to seal the deal.
The New York Islanders captain swept wide with the puck from centre ice, picking up speed as he sized up the Toronto Maple Leafs defence. He swung wide around Richard Panik, before cutting back across the middle and eluding the stick-checks of both Leafs d-men. Dragging the puck wide to the right of the crease, he fired a shot through a sea of legs and past Jonathan Bernier to cap a wild OT win.
You can watch the highlights and make your decision here. Every vote counts, so watch all the plays and take part in the TSN.ca Play of the Year Showdown. Voting runs from 7pm Friday to 4pm on Monday. Let us know who you voted for via Twitter, Facebook and Hubub.