Leafs to play Bruins in first round; playoff matchups set for Wednesday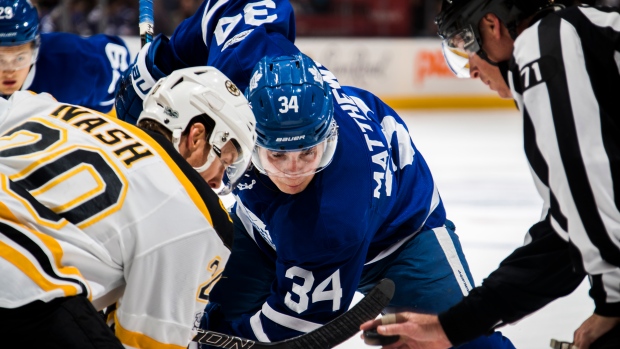 With the Boston Bruins losing to the Florida Panthers on Sunday night, the schedules are set for the 2018 Stanley Cup Playoffs.
A loss of any kind gave the Tampa Bay Lightning top spot and a matchup with the Devils, while the Bruins will host the Toronto Maple Leafs.
The playoffs begin on Wednesday.
---
All times in ET
EASTERN CONFERENCE
Tampa Bay Lightning (A1) vs. New Jersey Devils (WC2)
Thursday, April 12, 7pm: Devils @ Lightning
Saturday, April 14, 3pm: Devils @ Lightning
Monday, April 16, 7:30pm: Lightning @ Devils
Wednesday, April 18, 7:30pm: Lightning @ Devils
*Saturday, April 21, TBD: Devils @ Lightning
*Monday, April 23, TBD: Lightning @ Devils
*Wednesday, April 25, TBD: Devils @ Lightning
--
Boston Bruins (A2) vs. Toronto Maple Leafs (A3)
Thursday, April 12, 7pm: Maple Leafs @ Bruins
Saturday, April 14, 8pm: Maple Leafs @ Bruins
Monday, April 16, 7pm: Bruins @ Maple Leafs
Thursday, April 19, 7pm: Bruins @ Maple Leafs
*Saturday, April 21, TBD: Maple Leafs @ Bruins
*Monday, April 23, TBD: Bruins @ Maple Leafs
*Wednesday, April 25, TBD: Maple Leafs @ Bruins
--
Washington Capitals (M1) vs. Columbus Blue Jackets (WC1)
Thursday, April 12, 7:30pm: Blue Jackets @ Capitals
Sunday, April 15, 7:30pm: Blue Jackets @ Capitals
Tuesday, April 17, 7:30pm: Capitals @ Blue Jackets
Thursday, April 19, 7:30pm: Capitals @ Blue Jackets
*Saturday, April 21, TBD: Blue Jackets @ Capitals
*Monday, April 23, TBD: Capitals @ Blue Jackets
*Wednesday, April 25, TBD: Blue Jackets @ Capitals
--
Pittsburgh Penguins (M2) vs. Philadelphia Flyers (M3)
Wednesday, April 11, 7pm: Flyers @ Penguins
Friday, April 13, 7pm: Flyers @ Penguins
Sunday, April 15, 3pm: Penguins @ Flyers
Wednesday, April 18, 7pm: Penguins @ Flyers
*Friday, April 20, TBD: Flyers @ Penguins
*Sunday, April 22, TBD: Penguins @ Flyers
*Tuesday, April 24, TBD: Flyers @ Penguins
--
WESTERN CONFERENCE
Nashville Predators (C1) vs. Colorado Avalanche (WC2)
Thursday, April 12, 9:30pm: Avalanche @ Predators
Saturday, April 14, 3pm: Avalanche @ Predators
Monday, April 16, 10pm: Predators @ Avalanche
Wednesday, April 18, 10pm Predators @ Avalanche
*Friday, April 20, TBD: Avalanche @ Predators
*Sunday, April 22, TBD: Predators @ Avalanche
*Tuesday, April 24, TBD: Avalanche @ Predators
--
Winnipeg Jets (C2) vs. Minnesota Wild (C3)
Wednesday, April 11, 7pm: Wild @ Jets
Friday, April 13, 7:30pm: Wild @ Jets
Sunday, April 15, 7pm: Jets @ Wild
Tuesday, April 17, 8pm: Jets @ Wild
*Friday, April 20, TBD: Wild @ Jets
*Sunday, April 22, TBD: Jets @ Wild
*Wednesday, April 25, TBD: Wild @ Jets
--
Vegas Golden Knights (P1) vs. Los Angeles Kings (WC1)
Wednesday, April 11, 10pm: Kings @ Golden Knights
Friday, April 13, 10pm: Kings @ Golden Knights
Sunday, April 15, 10:30pm: Golden Knights @ Kings
Tuesday, April 17, 10:30pm: Golden Knights @ Kings
*Thursday, April 19, 10pm: Kings @ Golden Knights
*Saturday, April 21, TBD: Golden Knights @ Kings
*Monday, April 23, TBD: Kings @ Golden Knights
--
Anaheim Ducks (P2) vs. San Jose Sharks (P3)
Thursday, April 12, 10:30pm: Sharks @ Ducks
Saturday, April 14, 10:30pm: Sharks @ Ducks
Monday, April 16, 10:30pm: Ducks @ Sharks
Wednesday, April 18, 10:30pm: Ducks @ Sharks
*Friday, April 20, TBD: Sharks @ Ducks
*Sunday, April 22, TBD: Ducks @ Sharks
*Tuesday, April 24, TBD: Sharks @ Ducks
* if necessary
TBD - To Be Determined