The dual offer sheet strategy
Forget the deal that costs you a pile of high draft picks and a huge contract, Travis Yost writes. The real value can be found by coupling offer sheets in the middle tier to players on cap-tight teams.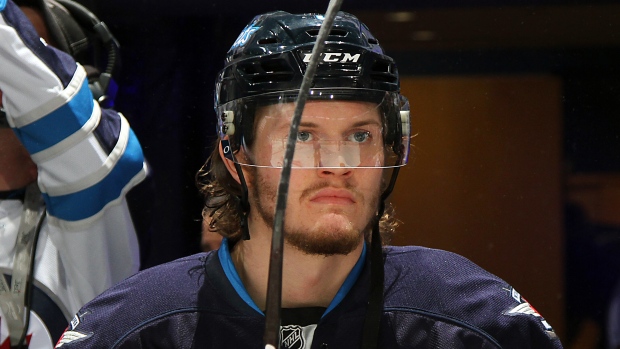 On Tuesday afternoon, rumours swirled about the Boston Bruins preparing an offer sheet for Winnipeg Jets restricted free agent defenceman Jacob Trouba.
It's hard to know if there's any legitimacy to the rumour, but considering Boston's offer sheet position, the only route they have to landing the young blueliner includes trading four first-round draft picks to Winnipeg. On top of that price, they would have to sign Trouba for something in the neighbourhood of $49 million.
The tenuous Boston position is borne out of the fact that they do not have a second or third-round pick to offer, which means the only package they can provide is at the top value of the compensation brackets. The ranges, if you recall, were as follows this season:
Offer Sheet Compensation
| Min | Max | Compensation |
| --- | --- | --- |
| - | 1,239,266 | None |
| 1,239,266 | 1,877,615 | Third-Rd Pick |
| 1,877,615 | 3,755,233 | Second-Rd Pick |
| 3,755,233 | 5,632,847 | First and Third-Rd Pick |
| 5,632,847 | 7,510,464 | First, Second and Third-Rd Pick |
| 7,510,464 | 9,388,080 | 2 First-Rd Picks, 1 Second and 1 Third-Rd Pick |
| 9,388,080 | Greater | 4 First-Rd Picks |
I have long argued that this type of offer sheet doesn't make sense. The NHL, by way of compensation design, has made it poisonous for teams to draw up these deals. Since there's such a heavy theoretical penalty for landing a top-tier talent, teams are deterred from using the offer sheet as a tool.
I have also long argued that the real value in offer sheets is in that middle tier, where teams can couple up offer sheets of varying compensation ranges to really bind up a cap-tight or cash-poor team. (I've highlighted these compensation ranges accordingly.)
An example of this can be found just last season, when Los Angeles – tight against the cap – had both Tyler Toffoli and Martin Jones enter restricted free agency. To teams interested in both players, I recommended staggering offer sheets – perhaps giving Toffoli an offer in the first- and third-round pick compensation range, and Jones one in the second-round pick compensation range.
Los Angeles locked in Toffoli, but had to part ways with Jones. They traded the goaltender to Boston, who then flipped him to San Jose. The price San Jose had to pay was a first-round pick – one round above our proposed compensation range – and a $3 million AAV deal.
It's a great example of how dual offer sheets would've worked for a team. If San Jose had tendered offers to Toffoli and Jones at the same time, they likely would've landed Jones at a comparable average price, and with less compensatory value provided.
So, you're probably wondering what teams could be victimized through this dual offer sheet strategy this off-season. Below, I've compiled a number of teams with dual RFA talent that may meet our talent and cap criteria.
Washington Capitals
The Capitals still have a fair bit of space — $10 million at the time of this writing. But they also need about five players to fill out the rest of their roster, and have two interesting RFA pieces in Dmitry Orlov and Marcus Johansson. Orlov came into his own last year as a two-way defender, logging his first 82-game season, racking up 29 points in the process. Johansson obviously has had a string of fantastic seasons – he's been a mid-40 point player for three years in a row now, and generated 1.8 shots per game last year, his career high.
You could eat away at that $10 million space very quickly with a pair of offer sheets. It depends on who your preferred player is here, but something like $5.5 million per year for Johansson and $3.7 million for Orlov could really put the Capitals in a bind. They'd have about $1 million left to fill out the rest of their roster, to say nothing of the fact that a number of key players – T.J. Oshie, Evgeny Kuznetsov, Andre Burakovsky and Karl Alzner – require contracts as soon as next season. They could realistically match the two offer sheets today, but it might make things a bit more painful tomorrow.
Tampa Bay Lightning
Now that Steven Stamkos is extending in Tampa Bay, they move to the front of our list. Reports indicate he's set to make $8.5 million AAV, and potentially more. If that's the case, keep in mind that the Bolts have maybe $8 million in remaining cap space to deal with Alex Killorn, Nikita Kucherov, and Nikita Nesterov as expiring RFAs, and a couple of additional bodies to fill out the 23-man roster.
This is a dream scenario for a team looking to pick up talent, especially forwards. Kucherov is a 30-goal scorer and would comfortably be worth the upper echelon of that first- and third-round pick compensatory range. Killorn has averaged 40 points over the last three seasons, with 13 points in 17 games last postseason.
The dual offer sheets could bring $9.3 million in liabilities to a Lightning team that has roughly $8 million in cap space remaining. And even if Tampa Bay matched on both, they'd be $1.3 million over the hard cap while still needing to sign at least two more players, including Nesterov. They'd have to find a way to alleviate the pressure. At quick glance across their roster, there aren't easy answers.
Minnesota Wild
Like Washington, Minnesota appears to have a decent chunk of cap space, estimated at $12 million after Thomas Vanek's buyout. But they need about eight players to fill out that $12 million, and they have a couple of intriguing RFA players, including Matt Dumba and Darcy Kuemper.
Again, it's basically the same exercise here. One player needs to get thrust into the high compensation range, and one into the lower compensation range. If you're a team with some interest in either the defencemen or goalie market, maybe you make something in the realm of a $4.4 million offer to the likes of Dumba, and another $3 million offer to Kuemper. You've effectively eaten into more than 60 per cent of Minnesota's cap space, and if they matched, they'd be left searching for six players making approximately $750,000 each.
I'm skeptical that Kuemper's worth that much (you could step down in the same compensation range) and don't know if Dumba is that top-pairing guy that you build around, so I'm less intrigued by this option. But it is there.
The Takeaway
It's worth mentioning that these three examples are opportunities for teams as salaries sit today. The salary landscape can and will change over the coming days, especially as teams prioritize UFA talent when that period opens up on July 1.
As teams inch closer to the cap with RFA talent still in need of contracts, the volume of teams you can successfully dual offer sheet will increase. A team might think they're in the clear to sign a prized UFA and play hardball with a couple of their RFA players. Another team should take advantage of that logic.