Nylander signs in last second negotiation with Leafs
The Toronto Maple Leafs have agreed to terms with restricted free agent winger William Nylander on a six-year, $41.4 million contract extension, putting an end to a stalemate that has dragged on through the first 26 games of the regular season.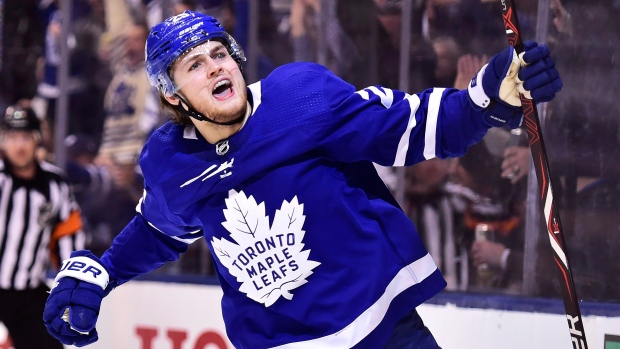 TORONTO — The phone call that eventually ended #NylanderWatch came with not much time left on the clock.
The Maple Leafs were less than an hour away from Saturday's 5 p.m. ET deadline to get restricted free agent William Nylander under contract for this season when general manager Kyle Dubas' phone rang in Minnesota.
"At 3:30 [Central Time] Nylander called and said, 'Do you want to make a deal?'" Dubas told reporters Saturday. "Once he said what he did and I spoke to [his agent] Lewis [Gross] for a bit, I knew we were on the right track. But it was right down to the wire."
That 11th-hour communication resulted in a six-year, $41.4 million contract extension for Nylander, putting an end to a stalemate that has dragged on through the first 26 games of the regular season.
But the drama didn't end with the verbal pact in place.
Dubas and his staff were in a hotel room near the Xcel Energy Center, where Toronto was set to play the Wild on Saturday night, and didn't receive the signed contract back until 3:52 CT. At that point, slight variations had to be made and sent back and forth before the document was put in order and submitted to NHL Central Registry by 4 p.m. CT.
"The worst thing you can do," Dubas said of the final moments, "is have a page missing and the contract is rejected at this point. Would not be good."​
The Leafs avoided that fate, and the deal came together after a year of speculation over what the 22-year-old Nylander would be able to command, given the team will have extensions to negotiate with Auston Matthews and Mitch Marner this coming summer.
While Dubas said he had "faith" in assistant general manager Brandon Pridham to push a pact over the finish line, he wasn't without doubt.
"Any time you get into something like this, especially when you come into the last day, you think it might be reality," Dubas said of the possibility Nylander wouldn't sign. "It's my duty to the organization and our group to ensure we're putting the organization in the best possible spot moving forward with all our economics and all of our players, so we have to do what's right for that."
It was with that goal of sustainable, long-term success in mind that the Leafs were comfortable, if not enthusiastic, about negotiations going the distance.
Toronto's eighth-overall pick in the 2014 NHL Entry Draft has posted 48 goals and 87 assists in 185 games with the Leafs since 2016, putting his production and role (a top-six winger who contributes on the power play) in the same category of deal as Winnipeg Jets forward Nikolaj Ehlers, who signed a seven-year, $42-million contract as an RFA last year.
Meanwhile, TSN Hockey Insiders Darren Dreger and Bob McKenzie had previously reported Nylander's camp wanted a deal worth $8 million per season. Dubas wasn't commenting on where negotiations started or how many offers went back and forth, nor did he spell out why it took Nylander so long to make that crucial phone call.
"That's more of a question for Lewis," he said. "They were entrenched in their spot and we were entrenched in ours. We just tried to stick with our process. I do appreciate the amount of work and effort that Lewis put into this and William throughout. They were very responsive and good to deal with."
By the end of this contract, Nylander will be 27-years-old and an unrestricted free agent, which gives him and the Leafs security they needed to move forward.
By avoiding a bridge contract, Toronto won't find itself in a Nikita Kucherov-type situation down the road, like where the Tampa Bay Lightning winger inked a three-year deal worth $14.3 million in 2016, and then exploded for 185 points over the next two seasons to earn an eight-year extension worth $76 million.
After all, the Nylander deal is just one piece of a larger puzzle for Toronto. Since Dubas took over as the GM in May, he has insisted Toronto has the ability to keep all three of Nylander, Matthews and Marner with the organization. Despite the difficulties involved with signing Nylander, he isn't backing down now.
"I know people were ready to jam that one down my throat," Dubas said with a laugh. "But we'll stick with it. That's our goal, we want this group to be together as long as we can possibly keep it together. We want all these guys to be career Leafs – especially this young core of players we have."
To that end, Dubas has kept the lines of communication open with Matthews' agent, Judd Moldaver, and Mitch Marner's agent, Darren Ferris. Either forward can be signed to an extension at any time before they officially become free agents on July 1.
And given that no RFA in the salary cap era had ever gotten as close to missing a full season as Nylander just did, Dubas wants nothing more than to avoid another stalemate with another young star.
"Not [making history] in the way we'd like to," he said. "I think we've shown that when it comes to making sure everything fit our economics, we'll go to whatever length we have to. But our goal is to have everyone settled as soon as we possibly can and that allows us to best plan for the remainder of the year and roll from there."
After Saturday's saga, the Leafs have secured one of the brightest young forwards in the league while leaving themselves room to sign those other big-name players. Nylander tweeted a picture of his packed Maple Leafs hockey bag with the caption "headed home" right after the news went public, but fans may have to wait a little while to see him back on the ice.
"We have to go through the same protocol you go through coming in for training camp, so I'd say [have] patience with that. He has to go through his medical test," Dubas revealed. "I know everyone wants him to get right in and get playing, but we still have to play the long game with it. We don't want to rush to get him in on Tuesday [at Buffalo] or Thursday [vs. Detroit] and have that forgo his health and well-being. We hope in the next week or so he'll be back in action."