O'Neal had a short, but memorable time in Miami
Hall of Fame centre Shaquille O'Neal will have his No. 32 Miami Heat jersey retired to the rafters of the American Airlines Arena Thursday night when Miami hosts O'Neal's other team, the Los Angeles Lakers. Here's a look back at The Big Aristotle's brief, but memorable time in South Beach. You can watch the game on TSN1 and TSN GO at 8pm ET/5pm PT.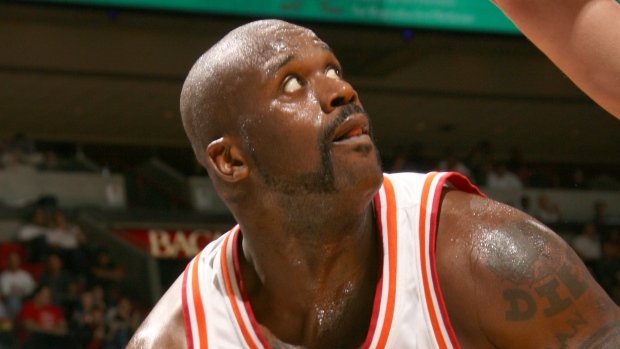 Hall of Fame centre Shaquille O'Neal will have his No. 32 Miami Heat jersey retired to the rafters of the American Airlines Arena Thursday night when Miami hosts O'Neal's other team, the Los Angeles Lakers. Here's a look back at The Big Aristotle's brief, but memorable time in South Beach. You can watch the game on TSN1 and TSN GO at 8pm ET/5pm PT.
Lakers send O'Neal to Heat in blockbuster deal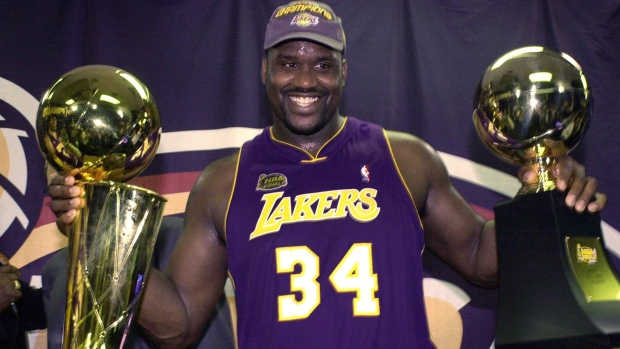 On July 7, 2004, the Lakers shook up the basketball world by breaking up one of the most dominating duos in the history of the sport. After winning three straight NBA titles from 2000 to 2002 with Kobe Bryant, LA shipped a 32-year-old O'Neal to the Heat for Lamar Odom, Caron Butler, Brian Grant and a first-round draft pick. Despite a terrific run of success, O'Neal demanded a trade just a few days after the Lakers lost to the Detroit Pistons in the 2004 NBA Finals. Rumours were rampant that Kobe and Shaq's relationship had eroded over the past few seasons and a change needed to be made.
So a new chapter began for the 11-time All-Star. And that new chapter kicked off with a bang.
"Today the Miami Heat took a giant step forward in our continued pursuit of an NBA championship," Heat President Pat Riley told USA Today. "We feel that we have traded for the best player in the NBA. You don't get many chances to acquire the best player in the league."
The Diesel arrived in South Beach in fashion, riding in an 18-wheeler with a water gun in hand, soaking the hordes of fans that were patiently waiting to see him.
"Remember this because I'm going to bring a championship to Miami, I promise," Shaq told the crowd just minutes into his introduction at that rally.
First year success and contract extension
Dwyane Wade helped get the Heat into the playoffs during his rookie campaign in 2003-04, a year before Shaq's arrival. They posted a record of 42-40 and were two wins away from appearing in the East Final.
With the addition of O'Neal that summer, many felt the Heat were ready to compete for an NBA title with a young stud and now a future Hall of Famer in their starting five.
The seven footer averaged 22.9 points, 10.4 assists and 2.7 assists per game over 73 contests in his first season with the Heat in 2004-05. Despite battling injuries, O'Neal helped Miami reach the Eastern Conference Finals where they fell to the defending champion Pistons in seven games.
The Heat liked what they saw and signed the veteran centre to a five-year, $100 million contract extension in the off-season. The "bargain" deal gave the Heat flexibility to go after and acquire other impactful players as their pursuit for their first NBA title continued.
"This is one of those deals where everybody can be really proud," Perry Rogers, O'Neal's agent, said in an ESPN article following the extension. "In a day and age when it's only about the team using a player for the amount of time they'll think he'll be totally at his best, or a day in age when players want to get paid all they can right now, this was every party understanding the other's needs."
Reported fall out with head coach Stan Van Gundy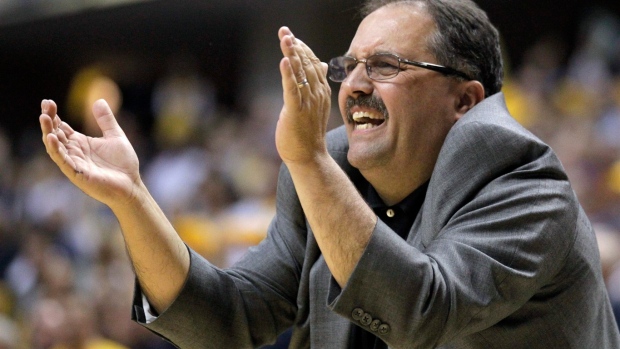 After the Heat's Game 7 loss to the Pistons, Shaq said he should have had more touches down the stretch. Those comments marked the beginning of the end for Van Gundy's time in Miami.
Just 21 games into the following season, with the Heat sitting at a very mediocre record of 11-10 and O'Neal sidelined with an injury, Van Gundy resigned from his position as head coach, citing wanting to spend more time with his family.
Rumours swirled that he was being forced out by president and new head coach Pat Riley, but Van Gundy denied those rumours in his departing press conference.
"If I'm getting forced out, I would have gotten absolutely every dollar on my contract and walked out the door," Van Gundy said. "That's not what happened here. ... Anybody who's speculating otherwise has to do so in total disregard of the facts of the situation."
Riley, who had coached Miami from 1995 to 2003, took over and guided the Heat to a 41-20 record over the final 61 games, good enough for second in the Eastern Conference.
In 2009, Van Gundy called out O'Neal, who was now a member of the Phoenix Suns, for flopping during a game. O'Neal, who has never been afraid to speak his mind, didn't seem to like the comments from his former coach.
"I heard his comment. Flopping to me is doing it more than one time, and I realized when I tried to take the charge, as I went down, I realized that that play reminded me of his whole coaching career," O'Neal said of Van Gundy in an ESPN article. "And one thing I really despise is a front-runner, so I know for a fact that he's a master of panic, and when it gets time for his team to go in the postseason and do certain things, he will let them down because of his panic. I've been there before, I've played for him."
Heat capture first title in franchise history
During the Heat's championship season in 2005-06, O'Neal put up career lows in minutes, points and rebounds over 59 regular season games.
The extra rest might have helped as Shaq played Robin to Wade's Batman in the playoffs.
Miami beat the Chicago Bulls in six games, the New Jersey Nets in five before finally figuring out the Pistons in six games in the Eastern Conference Finals. The Heat were the underdogs in the NBA Finals against the Dallas Mavericks, especially after losing the first two games of the series. But thanks to a breakout performance from Mr. Wade, the Heat would go on to win the next four to claim their first NBA championship in franchise history.
After winning the NBA Finals MVP for each of his three titles with the Lakers, it was time for O'Neal to give that accolade up to Wade, who averaged 28.4 points over 23 postseason games.
He wasn't the same dominating force as he was in LA, but was still a contributing factor that helped Miami make team history.
Injuries and departure from Miami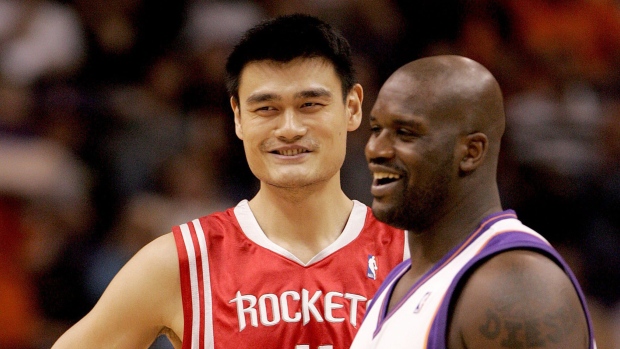 A 34-year-old O'Neal appeared in just 40 games during the 2006-07 season due to missing considerable time with a knee injury. The Heat were swept in the opening round of the playoffs by the Bulls.
With the Heat and Shaq struggling mightily the following season, Riley sent O'Neal to the Suns for Marcus Banks and Shawn Marion in early February, ending his three-and-a-half year run in South Beach.
The Heat sat at a miserable 9-37 record at the time of the trade with speculation another rift between O'Neal and a coach [Riley] had been brewing.
"I loved Shaq when I got him and I love him today," Riley said in an ESPN article. "I've been coaching 25 years and there wasn't anything that went on between Shaq and I that caused this. We simply looked at the big picture, where we are today, and we need to build around Dwyane (Wade)."
O'Neal would also play with the Cleveland Cavaliers and Boston Celtics before retiring in 2011.
Here are his numbers with the Heat.
Shaq in South Beach
| Games | PPG | RPG | APG | FG% |
| --- | --- | --- | --- | --- |
| 205 (3.5 seasons) | 19.6 | 9.1 | 2.1 | 0.596 |
O'Neal will join Tim Hardaway's No. 10 and Alonzo Mourning's No.33 as the only Heat players to have their jersey numbers retired by the team. Michael Jordan (No. 23) also has his number retired by Miami even though he never played for them