Off-Season Watch: Eberle to the Isles?
Jordan Eberle is on the trade block as the Edmonton Oilers look to free up cap space with blockbuster extensions looming for Leon Draisaitl and Connor McDavid. TSN Hockey Insider Darren Dreger reports that the New York Islanders could be a landing spot.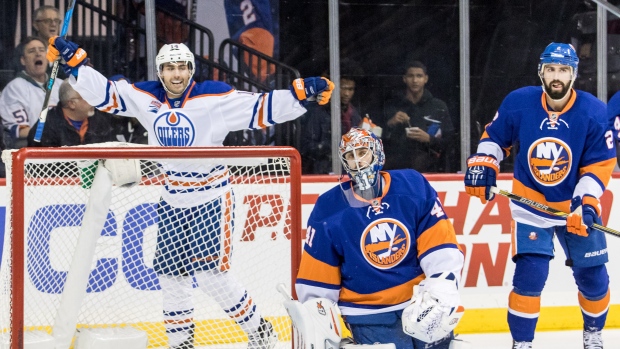 Each day through the Vegas expansion draft and up until free agency on July 1, TSN.ca breaks down the latest news and rumours around the NHL.
Keep an Eye on the Isles?
Jordan Eberle is on the trade block as the Edmonton Oilers look to free up cap space with blockbuster extensions looming for Leon Draisaitl and Connor McDavid.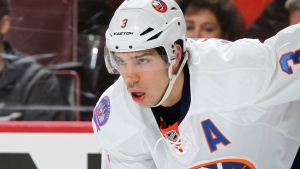 TSN Hockey Insider Darren Dreger reported on Wednesday's Insider Trading that the New York Islanders are among the teams interested in acquiring Eberle. The Islanders are looking to a move a defenceman before the expansion draft as they face a similar situation to the Ducks.
Dreger says that maybe you could connect Travis Hamonic to the Oilers as a potential return. With that being said, the Oilers still hold Eberle in high regard despite a poor postseason and will not take less than market value for the winger.
The Islanders would appear to make sense as a fit for Eberle with head coach Doug Weight telling TSN last week the team must put star centre John Tavares in a position to win now and listing the team's top offseason need as a top three or four forward.
The Islanders may, however, struggle to fit Eberle's $6 million salary under the cap. The team is projected (via CapFriendly) to have just over $2 million of cap space to work with this offseason with Calvin de Haan scheduled to hit restricted free agency and Stephen Gionta and Jean-Francois Berube slated for unrestricted free agency in July 1. Hamonic owns a $3.86 million cap hit through 2019-20.
--
Losing Grubauer for Nothing a Best-Case Scenario?
Washington Capitals backup goaltender Philipp Grubauer ranks No. 14 on the TSN Trade Bait list after posting a 13-6-2 record this season with a .926 save percentage.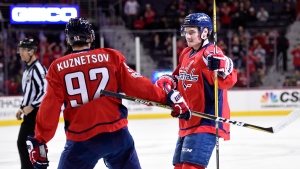 Yet, as J.J. Regan of CSN Mid-Atlantic argues, trading Grubauer could actually prove more costly for the Capitals than losing him the Golden Knights for nothing.
Regan believes Grubauer will be an attractive option to the Golden Knights in the expansion draft - both Craig Button and Frank Seravalli placed him on their predicted teams - and if he's no longer on the Capitals, the Golden Knights will select a more impactful player on the team.
General manager Brian MacLellan has said expects Nate Schmidt to fill a top-four role next season, but Schmidt is projected to be left exposed and therefore could be selected by the Golden Knights. At forward, Jay Beagle is projected to be available as the team protects younger players.
Therefore, Regan believes that rather than lose an impact defenceman or productive forward, the Capitals should surrender Grubauer and move on.
--
Bruins in on Brodin?
According to Joe Haggerty of CSN New England, the Boston Bruins are in the market for a top-four defenceman this off-season and Minnesota Wild defenceman Jonas Brodin is a clear fit.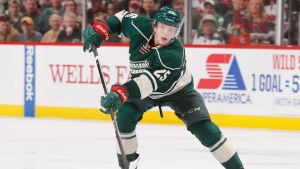 Brodin is listed at No. 2 on the TSN Trade Bait Board, but unlike Sami Vatanen (No. 1), Matt Dumba (No. 3), Travis Hamonic (No. 5) or Tyson Barrie (No. 7), he is a left-hand shot, which the Bruins are looking for.
The team already has right-handed prospects Charlie McAvoy and Brandon Carlo in the system and aren't looking to add another right shot.
According to a source of Haggerty, talks for the Brodin started between the Wild and Bruins before the trade deadline in February.
The Wild do not own a selection in either of the first two rounds of this year's entry draft and Haggerty believes the Bruins would be willing to part with the 18th overall selection in a trade for Brodin.
Brodin, 23, is signed through 2020-21 at a cap hit of $4.17 million. He scored three goals and a career-high 25 points while averaging 19:34 minutes per contest in 68 games.
--
Vat Race
The Anaheim Ducks are expected to have three spots for four defencemen in the expansion draft and Sami Vatanen appears to be the odd man out.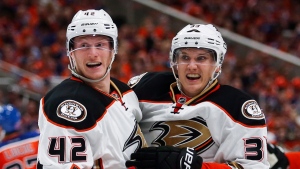 The Ducks are expected to take the seven-three-one protection option in the expansion draft and protect Cam Fowler, Hampus Lindholm and Josh Manson. Veteran Kevin Bieksa owns a no-move clause but is expected to waive it or be bought out before the draft.
TSN Hockey Insider Pierre LeBrun reports the Toronto Maple Leafs, Tampa Bay Lightning and New Jersey Devils are among the teams "lining up" to trade for Vatanen.
The 26-year-old Vatanen scored three goals and tallied 24 points while averaging 21:40 of ice time in 71 regular season games this season. He scored one goal and added five assists in 12 postseason contests. He is currently the top player on the TSN Hockey Trade Bait board.
Vatanen, along with Fowler, underwent shoulder surgery after the Western Final and is expected to miss more than four months, though that doesn't appear to be affecting his trade value.
Some have wondered whether the Ducks could choose to expose defenceman Josh Manson and hang on to Vatanen, but LeBrun reports Manson will be protected.
--
On the Wish List
According to Ben Kuzma of the Vancouver Province, the Buffalo Sabres are looking to land "an established defenceman" this offseason, which is likely the price of acquiring forward Evander Kane.
Kuzma lists Chris Tanev of the Canucks and Kings defencemen Jake Muzzin and Alec Martinez as players who would fit the bill of Buffalo's wish list.
--
Open Ears
The Arizona Coyotes are listening to offers on goaltender Mike Smith and LeBrun reports the team has received interest from at least three teams.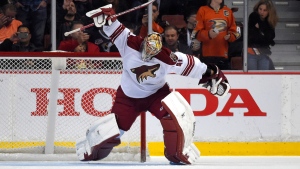 Among those teams are the Calgary Flames, who are known to be in the market for a goaltender with both Brian Elliott and Chad Johnson slated to hit unrestricted free agency.
Coyotes general manager John Chayka stressed Smith's importance to the team on Tuesday and though he didn't shut down trade talks, he made it clear the Coyotes will have to receive a substantial return.
Smith owns a modified no-trade clause and recently submitted his list of eight teams he cannot be dealt to.
Despite their interest, LeBrun still believes the Flames' top target this offseason is Pittsburgh Penguins goaltender Marc-Andre Fleury.
--
Making Progress
The San Jose Sharks are looking to lock goaltender Martin Jones long-term as he enters the final year of his contract.
LeBrun reports there have been "very positive contract talks" between the two sides and an extension in early July seems likely.
Jones posted a 35-23-6 record this season with a 2.40 goals against average a .912 save percentage. He backstopped the team to a Stanley Cup Final appearance last season, his first with the Sharks. Jones signed a three-year, $9 million contract with the Sharks in 2015.
The Sharks are also expected to attempt to extend defenceman Marc-Edouard Vlasic this summer.
--
Cutting the List
Kevin Shattenkirk is listed as the top free agent on the market this summer and is expected to draw plenty of interest.
Shattenkirk will meet his agents by the end of this week to narrow down the list of desired landing spots for the 28-year-old.
He scored 13 goals and added 43 assists in 80 games last season with the St. Louis Blues and Washington Capitals.