Off-Season Watch: Is Kane worth $7 million?
Each day through the NHL draft on June 22 and up until free agency on July 1, TSN.ca breaks down the latest news and rumours around the NHL. In Thursday's roundup, the argument for and against Evander Kane's seven-year, $49 million deal and how it affects John Tavares.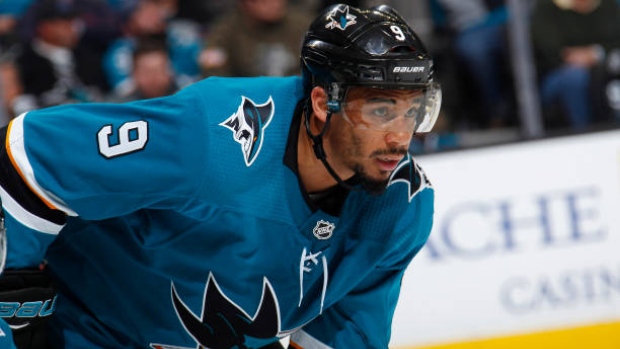 Each day through the NHL draft on June 22 and up until free agency on July 1, TSN.ca breaks down the latest news and rumours around the NHL.

The Right Move?
Evander Kane has signed a seven-year, $49 million contract with the San Jose Sharks and Matt Larkin of The Hockey News believes the Sharks are putting impossible expectations on him with a $7 million cap hit. He points out that Kane's cap hit will rank fifth among left wingers when he's 39th in goal scoring among that group over the past five seasons as an argument for Kane being overpaid. Larkin also wonders whether Kane's injury history - 97 games missed over the past five seasons - will catch up to him. He summarizes the contract as the Sharks telling Kane to "Be better than the best you've ever been…do it for a long time…and don't get hurt."
Paul Gackle of The Mercury News takes the opposite stance, crediting Sharks general manager Doug Wilson for finding a replacement for 38-year-old Patrick Marleau at a cap hit only $350,000 above what Marleau got from the Leafs last summer. He argues $7 million is a fair price to pay for a "for a player who's a lock to score at least 25 goals a year throughout his contract, assuming he stays healthy."
Kane excelled in his brief time with the Sharks this season after being acquired from the Buffalo Sabres. He scored nine goals and posted 14 points in 19 regular season games before adding four goals and one assist in nine playoff games. He scored 29 goals over 78 games total this season, and has scored a total of 77 goals over the past three years.
Gackle argues that though Kane's contract would appear to put the Sharks out of the running for John Tavares, the team still has time to try to free cap space for the centre. He notes the Sharks will still have $10-15 million in cap space to work with, provided the salary cap rises to between $78 million to $82 million.
Veteran centre Joe Thornton, though, is once again slated to hit unrestricted free agency in July and Tomas Hertl and Chris Tierney are in for raises as restricted free agents. Gackle suggests the team could free up another $2.4 million by buying out the final year of Paul Martin's contract, which holds a $4.85 million cap hit.
Gackle adds that 'big moves' will need to be made free up enough space for Tavares, but credits Wilson for signing Kane early to maximize his time before July 1.

---

Keep it Together?
Adam Vingan of the Tennessean writes that Predators general manager David Poile is likely to devote significant attention signing Ryan Ellis to a contract extension this summer.
Ellis has one year left on his current contract at a cap hit of just $2.5 million and Vingan believes he could make up to $6 million a season on his next deal.
The 27-year-old expressed his desire to retire as a Predator during the team's dressing room clean out this month and Poile said Ellis' future with the team will likely come down to money.
"There's no reason for me to believe that Ryan Ellis doesn't want to be here," Poile told 102.5-FM last week. "He said it. ... There's no reason for him to believe that we don't want him here. Economics usually decide these situations."
As Vingan notes Poile is hoping not to lose another star defenceman to the open market like he did with Ryan Suter, who signed a massive 13-year, $98 million deal with the Minnesota Wild as a free agent in 2012. Poile said, however, that he believes he misread the Suter situation.
"I don't think Ryan Suter at the end of the day, and this is my responsibility, was ever going to re-sign here," Poile told 102.5.
Ellis was limited to 44 games this season after undergoing off-season knee surgery. He scored nine goals and posted 32 points while ranking fourth on the team in average ice time at 23:21 per game.
He is eligible to sign an extension on July 1 and Poile said extending Ellis is at the off-season to-do list.
"With (Ellis), I guess at the end of the day, it's the same situation (as Suter)," Poile said. "You will reach a point that if he's not signed that we have to sit down with (him) and discuss the dynamics of what should happen going forward.
"Right now, I think we're in a good place. We do have all summer long. We do have the year. I'm hoping it'll have a favorable outcome… I always have a few balls up in the air, but to me, arguably this is the most important one right now because it's involving the most dollars. It doesn't allow you to have the flexibility to get into other things until you get this situation straightened away."
Roman Josi, P.K. Subban and Mattias Ekholm, the Predators' top three in ice time this season, are all signed through at least 2019-20.

---


Back to the Draft?
According to Dhiren Mahiban of The Canadian Press, two members of the Toronto Maple Leafs' 2016 draft class could be in position to re-enter the draft next month.
Mahiban reports the Maple Leafs have elected not to sign 2016 fourth-rounder Keaton Middleton to an entry-level contract and the defenceman will be available for selection again this year. Middleton, 20, has spent the past four seasons with the Saginaw Spirit and scored four goals and posted 24 points this past season. He scored one goal and added six assists with a minus-24 rating in 66 games in the season prior to his draft.
The future is less clear for sixth-round pick Nicolas Mattinen, whose agent told Mahiban he will speak to the Maple Leafs regarding an entry-level deal after the Memorial Cup. Mattinen began the OHL season with the Flint Firebirds but was moved during the year to the Hamilton Bulldogs, who will play in the Memorial Cup semifinal on Friday. He scored eight goals and had 30 points in 64 games this season between the two teams. He scored one goal and had six assists in the playoffs as the Bulldogs won the OHL championship.
The deadline to sign 2016 draft picks before they can re-enter the draft is June 1.

---