Oilers, D Russell reach four-year, $16M deal
The Edmonton Oilers are closing on a four-year contract extension with defenceman Kris Russell. TSN Hockey Insider Pierre LeBrun reports the two sides are finalizing the deal, which is expected to be worth roughly $16 million total.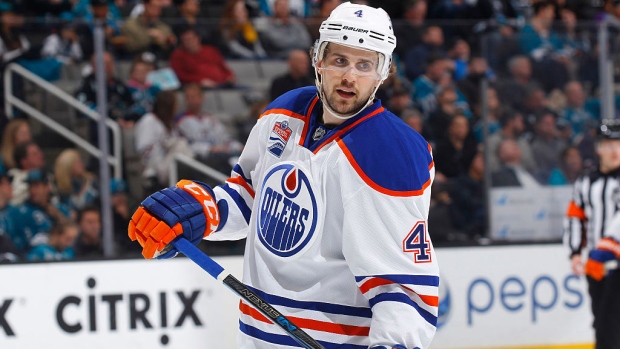 The Edmonton Oilers have signed defenceman Kris Russell to a front-loaded four-year, $16 million contrac, according to TSN Hockey Insider Pierre LeBrun.
The deal which carries, a $4 million cap hit, contains a modified no-trade clause in the final two years of the deal.
The deal is broken down to $5 million in Year 1, $4.5 the next year, $4 after that and $2.5 in the final year. There's a $2 million signing bonus in the first year and a $1 million signing bonus in the fourth year.
The Oilers signed Russell to a one-year, $3.1 million contract in early October, just days before the season started.
McKenzie says that once the Jordan Eberle trade earlier on Thursday freed up room on Edmonton's payroll, more progress was made on the negotiations with Russell. The Eberle trade cleared $3.5 million in cap space for the Oilers.
The 30-year-old scored one goal and added 12 assists over 68 games in 2016-17 with the Oilers, his first season with the club. Russell added four helpers over 13 playoff games as Edmonton made it to the second round where they lost to the Anaheim Ducks in seven games.
The native of Caroline, Alta., has 30 goals and 151 assists over 641 games with the Columbus Blue Jackets, St. Louis Blues, Calgary Flames, Dallas Stars and Oilers.
Forwards David Desharnais, Matt Hendricks and Tyler Pitlick as well as defencemen Eric Gryba and Andrew Ference will also be unrestricted free agents on July 1 if not signed to contracts.