Pierre McGuire recovering from prostate cancer surgery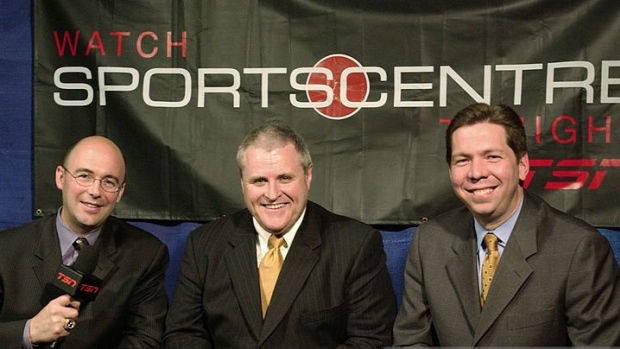 NBC Sports hockey analyst and TSN Hockey contributor Pierre McGuire underwent surgery for prostate cancer last week and expects to be back to cover the 2018 Winter Olympics in Pyeongchang, South Korea starting in February.
McGuire told radio host Mitch Melnick on TSN 690 Montreal on Wednesday that the surgery was successful and he feels "fantastic."
The diagnosis emerged from a routine checkup he had last September.
"I had no signs at all that I was ill," McGuire explained. "My work habits hadn't changed, my workout habits hadn't changed. My eating habits hadn't changed. I hadn't lost weight and hadn't gained weight.
"I was just living a normal life...I'm just so grateful for having Dr. (Michael) Cohen pick that up."
After being sent for further tests, he was diagnosed with stage 1 prostate cancer in mid-November. Doctors removed his prostate on Jan. 4.
"You can't take short cuts and you've got to stare things right in the eye," McGuire said. "I've been fortunate to have really good medical people, my family's been unbelievably supportive and I knew exactly what I was getting into. I chose to go the aggressive route and get the prostate out."
After coaching in the NHL with the Hartford Whalers during the 1993-94 season and scouting for the Ottawa Senators in 1995-96, McGuire has made a name for himself reporting on hockey games "inside the glass" for NBC and TSN for nearly two decades. He began his broadcasting career as a colour commentator for Montreal Canadiens English-language radio broadcasts on CJAD 800 and went on to be lead hockey analyst for TSN from 2002-11 before joining NBC. He still appears on TSN Radio across the country, as well as TSN's TradeCentre and Free Agent Frenzy coverage.
McGuire's co-worker and NBC Sports play-by-play announcer Mike "Doc" Emrick broke the news of McGuire's diagnosis and surgery during the pre-game between the Chicago Blackhawks and Minnesota Wild on Wednesday night and many friends of McGuire's from around the hockey world took to social media to send him their best wishes.
McGuire has his flight to Korea booked for Feb. 8 and looks forward to being back inside the glass for the Winter Olympics starting on Feb. 10.