Poile: Ellis, Predators talking extension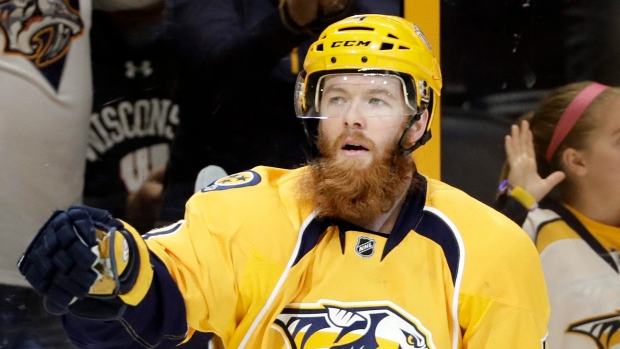 Nashville Predators general manager David Poile said Thursday on ESPN Radio that the Nashville Predators have had "consistent and continual conversations" with defenceman Ryan Ellis regarding a contract extension.
"Ryan just got married, so we'd like to give him a gift," Poile added.
Ellis has one year left on his current contract at a cap hit of just $2.5 million and became eligible to sign an extension on July 1. Adam Vingan of the Tennessean reported back in May that Poile is likely to devote significant attention during the summer to getting Ellis locked up long-term.
The 27-year-old expressed his desire to retire as a Predator during the team's dressing room clean out and Poile said Ellis' future with the team will likely come down to money.
"There's no reason for me to believe that Ryan Ellis doesn't want to be here," Poile told 102.5-FM in May. "He said it...there's no reason for him to believe that we don't want him here. Economics usually decide these situations."
As Vingan notes Poile is hoping not to lose another star defenceman to the open market like he did with Ryan Suter, who signed a massive 13-year, $98 million deal with the Minnesota Wild as a free agent in 2012. Poile said, however, that he believes he misread the Suter situation.
"I don't think Ryan Suter at the end of the day, and this is my responsibility, was ever going to re-sign here," Poile told 102.5.
Ellis was limited to 44 games this season after undergoing off-season knee surgery. He scored nine goals and posted 32 points while ranking fourth on the team in average ice time at 23:21 per game. Ellis has spent his entire seven-year career in Nashville.
The Predators set a franchise-record for wins during the regular season in 2017-18 but were bounced in the second round by the Winnipeg Jets in seven games.