Report: Babcock, Lou visit CSKA D in Moscow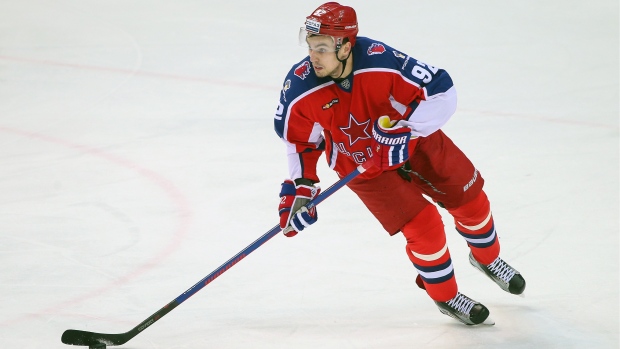 According to Russian news outlet Sovetsky Sport, Toronto Maple Leafs head coach Mike Babcock and general manager Lou Lamoriello recently travelled to Russia to meet with CSKA Moscow defenceman Igor Ozhiganov.
The Maple Leafs have confirmed to TSN that Babcock and Lamoriello were in Russia, but would not confirm who they were there to see.
Ozhiganov, who will turn 25 in October, is entering the final year of his contract with the KHL club. He posted eight goals and 22 assists in 50 games as an All-Star with CSKA last season, adding one assist in nine playoff games.
As Pavel Lysenkov of Sovetsky Sport writes, the Maple Leafs held a similar meeting with Nikita Zaitsev a year before the team signed the CSKA standout to a one-year contract in 2016. The Leafs re-signed Zaitsev to a seven-year, $31.5 million contract in May.
Like Zaitsev, Ozhiganov was undrafted in the NHL. He played with Russia at the 2012 World Juniors, posting one goal in seven games en route to winning the silver medal.
Last week, Maple Leafs defenceman Alexey Marchenko left the team to join CSKA.
Ozhiganov, a right-handed shot, has 21 goals and 59 points in 159 games over the past three seasons with CSKA Moscow and Novosibirsk Sibir.
International signings have become a common theme for the Maple Leafs, who signed Swedish defencemen Calle Rosen and Andreas Borgman in May to bolster their defensive depth.