Report: Stars the favourite again for Karlsson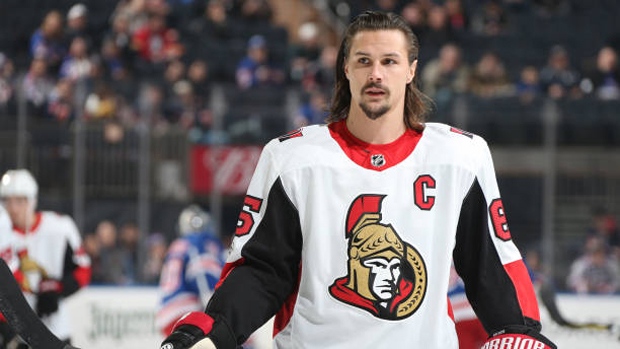 Erik Karlsson may not be bound for the Sunshine State after all.
According to Larry Brooks of the New York Post, trade talks between the Tampa Bay Lightning and Ottawa Senators "have subsided" and the Dallas Stars are now once again the favourite to land the star defenceman.
TSN Hockey Insider Darren Dreger reported late last week that trade talks between the Senators and Lightning appeared to be moving forward, but the Lightning needed to clear cap space. Dreger noted at the time that Ryan Callahan could be traded back to the New York Rangers to clear space and Brooks reports the Rangers remain interested in that possibility, if a sweetner is thrown in by the Lightning.

---
UPDATE: The Lightning signed winger Nikita Kucherov to an eight-year, $76 million contract extension on Tuesday and now have $65 million in salary committed towards the cap for the 2019-20 season, according to CapFriendly.
Joe Smith of The Athletic reports, however, that extedning Kucherov does not mean the Lightning are out of the Karlsson sweepstakes. With Kucherov now locked up through the 2026-27 season, the team now has a clearer image of their cap space moving forward.
Lightning general manager Stever Yzerman said on a conference call after the Kucherov signing that he is not close to making any trades, "despite what you might all read or report."
---

The Stars were reported to be the favourite to land Karlsson early last week, but talks reportedly stalled with the Stars' unwillingness to part with 2017 third overall pick Miro Heiskanen.
Karlsson, 27, has played nine seasons with the Senators. He had nine goals and 53 assists over 71 games last season in the nation's capital and has been a near point-per-game performer since his third season in the league.
He has one year left on his seven-year, $45.5 million ($6.5 million AAV) contract and is expected to sign an extension with the team he is traded to.
Senators general manager Pierre Dorion said the team extended a contract offer to Karlsson on July 1, but he is believed to have rejected their offer.