Rumour Mill: What will Leafs do with UFAs?
The Toronto Maple Leafs have three key forwards hitting unrestricted free agency this July - James van Riemsdyk, Tyler Bozak and Leo Komarov. But TSN Hockey Insider Bob McKenzie doesn't think the team is in any rush to trade any of the three veterans.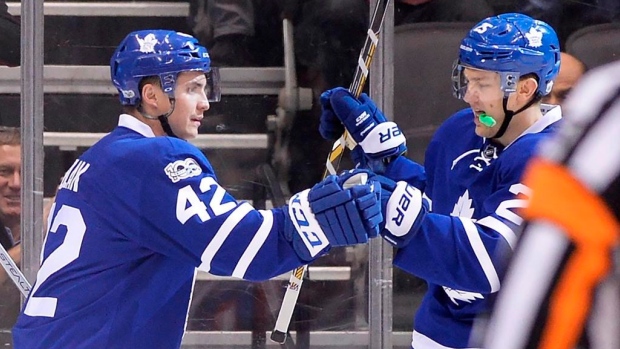 Keep up to date on the latest rumours and speculation around the NHL beat with TSN.ca's Rumour Mill.
Staying for the Run?
The Toronto Maple Leafs have three key forwards hitting unrestricted free agency this July - James van Riemsdyk, Tyler Bozak and Leo Komarov.
With the team expected to re-sign restricted free agent William Nylander this off-season as well as Auston Matthews and Mitch Marner, many have speculated that van Riemsdyk, Bozak and Komarov could be playing elsewhere next season.
TSN Hockey Insider Bob McKenzie doesn't believe the Maple Leafs are looking to trade any of their free agents in order to avoid the risk of losing them for nothing. Instead, McKenzie said the Leafs would rather keep their team together for a Stanley Cup run this season.
"I think they're always open-minded to what might be out there, but the better the team does, the less likely - in my mind - they're going to trade one of their pending UFAs in Bozak, van Riemsdyk or Komarov," McKenzie told Leafs Lunch on Toronto's TSN Radio 1050 this week. "[It's more likely] that they'll keep them and be the best team they possibly can be and go as far and as deep into the playoffs as they can with this group.
"Now, that said, if the right player becomes available and the other team is saying, 'We want Tyler Bozak or James van Riemsdyk,' then I guess they have to contemplate that. But that's just such a discretionary thing; not a policy or philosophical thing. I've said it before and I'll say it again now: I don't believe the Leafs have an appetite to wake up in the morning and say, 'Which of our guys can we trade today? Which of van Riemsdyk or Bozak can we move on today?' I don't think they're looking for that. If someone else comes to them with something, then obviously they'll consider it. If it makes sense, they'll do it, and if it doesn't, they won't."
Van Riemsdyk, 28, is tied for the team lead in goals this season with 13. Bozak, 31, owns four goals and seven points in 28 games, while Komarov has three goals and seven points in 29 games this season.
The Maple Leafs sit second in the Eastern Conference with an 18-10-1 record this season.
---
Time to Sell?
Detroit Red Wings general manager Ken Holland said earlier this week he'd give his team a month to prove whether or not he should be a seller at the trade deadline in February.
The Red Wings are 11-12-5 this season and have lost seven of their past eight games. John Niyo of The Detroit News believes Holland's mind should already be made up and the Red Wings should sell off as many players as possible.
Niyo lists veterans Gustav Nyquist, Tomas Tatar, Mike Green, Trevor Daley and Jimmy Howard as players the Red Wings should already have on the trade block.
Of the five players listed by Niyo, only Mike Green is playing on an expiring contract. Tatar has the most term, having signed a four-year, $21.2 million contract in July.
According to CapFriendly, the Red Wings have no cap space remaining, despite having only 22 players on their 23-man roster.
---
The Argument for a Blockbuster
John Boruk of NBC Sports Philadelphia believes Flyers general manager Ron Hextall should be taking notes on the deals being done by New Jersey Devils general manager Ray Shero and learn to make big splashes in the trade market.
Boruk argues the Devils are already ahead of the Flyers in their rebuild, despite Shero being hired one year after Hextall joined the Flyers. He lists Shero's moves to acquire Taylor Hall, Kyle Palmieri, Marcus Johansson and Sami Vatanen as significant trades which have sped up New Jersey's process.
Hextall has made 15 trades since joining the Flyers, but as Boruk points out, almost all of them involved future picks and it's hard to point to a trade that is helping the Flyers now. Hextall's decision to trade Brayden Schenn to the St. Louis Blues has seen Schenn off to a red-hot start. Jori Lehtera, acquired in the trade along with a first-round pick, is considered a potential buyout candidate this off-season by Boruk.
Boruk adds there is a widespread belief Hextall is wasting the prime years of Claude Giroux and Jakub Voracek by not providing them with teammates who can make the team a perennial playoff power. He believes Hextall can follow Shero's lead and find trades which help the Flyers now and in future.
The Flyers (10-11-7) have won two straight games after posting a 10-game losing streak.