Rumour Mill: What now for the Habs?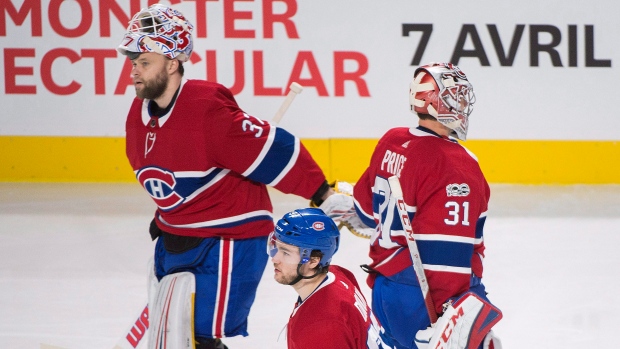 Keep up to date on the latest rumours and speculation around the NHL beat with TSN.ca's Rumour Mill.
What Now In Montreal?
After the return of Carey Price sparked the Montreal Canadiens to a five-game winning streak, the team has fallen back to earth with three straight losses.
Price was pulled during Saturday's loss to the Edmonton Oilers and Stu Cowan of the Montreal Gazette believes it's now clear that the Canadiens simply aren't good enough to win when Price isn't playing his very best.
Marc Bergevin said in late October that the answer to the Canadiens problems was in their dressing room and Cowan notes that while the team continues to look in-house, there are few signs for optimism they'll find a solution there.
Cowan writes that losing Alexander Radulov as a free agent to the Dallas Stars in July has cost the Canadiens dearly. Radulov's ability to possess the puck allowed Max Pacioretty to find open space in the offensive zone and score 35 goals. This season, the Canadiens captain owns just eight goals through 31 games.
Over the weekend, Cowan presented his case for why Bergevin should trade Alex Galchenyuk, a forward who has seemingly been in the rumour mill for close to a year.
Galchenyuk was benched by head coach Claude Julien in a loss to the Calgary Flames last week and called out after the game.
"A player has to do more than score goals," Julien said after the game when asked about Galchenyuk. "That applies to everyone. So he has to be better without the puck, win battles along the boards, those things are important. In a tie game, he wasn't that good tonight along the boards, so I decided to shorten my bench."
Galchenyuk played 13:53 against the Oilers on Saturday, scoring his seventh goal of the season, but Cowan believes it's clear he will likely never be the No. 1 centre the team had hoped for and now risk lowering his trade value even more if they continue to hold on to him.
Cowan argues Bergevin should be "all ears" if another general manager comes asking for Galchenyuk in exchange for an established NHL player. The 23-year-old scored 30 goals for the Canadiens in 2015-16 and followed that up with 17 goals last season in 21 fewer games. He has seven goals through 31 games this season.
Galchenyuk is averaging 13:02 of ice time through four games in the month of December, down from 16:04 in November.
The Canadiens (13-14-4) return to the ice Thursday against the New Jersey Devils.
---
A New No. 1?
Looking well ahead to the future, Kevin Kurz of The Athletic wonders if San Jose Sharks backup Aaron Dell could land himself a No. 1 in the off-season if he keeps up his strong play.
Dell leads the NHL in save percentage (.939) and goals-against average (1.72) this season. Through 11 games - eight starts - he has a 5-3-1 record with two shutouts.
Kurz doesn't believe there's a chance Dell unseats Martin Jones as the team's starter, but thinks the pending free agent could make a strong case for himself to earn a shot at starting role with another team next season.
Jones is also having a strong season, posting a .915 save percentage and a 2.48 goals-against average with an 11-7-2 record through 21 starts. He signed a six-year contract extension with the team last July, which will kick in next season.
Dell could be in line for a substantial raise in free agency from his current $625,000 salary (via CapFriendly).
---
Relief on the Way?
The Vancouver Canucks have lost both Sven Baertschi and Bo Horvat for the foreseeable future, but the team did have at least some good news on Monday.
Head coach Travis Green said both forward Brandon Sutter and defenceman Erik Gudbranson could be back in the lineup within the next week.
Green said Sutter could return within the week, while Gudbranson is likely to be out a little longer.
Sutter has been out since Nov. 24 due to an upper-body injury. He has two goals and six points in 23 games this season. The rebuilding Canucks have lost three straight games, dropping their record to 14-13-4 on the season.
The team could be without Baertschi and Horvat until the New Year.