Rumour Mill: Who's the odd man out in Edmonton?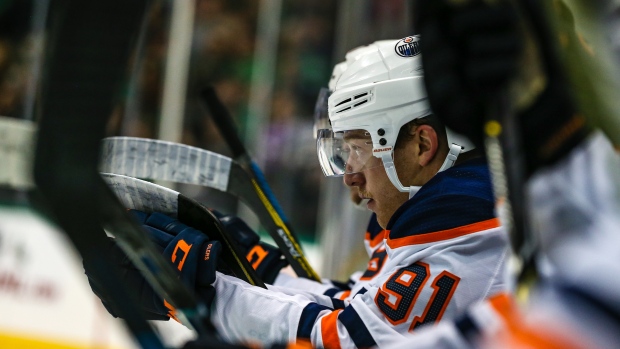 Keep up to date on the latest rumours and speculation around the NHL beat with TSN.ca's Rumour Mill.
Larsson In, Who's Out?
Edmonton Oilers defenceman Adam Larsson was considered a game-time decision for Thursday's matchup with the Nashville Predators and while he did not dress, his return appears imminent.
In order to bring Larsson back from injured reserve, the Oilers will have to free up a spot on their 23-man roster.
Jim Matheson of the Edmonton Journal believes the Oilers will keep eight defencemen on the roster, meaning a forward will be assigned to the AHL. Matheson wondered if Drake Caggiula could be the casuality and placed on waivers to make room for Larsson. The 23-year-old Caggiula owns four goals and seven points in 21 games this season.
Another option, Matheson said Thursday, would be to place Dec. 1 waiver claim Nathan Walker back on waivers, but that would risk the Washington Capitals taking him back. Walker has played in just one game since being claimed by the Oilers (Dec. 9 vs. Montreal), going minus-1 in 12:46 of ice time.
The Oilers have just three waiver exempt players on their roster - Jesse Puljujarvi, Anton Slepyshev and goaltender Nick Ellis - and TSN 1260 Edmonton's Jason Gregor believes the team should send Slepyshev to the minors, rather than risk losing Caggiula for nothing. Slepyshev has scored one goal and added two assists in 15 games this season.
Gregor argues the Oilers could also place veteran defenceman Eric Gryba waivers, since the team is expected to have defenceman Andrej Sekera back by early January. Gryba, 29, last played on Dec. 6. He owns two assists and a plus-4 rating in 21 games this season.
---
No Handouts
The Florida Panthers have been searching for some help at goaltender to help fill the void left by Roberto Luongo.
Luongo is expected to miss roughly eight weeks with a lower-body injury and the team has been left with Harri Sateri, a goaltender with no NHL experience, backing up James Reimer.
Panthers head coach Bob Boughner said Wednesday that Sateri will get his first NHL start at some point. But he added Panthers general manager Dale Tallon and the team's front office are working to acquire a goaltender.
"It's not easy. No one's giving those guys away for free... I have full trust in those guys and the job they're doing," Boughner said.
Reimer has made five straight starts in net for the Panthers and now owns a 6-8-4 record on the year with an .896 save percentage and a 3.38 goals-against average.
The 29-year-old turned aside 28 shots on Thursday night, but the Panthers fell 2-1 to the Colorado Avalanche, dropping their record to 12-15-5 on the season.
---
No Big Splash
The San Jose Sharks currently sit third in the Pacific Division with 37 points through 30 games this season, but don't expect the team to make a major splash in the trade market anytime soon.
Sharks general manager Doug Wilson said earlier this week he's willing to add players, but doesn't see himself parting with key prospects to win now.
"Getting everybody back in, getting some guys back on top of their game, being healthier, I think that's when you truly evaluate this team," Wilson told the San Jose Mercury News. "We're looking forward to that. If there are guys that can come in and help us and fit for now and into the future, absolutely.
"But I don't see me trading key young core players for them."
Joe Pavelski and Joe Thornton were both playing through injuries this season, while Brent Burns went through the team's first 19 games without a goal. All three appear to be finding their form now, leading Wilson to believe the group will continue to improve.
"We know they'll get on top of their game, and I think you're seeing it trending now," Wilson said. "I think we're now (15th) on the power play. I admire our players bringing everything they can. They know there's more to certain areas of their game, which could be the offensive side. If we had players that hadn't scored more goals in the past, it would be more of a concern.
"Would you like to add people who can create offense? Sure you can. But you don't see many of them being available. So we're committed to this group, and they're being given every opportunity they can."
The Sharks, who defeated the Calgary Flames 3-2 on Thursday, visit the Vancouver Canucks on Friday night.