Rutherford: Pens' two-goalie system isn't working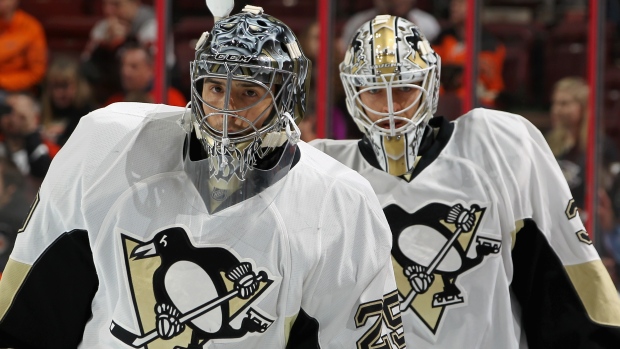 Having two starting-calibre goaltenders hasn't worked out as well Jim Rutherford hoped it would for the Pittsburgh Penguins this season.
The two-goalie system has not worked for the team through a month of play, the Penguins general manager admitted Monday to the Pittsburgh Post-Gazette.
"Despite the fact I like having the two top goalies, it's difficult when both goalies are used to playing the majority of the games," Rutherford said. "You get into weeks where they're splitting and going every other game. That hasn't worked, at this point, as well as I thought it would."
Marc-Andre Fleury opened the season with a 6-2-1 record but hasn't won a game since Matt Murray returned from a hand injury on Nov. 2. Fleury's record on the season now sits at 6-5-3 with a .901 save percentage, down from .909 in the month of October. His goals-against average has risen from 3.09 to 3.38 with 22 goals allowed in his past six games.
Murray has posted a 7-1 record since returning and owns a 1.75 goals-against average and .939 save percentage.
If the Penguins still own both goaltenders ahead of the Vegas Golden Knights expansion draft, the team will have to decide which of the two to protect.
"I don't feel urgency," Rutherford said of making the decision of which goaltender to protect, though he admitted, "It is one area I'm probably looking at the most right now, as to how that works."
Fleury is expected to be the odd goaltender out if he is not traded before the draft. The 32-year-old was named the top projected available option in TSN's early mock draft last week.
Rutherford declined to answer the Post-Gazette when asked if other teams have inquired about Fleury.
The Penguins (13-6-3) will next be action on Wednesday night against the New York Islanders.