Housley on Sabres: 'Let's be honest, we have a long way to go'
Matt Duchene scored his team-leading 27th goal in the Ottawa Senators' 4-2 victory over Buffalo on Wednesday night, and assured the Sabres of finishing last in the NHL standings.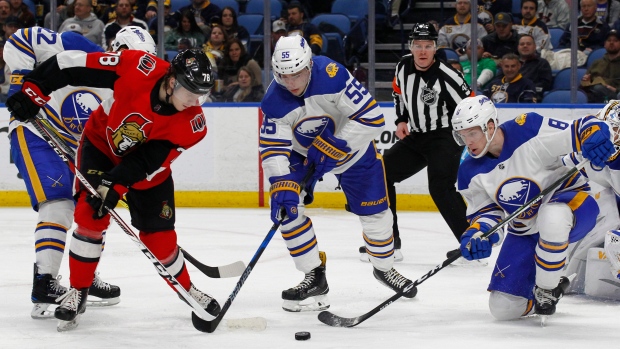 BUFFALO, N.Y. — Three years after bottoming out, the Buffalo Sabres found a way to achieve a new low.
A 4-2 loss to the Ottawa Senators on Wednesday night assured Buffalo of becoming the NHL's first team to finish 31st following this season's addition of the expansion Vegas Golden Knights.
"Honestly, no. I don't think anyone really envisioned this, certainly not myself being on the outside coming in," said Jason Pominville, the former Sabres captain who rejoined the team last off-season after being acquired in a trade with Minnesota.
"With the group we had, I still don't believe we should be where we're at. But we are there. And things got to change."
First-year coach Phil Housley was defiant when asked if he ever second-guessed what he signed up for upon being hired in June after the Sabres cleaned house last spring.
"I believe in this organization. I believe in our management. I believe we're going to turn this thing around," Housley said.
And yet the Hall of Fame defenceman had to acknowledge how difficult this season has been.
"This is just where we are as a group," Housley said. "Let's be honest, we have a long way to go."
Having already extended their franchise-worst playoff drought to a seventh year, the Sabres clinched last place for the third time in five years — they were 30th in both 2013-14 and 2014-15.
Their fate this season was sealed in losing their home finale in a matchup of two of the NHL's worst teams.
Matt Duchene scored his team-leading 27th goal and the 30th-place Senators upped their total to 67 points, five ahead of the Sabres, who have just two games left.
Max McCormick, Ryan Dzingel and Alexandre Burrows, with an empty-netter, also scored for the Senators. Craig Anderson stopped 32 shots, and Ottawa improved to 2-8 in its past 10.
"We play for each other, we play for our fans, we play for the crest on the front," Anderson said of the Senators' objective to not finish last.
And the Senators won with a roster depleted of numerous regulars, including captain Erik Karlsson, who remained in Ottawa to be his wife after the couple's first son was stillborn two weeks ago.
The Senators scored three straight times after Buffalo's Ryan O'Reilly opened the scoring on a breakaway goal 30 seconds in.
McCormick tied the game 2:26 later by tipping in Mark Borowiecki's point shot. Duchene scored 3:14 later by blasting in a shot over Chad Johnson's left shoulder after teammate Ben Harpur broke up Sabres defenceman Rasmus Ristolainen's clearing attempt at the left boards.
Dzingel made it 3-1 at the 3:21 mark of the second period, seconds after a tripping penalty against Buffalo's Marco Scandella expired. Dzingel collected a loose puck in the right circle and used Sabres defenceman Casey Nelson as a screen to sneak a shot under Johnson's right arm.
Johnson stopped 30 shots and Kyle Okposo also scored for the Sabres in closing Buffalo's home record at 11-25-5.
The Sabres' league-worst 11 home wins matched a franchise low for any year, including the lockout-shortened 48-game 2012-13 season, when Buffalo went 11-10-3. Buffalo also went 11-19-9 during a 78-game season in 1971-72.
The Sabres' final four home losses came against four of the NHL's five-worst road teams: Arizona, which entered the day 27th, Detroit (28th), Ottawa (30th) and Montreal (31st).
"I expected a lot more," O'Reilly said about Buffalo's record. "But you can expect all you want. It comes down to doing it and getting better. And obviously, we got worse."
NOTES: Senators RW Bobby Ryan did not return after sustaining a lower body injury in the first period. He was hurt when teammate Jean-Gabriel Pageau fell back into him after being checked by Buffalo's Jack Eichel. ... Sabres C Zemgus Girgensons will miss the final three games with an upper body injury. ... Senators RW Marian Gaborik missed his seventh consecutive game, and Boucher said the player is visiting a specialist to determine the severity of a nagging back injury. ... Corey Syvret made his debut as an NHL referee. Syvret played for OHL London in 2006 when he lost a fight, decisively, to current Sabres forward Jordan Nolan.
UP NEXT
Senators: Continue season-closing three-game trip Friday night at Pittsburgh.
Sabres: Open season-closing two-game trip Friday night at Tampa Bay.