Sabres fire GM Murray, head coach Bylsma
Dan Bylsma and Tim Murray are out in Buffalo. The team announced on Thursday that both their coach and general manager have been fired. The Sabres fired the pair after a 33-37-12 campaign. The team finished last in the Atlantic Division and 14th in the Eastern Conference.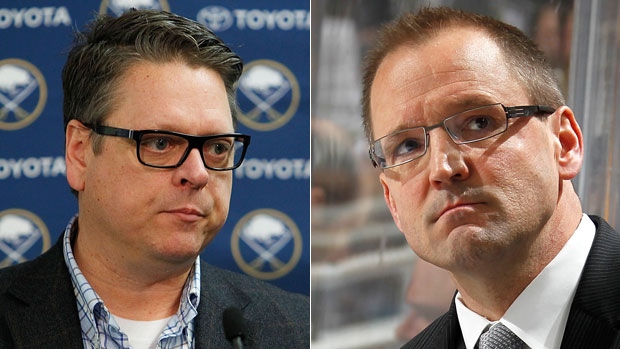 BUFFALO, N.Y. — General manager Tim Murray ran out of time to rebuild the Buffalo Sabres into a contender. The team will need a new head coach, too.
Sabres owner Terry Pegula cleaned house by firing Murray and coach Dan Bylsma on Thursday amid questions over player accountability during a season in which Buffalo extended its franchise-worst playoff drought to a sixth year. Pegula reached the decision after spending the past two days holding season-ending meetings with Murray, and some 10 days after Buffalo closed its season by finishing last in the Atlantic Division.
"We want to thank Tim and Dan for their hard work and efforts that they have put in during their tenures with the club," Pegula said in a statement released by the team. "We wish them luck. We have begun the process to fill these positions immediately."
Murray completed his third full season as GM, and was responsible for overseeing a top-to-bottom overhaul that began under his predecessor Darcy Regier, who was fired in November 2012. Bylsma completed his second season. Both had three years left on their respective contracts.
Murray hinted last week his future in Buffalo, and that of Bylsma, was uncertain. Though he backed Bylsma in returning for a third season, Murray cautioned the decision was ultimately Pegula's.
It's the latest change for the Sabres, who are no searching for their fourth coach since Lindy Ruff was fired in February 2013.
And it's yet another shake up for Buffalo's two Pegula-owned sports teams. With Sean McDermott taking over for the fired Rex Ryan at the end of last season, the NFL's Bills are on their third coach since Terry and Kim Pegula purchased the franchise in October 2014.
The other things the two teams have in common are losing and missing the playoffs. The Bills' 17-season post-season drought is the longest active streak among North America's four major leagues.
Pegula's frustrations in the Sabres go even deeper after he vowed to build the team into a winner upon purchasing the franchise in February 2011.
"Starting today, the Buffalo Sabres' reason for existence will be to win a Stanley Cup," Pegula said at the time.
The Sabres were supposed to be on an upward trajectory after the team bottomed out by finishing last in the NHL in both 2013-14 and 2014-15 seasons. Buffalo landed the No. 2 picks in each of the following drafts and used them to select forwards Sam Reinhart and Jack Eichel.
Murray also retrofit the roster by purging high-priced talent and rebuilding through youth. The additions included trading for forwards Evander Kane (from Winnipeg) and Ryan O'Reilly (from Colorado) and goalie Robin Lehner (from Ottawa), and signing Kyle Okposo to a seven-year contract in free agency last season.
The acquisitions failed to deliver, and Murray was second-guessed for paying too steep of a price in giving up first-round draft picks to acquire both Kane and Lehner.
After finishing 35-36-11 last season, the Sabres took a step back this past year and went 33-37-1. Injuries played a role in this season's collapse, with Eichel missing the first 21 games because of a sprained left ankle.
The Sabres, however, were relatively healthy in mid-February when a 2-8-2 skid knocked them out of contention. The stretch included the team blowing three third-period leads over a five-game stretch.
Bylsma is out of a job for the second time in three years. He was part of a front-office purge in Pittsburgh in the spring of 2014, when the Penguins also fired GM Ray Shero. Bylsma is most noted for taking over the Penguins in February 2009 and leading them to win the Stanley Cup four months later.
Murray had earlier accepted the blame for the team's struggles, but noted it had to be shared with the coaching staff and players. Murray said Bylsma needed to be more demanding of his players, and noted players needed to be more accountable.
"It needs fixing," Murray said. "We have to make more demands. So I have to make more demands of Dan. Dan has to make more demands of players. And I personally have to make more demands of myself."
___
More AP NHL: apnews.com/tag/NHLhockey