Schneider returns to Vancouver as Canucks host Devils
On the day that Bo Horvat was informed he will not be sent back to junior, the Vancouver Canucks host the New Jersey Devils and Cory Schneider, the player who was traded away to acquire Horvat. Catch all the action on TSN Radio 1040 starting at 5pm pt.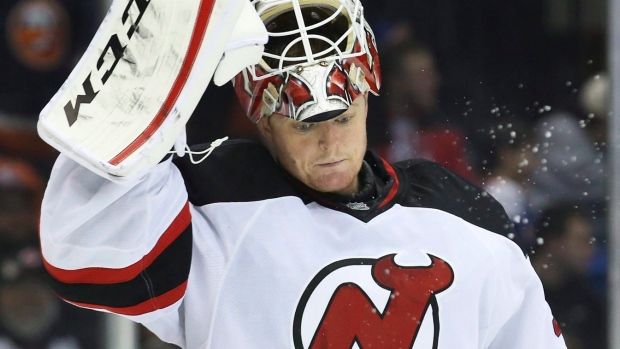 The New Jersey Devils finally gave Cory Schneider a break against one of the top-scoring teams in the league, and it didn't end particularly well.
Coach Peter DeBoer's No. 1 goaltender will be back in net tonight when New Jersey completes a four-game Canadian road trip against Schneider's former team, the Vancouver Canucks, who have also been among the NHL's best offensive clubs.
Catch all the action on TSN Radio 1040 starting at 5pm pt.
The Canucks' offense continued to produce with Sunday's 4-1 home win over Chicago. They're second among West teams with 3.00 goals per game, up from last season's 2.33 mark that ranked last in the conference.
"We do all the little things you have to do to be successful," left wing Daniel Sedin told the team's official website. "Everyone is buying in. It's a lot of fun when you can do that. No one feels the pressure to score each and every game, but everyone knows they can do it."
Schneider ceded starting responsibility to Scott Clemmensen for the first time this season Saturday, and the Devils (9-9-3) suffered a 5-4 shootout loss to Calgary - the only West team scoring more than Vancouver.
New Jersey is 3-6-1 with 2.00 goals per game over the last three weeks after averaging 2.91 during a 6-3-2 start, but the latest loss had more to do with being unable to hold a series of two-goal leads. The Devils led 2-0 after the first period, 3-1 after the second and 4-2 midway through the third but surrendered two goals in the final 2 1/2 minutes.
"It's disappointing," DeBoer told the team's official Twitter feed. "That's a game we should've won. I thought we had a dozen chances to extend the lead."
Schneider has been quite strong lately with a 1.41 goals-against average and two shutouts over a 3-2-0 stretch.
This would be his third matchup with Vancouver, where he spent his first five seasons, after suffering losses in overtime and a shootout in October 2013 with a 2.36 GAA.
Those games extended the Canucks' current winning streak in the series to five, on which they've allowed just seven goals.
Vancouver (14-6-1) was in line with that kind of defensive effort against the Blackhawks, while Jannik Hansen had the first three-goal game of his career. Hansen has scored in three straight games, and his eight goals overall put him halfway to his top single-season total.
"We strive this year to make it a four-line team," Hansen said. "It's not a matter of one, two, three, four. Everyone knows (Daniel and Henrik Sedin) are going to get their matchup every night. After that it's up to the nine other guys to supply the secondary scoring. As long as we can do that we've got a chance to win games."
Newcomer Radim Vrbata also scored and has four goals in three games while playing with the Sedins. Vrbata leads the team with 10 goals and has 13 points in his last 10 games against New Jersey.
Fellow newcomer Ryan Miller hasn't been quite as effective with a 2.63 GAA, though he has a league-best 13-3-0 record among No. 1 goaltenders thanks greatly to Vancouver's consistent scoring. He's been considerably better in his last 11 matchups against New Jersey, going 7-2-2 with a 1.54 GAA.
Neither goalie will be facing a particularly effective power play. Vancouver is in a 2-for-20 slump, and New Jersey is 3 for 27 in its last 10. The Devils' penalty kill, however, has thrived with a 25-for-26 mark over their past six.
Canucks defenseman Dan Hamhuis (lower-body injury) sat out Sunday, while forward Alexandre Burrows (upper body) returns tonight.
Canucks Projected Lines
Forwards
Daniel-Henrik-Vrbata
Higgins-Bonino-Burrows
Matthias-Richardson-Kassian
Dorsett-Horvat-Hansen
Defence
Edler-Tanev
Sbisa-Bieksa
Stanton-Weber
Goaltender
Miller
Lack
Scratched: Vey, Corrado
Injured: Burrows, Hanhuis (knee), Sestito (groin)
Game Notes:
VAN was 2-0-0 vs NJ last season, winning both past regulation
VAN has won 5 straight vs NJ
Vancouver:
4-2-1 past 7 games, 2/20 on PP
1-1-1 past 3 home games, 0/6 on PP
0/8 on PP last 4 home games
Hansen (5G) has scored in 3 straight games
New Jersey:
1-1-1 on road trip, 2/6 on PP
2-5-1 past 8 road games, 4GA or more in 5 of the games
25/26 on PK last 6 games (3-2-1)
Henrique (2G, 1A) past 2 games
Schneider 0-0-1 in VAN since being traded, 2.89GAA, .906sv%