Scottie Upshall's Shift Disturbers
Long-time NHL forward and debuting TSN TradeCentre panelist Scottie Upshall assembles the Shift Disturbers – his perfect roster of players who will get under your skin while they're beating you on the scoreboard.
Scottie Upshall, Special to TSN.ca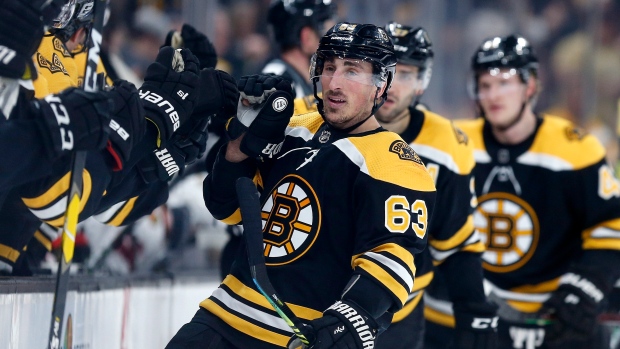 Long-time NHL forward and debuting TSN TradeCentre panelist Scottie Upshall assembles the Shift Disturbers – his perfect roster of players who will get under your skin while they're beating you on the scoreboard.
Forwards
Brad Marchand LW, Boston Bruins
Marchand is as skilled as he is irritating. He plays a hard game along the walls and will engage physically every night. He becomes a better player when the other team chases him around. You want this guy on your team when playoffs come around. He's a warrior by nature.
Evander Kane LW, San Jose Sharks
Kane has been effective all over the ice this season because of his scoring touch and the fact that he's not going to back down from anybody. He's been known to take bad penalties after whistles, but watch out if he gets loose. The kid can punch. Currently leads the NHL in penalty minutes.
Matthew Tkachuk, LW Calgary Flames
Just like his old man, he has a knack for using his size well in front of the opponents' net. He likes to run his mouth, but plays between the whistles. He's also not shy about taking a few cheap shots at elite players, as we saw last year with Drew Doughty last season, which proved to me he doesn't give a damn about anything. He will step up and answer the bell when called upon.
Antoine Roussel LW, Vancouver Canucks
Vancouver made a statement this off-season with the addition of Roussel. Coming off a season where he battled injuries and scored only five goals, he signed a four-year, $12 million dollar deal as the Canucks showed the league they wanted more toughness in their lineup and were willing to pay for it. He will run around all game, hitting everything in sight. He currently is second in the league in penalty minutes.
Nazem Kadri C, Toronto Maple Leafs
Kadri is a solid two-way centre who has never backed down from a timely scrap. His offensive ability and production have allowed him to engage in battles with the other team's best players. That's effective for a guy who can play a heavy game and battle hard for 60 minutes. He did cost the Leafs a few games in the playoffs last year in Boston when he went over the line. You have to be disciplined in the playoffs – especially when you're the best two-way centreman on your team.
Max Domi C, Montreal Canadiens
A change of scenery from the desert to the Bell Centre in Montreal has been a success story for the speedy, crafty, in-your-face Domi. It's no surprise given his last name that he plays with courage and has an edge. Known to throw heavy rights and not shy to scrap anyone, this guy is perfect for a second-line centre on our team.
Ryan Kesler C, Anaheim Ducks
Kesler could be the most hated player, as voted on by his peers, every year since his arrival in Vancouver back in 2003. He's a mean, defensive centre who has made a career of playing hard minutes against other team's best players. Has also had many deep playoff runs with Vancouver and Anaheim, proving his value as a high-paid forward. Even though both his performance and ice time have dropped significantly this past year, you can't make a Shift Disturber team without Ryan.
Alex Radulov RW, Dallas Stars
The only Russian skater on my Shift Disturbers squad is highly skilled in all areas, but it's his body language and goal celebrations that drive the other team crazy. He will provide this team with energy and playmaking ability. I've seen it first-hand: Rads scored the game-winner on us in the final at the World Championships in Switzerland and just danced around with his Russian cape on. Nobody who was on that Team Canada team in 2009 will ever forget that act when playing against him.
Wayne Simmonds RW, Philadelphia Flyers
This two-time 30-goal man is a beast in front of the opponent's net. He might be the best in the business at battling for loose pucks in the crease and winning battles behind the net. Could be on the move at the deadline, but this team of pests would be a much better team with Simmonds' presence in front of the net on the power play.
Tom Wilson RW, Washington Capitals
There is no question that everyone in the league wants a Tom Wilson on their team. He will crush anyone in his way and isn't shy to hit high and hit late. It has cost him a few bucks but it has definitely given him more room to make plays now. Wilson has been playing with a lot of confidence since his resurgence last season as a top-six player.
Cal Clutterbuck RW, New York Islanders
Hits like a truck, has good hair and gets power-play minutes in the slot ripping one-timers. What else can you say about Clutterbuck, other than that he is truly an effective agitator?
Ryan Reaves RW, Vegas Golden Knights
We can't leave out the toughest, meanest, most glorified heavyweight in the league for the past eight years. A well-deserved candidate for this team of mayhem because he chirps, he hits, he punches hard, he drinks IPAs and he's a great teammate!
Defencemen
Drew Doughty D, Los Angeles Kings
Has won on all stages and does so while playing with an edge. Doughty isn't shy about chirping all game long, in fact, he enjoys it because he plays a mean game. A future Hall of Famer who has almost 600 career PIMs, Doughty is a treat to watch. He's everything the NHL needs.
P.K. Subban D, Nashville Predators
His big personality gets him on this list. He has been a high-quality NHLer forever, but just as big an agitator. Doing the bow-and-arrow celebration all the way to centre ice after a goal will always drive the other team bonkers. He is a puck protector, an incredible skater, has a bomb for a shot and will not shy away from stepping up and throwing big hits.
Robert Bortuzzo D, St. Louis Blues
Bortuzzo has been known to take a few questionable suspensions/fines every year. He took things into his own hands this season while trying to get his struggling St. Louis Blues going. Bortuzzo beat up one of his teammates, Zach Sanford, in a battle drill at the end of practice – all for the good of the game. It happens. If you've played this game at a high level, you've been there. Love it. It also helps having Steve Ott, one of the all-time best agitators, behind his bench. Bortuzzo is a warrior who plays hurt and is very vocal in the room and on the bench. He's also a guy you want go for beers with – and that's important after a game of being a Shift Disturber.
Radko Gudas D, Philadelphia Flyers
A year ago, this Flyers blueliner got suspended 10 games for a vicious slash to the head of Winnipeg Jets winger Mathieu Perreault. He was suspended again this week for a two-handed slash to the helmet of Tampa Bay Lightning forward Nikita Kucherov. I have some first-hand experience in how quick he is to act with his stick. Back in 2013, I squirted him with Gatorade from the bench and he immediately smashed his stick on the bench beside my head.
Kevan Miller D, Boston Bruins
Miller is as tough as they come. He's been one of the league's most improved players the past couple of seasons and he has taking on a bigger and more badass role on the Boston blueline. He and Chara are like two Navy SEALs on the blueline. Good luck trying to get the puck to the net without leaving battered and bruised.
Erik Gudbranson D, Vancouver Canucks
Guddy is like a big kid with freak strength. He literally has no idea just how strong he is. Plays a simple game, but will stick up for all of his teammates, no matter what the stakes.
Goalies
Mike Smith G, Calgary Flames
At 35, Smitty is one of the oldest goalies to still be playing in the league. As is the case with older guys, he doesn't want anyone in his crease. Going to the net against Smitty will get you either a blocker to the head or a nice slash to the back of the legs. He can pass, he can shoot and he's tough. A guy we want on this team!
Carter Hutton G, Buffalo Sabres
Don't let the good looks fool you. This guy is as intense as they come when between the pipes. He's constantly talking and chirping the other team. It's what makes him go. He's also a great guy in the room. You want this guy on your squad.
Scottie Upshall is a two-time World Junior silver medallist who has played 759 regular-season games in the NHL with the Nashville Predators, Philadelphia Flyers, Phoenix Coyotes, Columbus Blue Jackets, Florida Panthers and St. Louis Blues.