Senators should be buyers at the trade deadline
Flush with cap space in coming seasons, Ottawa's best bet to expedite a rebuild is to start strategically buying bad contracts that come with quality picks and prospects attached to them, Travis Yost writes.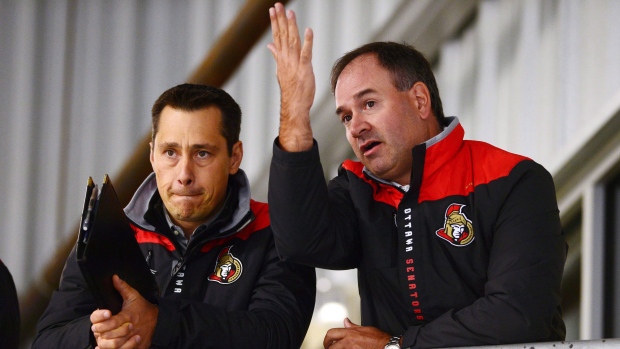 If the Ottawa Senators hope to return to a competitive brand of hockey in time for the 2021-22 season they must be one of the biggest buyers at the NHL trade deadline.
Most of the focus for Ottawa right now concerns their big expiring contracts. Matt Duchene, Mark Stone, Ryan Dzingel and Cody Ceci all sit on TSN's Trade Bait board as Ottawa looks to overhaul their roster. Those four players are worth nearly $20 million in cap space on their current deals. Duchene, Stone and Dzingel all figure to earn raises this summer – be it from Ottawa or another NHL organization.
Ownership has made loud overtures regarding a willingness to spend "close to the cap" starting in the 2021-22 season. That's encouraging from a long-term perspective, but we must also consider what that means in the short term – that the Senators have little interest in being competitive over the next two-and-a-half seasons, and that their sole intent over this period will be to ice a team close to the salary cap floor while acquiring assets for their big push in 2021-22.
If Ottawa plays this right, it's a very defensible strategy. There is little worse than being stuck on the treadmill of mediocrity, a team that's never bad enough to acquire premium draft picks and never good enough to do credible damage in the postseason.
We've seen a number of examples of teams bottoming out in this manner, only to rebound a few years down the road. While I think Ottawa certainly risks burning whatever equity they have left with their fan base by letting more marquee talent walk, they really don't have much of a choice if the goal is to be competitive years from now.
So yes, Ottawa will likely be selling off a number of assets. But at the same time they should be buying – strategically, of course. Remember: there are salary cap implications with purging players like Erik Karlsson, Kyle Turris, Duchene, Stone, Dzingel, and, even to a lesser extent, Cody Ceci.
The team still needs to meet the salary cap floor over the next couple of seasons. If you expect the 2019-20 season to feature an $83 million salary cap and 2020-21 to feature an $87 million cap (based on 5 per cent growth), those years would come with cap floors of $62 million and $65 million, respectively.
Ottawa doesn't have the contracts right now to meet either of those targets, though there are still a tremendous amount of unknowns. CapFriendly has Ottawa at just $45 million ($17 million below the cap floor) on a base of 14 contracts in 2019-20, and just $19 million ($46 million below) on a base of five contracts in 2020-21.
The organization has been very vocal about clearing roster spots for some of their younger players and prospects on entry-level deals. So while future roster spots will fill up, they will likely be loaded with entry-level contracts. That means Ottawa is going to need some help meeting the cap floor, especially with Karlsson out of the fold and Duchene and Stone appearing headed that way.
This is where the opportunity lies. The Senators are flush with cap space and are going into an aggressive two-year rebuild in order to return to competitiveness. One way they can expedite the process? Start buying up bad contracts, especially bad contracts that are back-diving in nature.
There are plenty of cap-strapped teams around the league that would love to get off some of their bad contracts. Out of curiosity, I went and looked at some of the more notable back-diving deals – where the cap hit far exceeds the actual salary owed – across the league.
We want to focus specifically on those deals that are eating up a fair bit of the cap for their respective teams and are set to expire in relatively short order. It's these types of contracts teams might couple with very appetizing draft picks and/or prospects to move, depending on how crippling they are in nature.
Below is a snapshot of some of those deals – back-diving in nature, some of which exist merely on paper at this point due to injury. I've also included some of CapFriendly's most common buyout deals as well. (Note: Ottawa already has at least two of these deals on the books right now by way of Marian Gaborik and Mikkel Boedker.)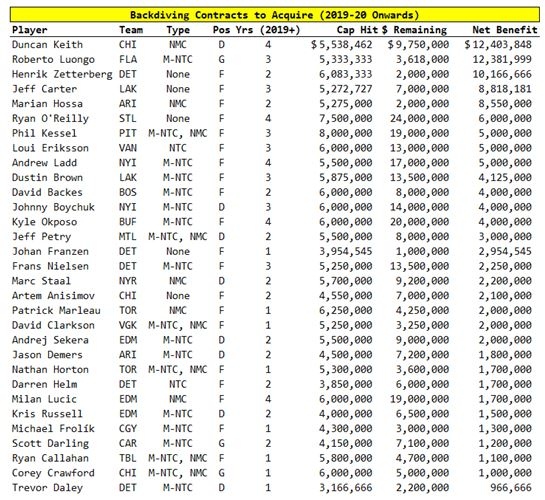 This is just a sampling of some of those contracts, and players with full no-move clauses may not even have interest in waiving to play for a non-contending team like Ottawa over the next couple of seasons. You can weigh the likelihood of each of these players being moved how you see fit, but there's no doubt that some of these names are readily available.
Who are the most interesting options? I would pay specific attention to the Edmonton Oilers. The Oilers are a bad team in desperate need of rebuilding in a hurry around Connor McDavid. But their cap situation next year and beyond is increasingly challenging – they are swamped with expensive contracts and overpays for middling talent and need to find some cap relief to clear the space needed to hunt for better players to put around McDavid.
Could Ottawa be a landing spot for a player like Milan Lucic? Lucic has four more years left on what's ultimately a poisonous contract and has a no-move clause to boot. It has been reported that both the team and the player were looking for a trade partner, and the back half of his contract sees more in cap allocation than actual salary paid.
If Edmonton were to retain a piece of Lucic's salary and send a couple of desirable picks (or a high-level prospect) the way of Ottawa, would the Senators bite? I think they should certainly entertain it. And with some salary retained, Ottawa could likely find another trade partner for Lucic down the road.
Another player of interest is Vancouver's Loui Eriksson. The Canucks are in a much better spot relative to the salary cap but Eriksson's contract is still the second biggest on the team to Bo Horvat. Moreover, the contract is very back-diving in nature – a cash-strong team like Vancouver could really benefit from clearing Eriksson's large cap hit ($6 million per year), while a cash-poor team like Ottawa could really benefit from carrying a player who is owed $5 million less in real salary than the cap hit would indicate. (That number is $9 million less if a trade materialized after July 1, since Eriksson is due a $4 million signing bonus on that day.)
A trade here would give Vancouver a lot more roster flexibility to hunt at the trade deadline or during the off-season, and the expiring contract in 2021-22 would be kind to Ottawa's rebuild plan.
The most intriguing name on the list may be Jeff Carter. Carter's contract is very back-diving – his $5.2 million cap hit over the next three seasons pales in comparison to the $2.6 million in salary owed per year. Carter also doesn't have any sort of clause in his contract that would prohibit a deal, which means Los Angeles could continue clearing the decks in their rebuild by attaching a compensation package to him in a trade with Ottawa.
These are interesting times for the Senators. Most of the focus and attention will be on the players they are selling off. But if they are serious about a return to competitiveness in a few seasons, they should look to purchase as many draft lottery tickets and/or prospects as possible. Their cap situation certainly allows for it.