Some unfamiliar names may play for Canada at Olympics
Even though the NHL has rejected the 2018 Winter Olympics, there should be no shortage of Canadians ready to put on the Maple Leaf and compete for gold.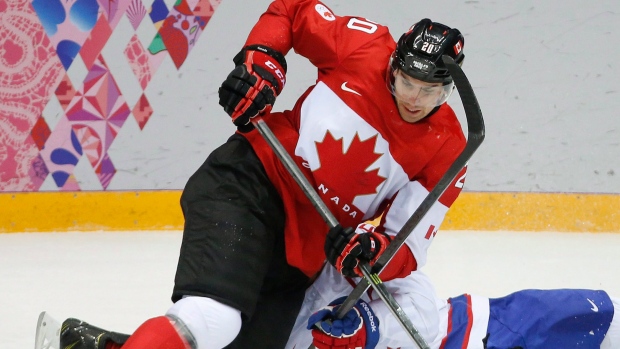 Even though the NHL has rejected the 2018 Winter Olympics, there should be no shortage of Canadians ready to put on the Maple Leaf and compete for gold.
Even ex-defenceman and noted jokester Mike Commodore, who retired after the 2013-14 campaign, sent out a tweet Tuesday that said "I've always wanted to be an Olympian."
While Commodore may not get the call, many lesser known players are likely to be in the spotlight for a couple of weeks in South Korea if the NHL and the International Olympic Committee don't end up coming to an agreement that would send Sidney Crosby, Connor McDavid and the rest of Canada's best.
Hockey Canada has "both a Plan A and a Plan B" for the games. Plan A is full NHL participation. Plan B will likely see a team of Canadians now playing in European leagues, especially the Russia-based KHL.
Canada's management team already started work on Plan B by inviting players from the KHL and the Swedish and Finnish leagues to compete at the Deutschland Cup in November and the Spengler Cup in late December.
Former NHLers Derek Roy, Maxime Talbot and Paul Szczechura were among 14 KHL regulars on Canada's squad at the Deutschland Cup in Germany.
Another five, including Drew McIntyre and Shaone Morrisonn, were at the Spengler Cup, where usually there are only Canadians who play in the Swiss league, with one or two additions from the outside. Free agents like Mason Raymond and Gregory Campbell were added this time.
That's the roster you get without the NHL.
But Canada won silver medals the last two times the Olympics did not have full NHL participation. In 1992 in Albertville, France, Joe Juneau was the star along with junior-age Eric Lindros while the goalie was Sean Burke, a likely candidate to be general manager of a 2018 non-NHL team.
Two years later, a team that included Paul Kariya, Petr Nedved and goalie Corey Hirsch took Sweden to a thriller shootout in the Olympic final in Lillehammer, Norway.
There is a chance that a youngster or two could make the 2018 team. If projected No. 1 pick Nolan Patrick is returned to junior hockey, he could be a candidate.
There are also players who retired during this season who may want to come back for another kick at the Olympic can.
Defenceman Dan Boyle, 40, won gold at the 2010 games in Vancouver. Centre Brad Richards, 36, played in the 2006 Games in Turin, Italy.
Then there are players who may retire after this season, like Jarome Iginla, a gold medallist in 2002 and 2010, and Shane Doan, a member of the 2006 team.
Players in Europe with NHL experience include defencemen Cam Barker and Marc-Andre Gragnani, forwards Nigel Dawes, Rob Klinkhammer, Kyle Chipchura and Gilbert Brule, as well as goalies Jeff Glass and Justin Pogge.
Unlike the NHL, their leagues will shut down for the Games.
But it's more likely that, just as in the days before the NHL started going to the Olympics in 1998, Canadians will be seeing players they haven't heard of, like Bud Holloway, Chay Genoway, Jonathan Sigalet and Blake Parlett.
It would make Canada an underdog again after thoroughly dominating the 2014 games in Sochi, Russia, because the Russians have some of their best in the KHL, including Ilya Kovalchuk and Pavel Datsyuk. But other teams, like the U.S. and Sweden, will be in the same boat as Canada, scrambling for players to replace the likes of Patrick Kane and Erik Karlsson.
You may need to buy a program.