Sutter excited to be back in Canada
Kings coach says trip north to face Leafs and Canadiens is a refreshing change for his team.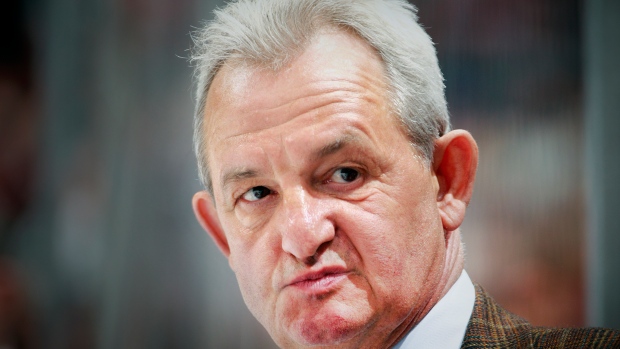 TSN Toronto reporter Mark Masters checks in with news and notes from Maple Leafs practices and game-day skates. The Maple Leafs and Kings skated this morning ahead of tonight's game at the Air Canada Centre.
- Kings head coach Darryl Sutter joked that he still has "nightmares" about his last trip to the Air Canada Centre when the Leafs blanked the Kings 5-0 in December (Leo Komarov had two goals and an assist to lead the way for the Leafs that night). But, overall, Sutter is excited to be back in Canada where Los Angeles will play the next four games (at TOR, at MTL, at OTT, at WPG). "Hey, it's our game," the coach said in his usual deadpan manner. "Nice to come back to Canada. We have three in four days here, and four in, what, five-and-a-half? Lots of fun. It's nice to talk to fans that really understand the game, the media that really understand the game, and then to be able to play teams the first part of the trip that are all out of conference. We don't see them very often, so you sort of get refreshed, too, on a lot of players."
- On Saturday night, Devin Setoguchi scored two goals as the Kings beat the Flames. It was the first time Setoguchi had scored in the NHL since March 1, 2014. It has been a long journey back to the NHL for the Taber, Alta., native, who has battled alcohol addiction. He attended Leafs training camp on a pro tryout last year, which was a key stepping stone. "It all kind of started back with Lou [Lamoriello] when he invited me to camp and talked to me. I sent him a little text this morning, because it means a lot for a guy like that to take me back in just three months out of rehab. It kind of helped me this year going into a training camp having been able to go to one the year before and I have him to thank for that." Setoguchi readily admits he wasn't in good enough shape to play in the NHL last season and is grateful that Lamoriello and the Leafs released him from the PTO early in camp – "They did me a solid" – so he could pursue a job overseas. Setoguchi eventually landed with HC Davos in the Swiss league. "He earned a spot in training camp," said Sutter. "He came in on a tryout, had a really good camp, and somebody that the coaches pushed for. Not very often that the coach gets what he wants, but it's a good story and he's a guy you want to see do well, and he's played really well for us. I know he was here last year in training camp, but I think he, for sure, would be a fitter player and a more focused player than he would've been a year ago."
- The Leafs and Kings both play a system designed to control the puck, but they have different ways of going about it. The more experienced Kings value physicality, while the younger Leafs are all about speed. "We definitely play completely different than they do, but I like the way our team plays," said Kings defenceman Drew Doughty. "I like playing the physical, strong, defensive game rather than just the speed, fast game. That's just what our team is made for. I don't know which is the better way to go, but we have to outplay them physically to beat them. That's the only way we can beat this team."
- Peter Budaj will make his 10th straight start for the Kings tonight even though Jeff Zatkoff is ready to return to game action. "He's got a lot of confidence back there," said Doughty. "He's just steady back there. It's easy to play for a goalie when you can see the confidence coming out of him." Two years ago Budaj struggled in the AHL with St. John's posting an abysmal 0-9-6 record and .888 save percentage. Last year, he got a PTO with the Kings and parlayed that to a job with the Ontario Reign becoming the AHL's goalie of the year. The 34-year-old picked up a shutout on Saturday and stopped 21 of 23 in a win against the defending champion Penguins on Thursday.
- Frederik Andersen starts for the Leafs and will look to continue his dominance of the Kings. During his time in Anaheim, Andersen posted a 5-0-1 record and .928 save percentage in seven appearances against Los Angeles. As a habit, Andersen will stay out to the very end of every pregame warm-up and carry the puck around the ice, shooting it into the net. He wants to get a feel for the puck believing it will help him when it comes to playing the puck that night. That's an area where Andersen believes he can be among the best in the game, but he's nowhere close to that level right now. "I would say that between Andy and the D we have lots of work to do to say the least," Leafs coach Mike Babcock said. "We think he's a good puck guy and that hasn't been the case so we have a lot of work to do there."
Lines at Leafs morning skate:
Forwards
Hyman-Matthews-Nylander
van Riemsdyk-Bozak-Marner
Komarov-Kadri-Brown
Martin-Smith-Soshnikov
Extras: Holland, Griffith
Defence
Rielly-Zaitsev
Marincin-Carrick
Gardiner-Polak
Extras: Hunwick-Corrado
Goalies
Andersen - starts
Enroth