Talbot, Oilers blank Jets in Heritage Classic
Cam Talbot made 31 saves and Zack Kassian had a goal and an assist as the Edmonton Oilers defeated the Winnipeg Jets 3-0 Sunday in the Heritage Classic. The victory extended Edmonton's win streak to three games in front of 33,240 at Investors Group Field.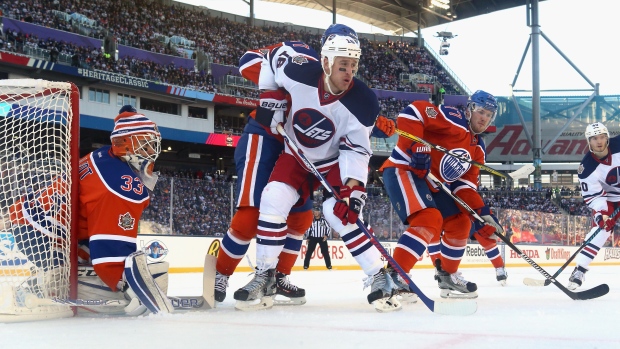 WINNIPEG — Three was a good number for Cam Talbot on Sunday.
The Edmonton Oilers goaltender made his third appearance at an NHL outdoor game, but finally got to play in one and made the experience count.
Talbot stopped all 31 shots he faced as the Oilers blanked the Winnipeg Jets 3-0 in the Heritage Classic at Investors Group Field. Talbot's 12th career shutout, and first this season, also boosted Edmonton's win streak to three games.
"I was really excited for this one, obviously, to get a chance to play in my first game," said Talbot, who was a backup when his former New York Rangers played in two Stadium Series games.
"The atmosphere was great out there, the ice was in pretty good condition. It was just one heck of a weekend…
"I was just looking forward to taking it all in and then hopefully come out with a big two points, which we were able to get."
Zack Kassian scored a goal and added an assist for the Oilers (5-1-0). Mark Letestu and Darnell Nurse also found the back of the net in front of 33,240 fans wearing both Jets and Oilers jerseys at the league's 19th outdoor game.
Connor Hellebuyck, who had a tuque attached over his helmet, stopped 29-of-32 shots for Winnipeg (2-3-0).
The league delayed the start of the game almost two hours, saying that the sun shining on the ice could have jeopardized the players' safety.
"The boys wanted to get out there right away, but the delay put a damper on things," said Kassian. "But once things got underway, walking out there was pretty special."
His goal was a bonus.
"That's just icing on the cake," said Kassian. "I think going into it, you want to enjoy the experience as much as you can, but most importantly, you want to get two points."
After a scoreless first period, Edmonton took advantage of some Winnipeg errors in the second to go up 3-0.
Letestu scored his second goal of the season on a short-handed breakaway. The Jets were on a power play with Nurse in the penalty box for cross-checking when Winnipeg defenceman Dustin Byfuglien couldn't get his stick on a loose, tipped puck in the Oilers end.
Letestu picked it up and went in alone on Hellebuyck, beating him with a low shot at 9:24.
Nurse made it 2-0 at 11:10 after getting out of the penalty box. He took a pass from Connor McDavid while on a 2-on-1 before sending a shot over Hellebuyck's glove.
McDavid now has four goals and five assists in six games.
"We started trying to make plays through people in the neutral zone and they made us pay for it," said Jets centre Mark Scheifele.
Edmonton coach Todd McLellan said his team's penalty kill "came up big."
"Not only with the short-handed goal, but almost in the same kill," said McLellan said. "We go down and Darnell steps out of the box and we score another one, so that's deflating (for the Jets). That happened to us earlier in the year."
Winnipeg was scoreless on four power plays and are 2 for 20 this season.
Kassian gave the Oilers a three-goal advantage at 17:16 after Winnipeg rookie Patrik Laine turned over the puck.
"I just tried something stupid and they got the puck and scored," said Laine. "It was my mistake and my man. I just want to learn from that mistake and move on."
Notes: Jets veteran defenceman Mark Stuart and forward Chris Thorburn were healthy scratches. The Oilers sat forward Anton Slepyshev and defenceman Matthew Benning.