Team McEwen finally get chance to play for maple leaf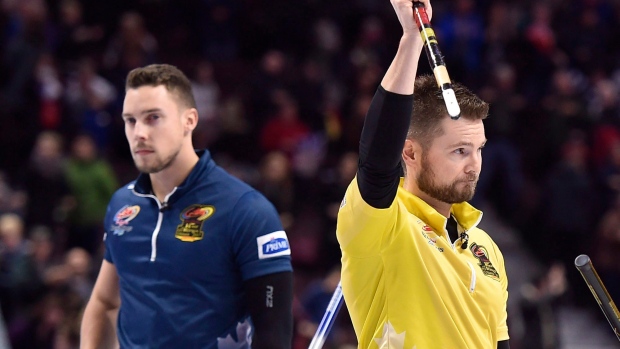 Mike McEwen's squad finally have their chance to play in a major final.
The Winnipeg rink have never appeared in a Brier or Olympic trials final over their 11 years together.
That will all change come Sunday night in Ottawa when they battle Calgary's Kevin Koe for the right to represent Canada at the Winter Olympics in South Korea.
McEwen and his foursome played their best game of the week Saturday and beat Brad Gushue of St. John's, 6-4, in the semi-final of the Roar of the Rings Olympic trials. The team shot a collective 87 per cent with the skip coming in at an impressive 88 per cent.
"That was our best performance probably of the year. Mike was unconscious as I'm sure you saw," second Matt Wozniak told TSN.ca after the game.
"That was as good as I've seen Mike in probably ever. He made everything we asked him to make and none of it was easy. It was all under heavy pressure. I'm so impressed with him and the way he handled that moment. It was incredible to watch."
The victory over the defending Canadian and world champions should be considered the biggest and most important victory of this team's tenure.
A decade with the same team isn't common in the sport of curling, especially when championships aren't rolling in.
Team McEwen have won plenty of cash on tour, finishing atop the money list four times, but have never been able to get it done on the national stage. After struggling to get out of Manitoba for years, McEwen finally qualified for his first Brier in 2016 and returned last season.
There were times when this team had thoughts about parting ways, but they stuck together, making the chance to finally represent Canada at the biggest event curling has too offer that much sweeter.
"It's nice to do it with these guys. It's been a lot of history with this team, lots of ups-and-downs. We're all I think appreciative of the efforts we've put in over the years and want to do this with this team and together. So we're excited for tomorrow," said Wozniak.
"We're trying to look at this event like we got nothing to lose. We're happy to be here. Whether the team goes on or not, nobody knows. We're trying to go out with a bang here I guess."
The 37-year-old Manitoba skip says they've done everything they could to prepare for this moment.
"It's been a long time coming since we've played for a maple leaf and it's finally going to be here tomorrow. I just hope this is our time. We've done everything we've wanted to do as far as ticking the boxes to get ready here," McEwen told reporters after the game. "So with that in mind I think we can go out there and play free. It's not like there's anything more we could have done. We just got to go out there and play the shots. The outcome will be what the outcome will be."
Sunday's final won't be the first time McEwen has faced Koe in an important matchup. The pair squared off in the Brier semi-final last year, a contest Koe won with an extra end steal.
McEwen says he made mistakes in that game and knows he can't make them again against one of best sharp shooters in curling.
"I wasn't patient. I was felling a lot of tenseness that game. I didn't feel like I had quite the touch that I wanted and there were some shot calls that were forcing the issue that cost us," he said of the Brier semi.
"You can't make those mistakes against a guy like that [Koe] because if he's on, he'll make you pay."
Saturday was a different story.
"I thought I was at a level of calmness that I didn't expect," said McEwen.
Koe and McEwen have only squared off once this season, earlier this week in Ottawa. Koe won 6-5 en route to his first-place finish.
Game time is 7pm ET on TSN 1/3 and TSN GO.